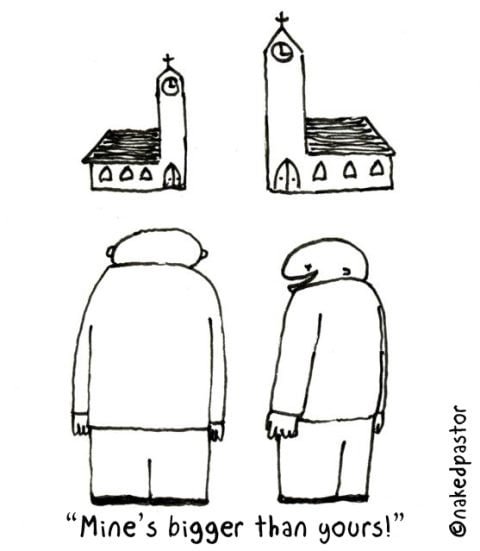 For it hath been declared unto me of you, my brethren, by them which are of the house of Chloe, that there are contentions among you. Now this I say, that every one of you saith, I am of Paul; and I of Apollos; and I of Cephas; and I of Christ. (1 Corinthians 1:11,12)
According to the Bible, the church at Corinth had become factional, with various groups saying that they were a follower of Apollos, Cephas, Paul, or Christ. In First Corinthians 1:13, Paul asked:
Is Christ divided?
Two thousand years later, we can answer Paul's question with an emphatic YES! The followers of Jesus Christ have spent the past 2,000 years fighting amongst themselves. Their internecine warfare has caused schisms, splits, and divisions, leading to the establishment of thousands of Christian denominations throughout the world (Wikipedia list of major Christian denominations).
Every Christian Bible has the following verses:
Behold, how good and how pleasant it is for brethren to dwell together in unity! (Psalm 133:1)

By this shall all men know that ye are my disciples, if ye have love one to another. (John 13:35)

For by one Spirit are we all baptized into one body, whether we be Jews or Gentiles, whether we be bond or free; and have been all made to drink into one Spirit. (I Corinthians 12:13)

There is one body, and one Spirit, even as ye are called in one hope of your calling; one Lord, one faith, one baptism, one God and Father of all, who is above all, and through all, and in you all. (Ephesians 4:4-6)
These four verses alone stand as an indictment of modern Christianity. The various Christian sects can't even agree on basic beliefs such as salvation, baptism, and communion. Jesus said, I am the way, truth, and life, and almost every Christian sect thinks it has the way, truth, and life market cornered. Pick the wrong sect and, according to many sects, you will miss Heaven and spend eternity in Hell being tortured by God.
Evangelicalism, an inherently Fundamentalist religious belief, (please see Are Evangelicals Fundamentalists?) has a unique problem in that its churches are generally a blend of sectarian divisiveness, Madison Avenue advertising techniques, and movie-star devotion to pastors, evangelists, and other "successful" Evangelical leaders. This has led to a cult of personality, similar to that which Paul addressed in the church at Corinth 2,000 years ago.
Drive by many Evangelical churches these days and what do you see on the church sign? Sign after sign will have the pastor's name prominently displayed. Why is this important? Why is it necessary to advertise the name of the pastor? If the church is one body worshiping the one Lord and Savior Jesus Christ, why call attention to the identity of the pastor? Why don't churches put the names of the poorest church members on their signs as James suggests in James 2:1-4:
My brethren, have not the faith of our Lord Jesus Christ, the Lord of glory, with respect of persons. For if there come unto your assembly a man with a gold ring, in goodly apparel, and there come in also a poor man in vile raiment; and ye have respect to him that weareth the gay clothing, and say unto him, Sit thou here in a good place; and say to the poor, Stand thou there, or sit here under my footstool:are ye not then partial in yourselves, and are become judges of evil thoughts?
Isn't giving the pastor top billing on the church sign showing the pastor undue respect? After all, the Apostle Peter said in Acts 10:34 that God is no respecter of persons. God may not be a respecter of persons, but his Evangelical followers sure are. Ask Evangelicals where they go to church, and they are just as likely to say, I go to Pastor So-and-So's church as they are, I go to First Baptist Church.
In the average Evangelical church, the center of attention is not Jesus, the Word, or the sacraments. The focus is on the man standing behind the pulpit. He is the man of God, God's messenger, the pastor. In some Evangelical churches, he is also the bishop, prophet, or apostle. He is the main cog in the machine, without which the machine won't run. If you doubt this, watch what happens when one of these superstar Evangelicals leaves his church. The membership inevitably declines, often because church members don't like the new guy. Evangelicals then feel "led" to join a different church so they can be "fed." Rarely will they admit that the reason they changed churches was that they were spiritually and emotionally infatuated with the previous pastor.
Megachurch pastors, in particular, are getting rich off the ministry. It is scandalous how these "profits" of God rake in millions of dollars from the churches they pastor, the books they sell, and outside speaking engagements. Even an atheist can see that these kinds of pastors are not following in the steps of Jesus. Instead of following the WWJD mantra, they are following what would a Wall Street profiteer do?
Whenever I write about one of the Evangelical superstar pastors, people will surely come along and defend him. I have attacked their god, and it doesn't matter what the Bible or common decency says, they are not going to stand for it. Little do they realize that their defense illustrates my contention that Evangelicalism is a cult of personality.
I would love to be able to say to readers of this blog that I was different when I was a pastor, but I wasn't. My name was prominently displayed on the church sign. I was the center of attention, the hub around which everything turned. People came to the churches I pastored because they loved my preaching and liked me as a person. When I pastored a fast-growing church in southeast Ohio, people would drive 30-45 minutes to hear me preach. Our church was exciting and growing, and I — uh, I mean God — was the reason.
What drives the cult of personality? Here in the United States, we are enamored with success. We tend to give respect to people who appear to be winners. Even in the blogosphere, we often judge the value of writers by the number of people who read their blogs and follow them on Facebook, X, Pinterest, and Instagram. We forget that these numbers say NOTHING about the person. I have to constantly guard against this. I know my blog readership numbers, page views, and mailing list subscriber numbers are growing. Does this mean that I am "more" successful than I was years ago when a hundred people a day read my blog? Should people respect me more now that thousands of people read my writing? Of course not. Numerical success proves nothing.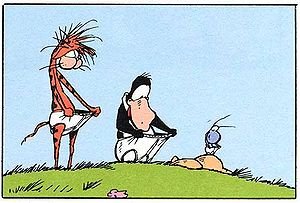 Within Evangelicalism, numerical success is everything. Success for a pastor is measured by the size of his penis — uh, I mean the size of his church. The criteria for calling a pastor/church a success is not much different from the criteria used to judge a successful CEO in the corporate world: growing the business and maximizing profits.
The sure sign that a pastor has arrived is when he writes a book telling everyone how he achieved his success. When I was an Independent Fundamentalist Baptist (IFB) pastor, almost every big-name pastor wrote a book detailing how he achieved numerical success. The subtle message was this: God is blessing me and this is why. Do you want God's blessing? Do what I am doing! Why is it that these successful pastors never write a book years later detailing the fact that "God's blessing" didn't last and their penis size shrank dramatically?
American Evangelicals love their conferences. Hundreds of Evangelical conferences are held each year. Who are the speakers? Those who have achieved "success." These conferences always feature big-name pastors who pastor large, successful churches. When was the last time Evangelical conference promoters had a Bro. Joe, who pastors 20 people on the backside of some hill in West Virginia, come and speak at their conference? It never happens.
One of the reasons people leave Evangelicalism is that they become tired of everything being about the pastor or of the focus being on the methods of the latest hotshot, knows-everything, successful pastor. They sincerely thought that Christianity was all about Jesus. They found out that Jesus was just the window dressing for their pastor's ambition. Most Evangelical churches, thanks to their leaders, have lost all sight of what it means to be Christian. They proclaim that the Bible is their standard of faith and practice and then ignore its teachings and examples. Christianity should be about Jesus and his kingdom. From my seat in the atheist pew, it seems to me that Evangelicalism is all about the pastor's kingdom and not the kingdom of Jesus they say they follow.
Bruce Gerencser, 66, lives in rural Northwest Ohio with his wife of 45 years. He and his wife have six grown children and thirteen grandchildren. Bruce pastored Evangelical churches for twenty-five years in Ohio, Texas, and Michigan. Bruce left the ministry in 2005, and in 2008 he left Christianity. Bruce is now a humanist and an atheist.
Connect with me on social media:
Your comments are welcome and appreciated. All first-time comments are moderated. Please read the commenting rules before commenting.
You can email Bruce via the Contact Form.