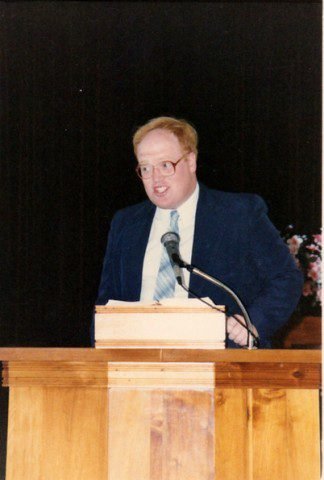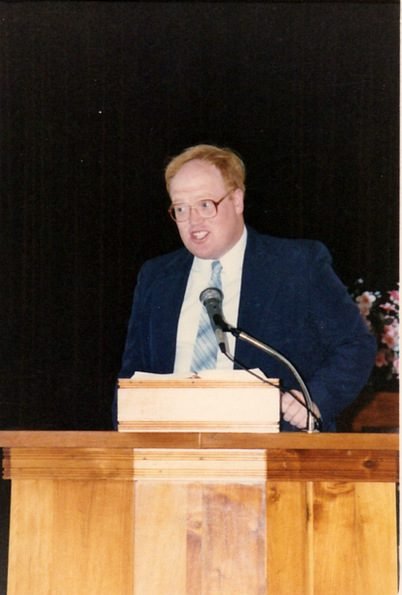 In July of 1983, I started a new Independent Fundamentalist Baptist (IFB) church in the rural southeast Ohio community of Somerset. Over the course of eleven years, the church grew from sixteen to two hundred people. However, by early 1989, attendance stood at fifty due to people leaving the church and the church ending its bus ministry (4 busses). That same year, I embraced Evangelical Calvinism and started a tuition-free private school for church children. My ministry emphasis went from evangelism and topical/textual preaching to edifying the saints and expositional preaching. While I still preached on the street and attempted to win souls, my focus was on the church congregation, instructing them in the "doctrines of grace."
I started preaching at the age of fifteen. Last night, Polly asked me if I remembered the first sermon I preached, the text I used. She was surprised when I told her I did: An Ambassador for Christ, 2 Corinthians 5:20. A preacher's first sermon is much like having sex for the first time — both memorable experiences, moments in your life you don't forget. I stopped preaching in the spring of 2005. I pastored my last church, Victory Baptist Church (now closed) in Clare, Michigan, in 2003. I briefly thought about pastoring again, candidating at two churches: New Life Southern Baptist Church in Weston, West Virginia, and Hedgesville Baptist Church in Hedgesville, West Virginia. Though both churches were interested in me becoming their pastor, I declined, and that was that . . . almost. My friend, Bill Beard, pastor of Lighthouse Memorial Church in Millersport, Ohio, believed, at the time, that I just needed to get back on the proverbial horse and start preaching again. Believing that it was impossible for me not to be a preacher,– For the gifts and calling of God are without repentance. (Romans 11:29) — Bill was insistent that I get back to doing what God had called me to do. Bill even went so far as to offer to buy me an unused church building in Zanesville, Ohio, to start a new church in. He was sorely disappointed when I "prayed" on the matter and said no.
Three years later, Bill received my infamous letter, Dear Family, Friends, and Former Parishioners. This letter detailed my reasons for leaving Christianity. Alarmed and disturbed by my letter, Bill jumped in his car and drove more than three hours north to rescue me from unbelief. After he returned to his home outside of Lancaster, Ohio, I sent Bill the following letter:
Dear Friend,

You got my letter.

I am certain that my letter troubled you and caused you to wonder what in the world was going on with Bruce.

You have been my friend since 1983. When I met you for the first time I was a young man pastoring a new church in Somerset, Ohio. I remember you and your dear wife vividly because you put a hundred-dollar bill in the offering plate. Up to that point we had never seen such a bill in the plate.

And so our friendship began. You helped us buy our first church bus. You helped us buy our church building. In later years, you gave my wife and me a generous gift to buy a mobile home. It was old, but we were grateful to have our own place to live in. You were a good friend.

Yet, our common bond was the Christianity we both held dear. I doubt you would have done any of the above for the local Methodist minister, whom we both thought was an apostate.

I baptized you and was privileged to be your pastor on and off over my 11 years in Somerset. You left several times because our doctrinal beliefs conflicted, you being an Arminian and I a Calvinist.

One day you came to a place where you believed God was leading you to abandon your life work, farming, and enter the ministry. I was thrilled for you. I also said to myself, "now Bill can really see what the ministry is all about!"

So you entered the ministry and you are now a pastor of a thriving fundamentalist church. I am quite glad you found your place in life and are endeavoring to do what you believe is right. Of course, I would think the same of you if you were still farming.

You have often told me that much of what you know about the ministry I taught you. I suppose, to some degree or another, I must take credit for what you have become (whether I view it as good or bad).

Yesterday, you got into your Lincoln and drove three-plus hours to see me. I wish you had called first. I had made up my mind to make up some excuse why I couldn't see you, but since you came unannounced I had no other option but to open the door and warmly welcome you. Just like always . . .

I have never wanted to hurt you or cause you to lose your faith. I would rather you not know the truth about me than to hurt you in any way. But your visit forced the issue. I had no choice.

Why did you come to my home? I know you came as my friend, but it seemed by the time our three-hour discussion ended our friendship had died and I was someone you needed to pray for, that I might be saved. After all, in your Arminian theology there can be no question that a person with beliefs such as mine has fallen from grace.

Do you know what troubled me the most? You didn't shake my hand as you left. For 26 years we shook hands as we came and went. The significance of this is overwhelming. You can no longer give me the right hand of fellowship because we no longer have a common Christian faith.

Over the course of three hours, you constantly reminded me of what I used to preach, what I used to believe. I must tell you forthrightly that that Bruce is dead. He no longer exists. That Bruce is but a distant memory. For whatever good may have been done I am grateful, but I bear the scars and memories of much evil done in the name of Jesus. Whatever my intentions, I must bear the responsibility for what I did through my preaching, ministry style, etc.

You seem to think that if I just got back in the ministry everything would be fine. Evidently, I cannot make you understand that the ministry IS the problem. Even if I had any desire to re-enter the ministry, where would I go? What sect would take someone with such beliefs as mine? I ask you to come to terms with the fact that I will never be a pastor again. Does not the Bible teach that if a man desires the office of a bishop (pastor) he desires a good work? I have no desire for such an office. Whatever desire I had died in the rubble of my 25-plus-year ministry.

We talked about many things, didn't we? But I wonder if you really heard me?

I told you my view on abortion, Barack Obama, the Bible, and the exclusivity of salvation in Jesus Christ.

You told me that a Christian couldn't hold such views. According to your worldview that is indeed true. I have stopped using the Christian label. I am content to be a seeker of truth, a man on a quest for answers. I now know I never will have all the answers. I am now content to live in the shadows of ambiguity and the unknown.

What I do know tells me life does not begin at conception, that Barack Obama is a far better President than George Bush, that the Bible is not inerrant or inspired, and that Jesus is not the only way to Heaven (if there is a Heaven at all).

This does not mean that I deny the historicity of Jesus or that I believe there is no God. I am an agnostic. While I reject the God of my past, it remains uncertain that I will reject God altogether. Perhaps . . .

In recent years, you have told me that my incessant reading of books is the foundation of the problems I now face.Yes, I read a lot. Reading is a joy I revel in. I read quickly and I usually comprehend things quite easily (though I am finding science to be a much bigger challenge). Far from being the cause of my demise, books have opened up a world to me that I never knew existed. Reading has allowed me to see life in all its shades and complexities. I can no more stop reading than I can stop eating. The passion for knowledge and truth remains strong in my being. In fact, it is stronger now than it ever was in my days at Somerset Baptist Church.

I was also troubled by your suggestion that I not share my beliefs with anyone. You told me my beliefs could cause others to lose their faith! Is the Christian faith so tenuous that one man can cause others to lose their faith? Surely the Holy Spirit is far more powerful than Bruce (even if I am Bruce Almighty).

I am aware of the fact that my apostasy has troubled some people. If Bruce can walk away from the faith . . . how can any of us stand? I have no answer for this line of thinking. I am but one man . . . shall I live in denial of what I believe? Shall I say nothing when I am asked of the hope that lies within me? Christians are implored to share their faith at all times. Are agnostics and atheists not allowed to have the same freedom?

I suspect the time has come that we part as friends. The glue that held us together is gone. We no longer have a common foundation for a mutual relationship. I can accept you as you are, but I know you can't do the same for me. I MUST be reclaimed. I MUST be prayed for. The bloodhound of heaven MUST be unleashed on my soul.

Knowing all this, it is better for us to part company. I have many fond memories of the years we spent together. Let's mutually remember the good times of the past and each continue down the path we have chosen.

Rarer than an Ivory-billed woodpecker is a friendship that lasts a lifetime. Twenty-six years is a good run.

Thanks for the memories.

Bruce
Bill never responded to my letter.
I saw Bill one more time a few years ago at a funeral service I held for a former member of Somerset Baptist. We briefly talked after service. I'm sure Bill was disappointed over the secular service I performed for our fellow church member (the deceased had left Christianity), but he said nothing. Two years ago, Bill — true to Jesus and Fundamentalist Christianity to the end — died.
Now to the subject of this post: the day my preacher friend (Bill) fired me. I could write thousands and thousands of words about my friendship with Bill Beard (and his wife, Peggie). Today, I want to focus on a story that took place in the fall of 1989. At the time, Bill was pastoring a Nazarene church he had started outside of Thornville, Ohio (now called Together Ministries Nazarene Church). Bill asked me to preach a revival for his church. Bill knew that I had embraced five-point Calvinism, and I knew his church was Arminian, with many members, including Bill and his wife, believing in sinless perfection (an absurd theological belief if there ever was one). I am sure readers sense an MMA fight waiting to happen.
Bill was a southern gospel aficionado. He had a different group scheduled for each night of the six-night meeting. On the first night, a quartet sang a dreadful song that suggested there were steps to salvation. I believed they were preaching heresy, works-based salvation. So, when it came time for me to preach, I made an "off-handed" comment about the song. Later in my sermon, I made an "off-handed" comment about "sinless perfection" — the belief that Christians can reach a state where they no longer sin. I put the word "off-handed" in quotes for this reason: I never made off-handed comments when preaching. I invested hours in preparing and crafting my sermons. Polly "fondly" remembers my epic OCD sermon outlines. Before I had a word processor or a computer, I would write my outlines long-form, and Polly would type them for me.
Many preachers are known for chasing rabbits, turning their sermons into a hot mess of incoherence. Polly's father was a consummate rabbit chaser. Great with people, but a terrible preacher. I mean t-e-r-r-i-b-l-e. I worked with my father-in-law for two years, hearing him preach hundreds of sermons. I tried to teach him how to outline a sermon and deliver a coherent, structured message. But, Dad couldn't make the magic happen. I, on the other hand, never chased a rabbit I didn't intend to chase; and shoot, skin, and eat for dinner. I destroyed all of my sermon outlines — dumb idea, Bruce (please see Short Stories: The Night I Set My Life on Fire) — in the early 2000s, but I have no doubt I put handwritten notes on my sermon outline for the first night of the revival service that said: works-based gospel song, sinless perfection. These were prompts meant to remind me that I needed to point my shotgun at these rabbits and shoot them dead. And I did.
I was quite proud that I, as a preacher of the true gospel, had preached this gospel to several hundred Arminians. Good job, right? God was pleased with me, right? Right? I brought several Calvinistic acolytes with me, Rick and Lewis — men who daily immersed themselves in the doctrines of grace. Rick and Lewis, both single men in their late 20s and early 30s, praised me for my defense of free grace, my denunciation of works salvation and sinless perfection. Bill and his church had a far different view of my sermon. Shocker, right? Jesus, I poured gasoline on a centuries-old blazing theological bonfire.
The next day, I was sitting in the Somerset Baptist auditorium, pondering and praying about that night's sermon. Through the oversized oak auditorium doors walked Bill. I was surprised to see him, but it was not uncommon for Bill to stop by the church when he was out and about (this was in the days before cellphones). Bill, of course, wanted to talk to me about the previous night's sermon. Bill told me that he and his church's board had decided not to have me preach again. Bill was profusely apologetic, but I understood why he was firing me. Bill handed me several hundred dollars, thanked me for preaching, and left. This was the first and only time this happened to me. At the time, I believed I was fired for preaching the "truth." Years later, I concluded that my dismissal was the result of arrogance and disrespect. As a Calvinist, I knew there were certain theological subjects I should avoid when preaching to an Arminian congregation. Instead, I disrespected the congregation by stomping on their cherished beliefs.
Bill would later leave the Church of the Nazarene due to perceived "liberalism." Bill, who had no post-high school education, was asked by denominational leaders to take classes part-time at Mount Vernon Nazarene University. Bill was exposed to ideas that directly challenged his rigid, absolute Fundamentalist beliefs for the first time. (Bill was King James-only.) Unfortunately, he rejected out of hand what his professors tried to teach him, leaving his church and the Church of the Nazarene denomination.
Bill took his outrage and rigidity to a new church, Lighthouse Memorial Church, and a new denomination, Christian Union. I preached special meetings for Bill's new church. (Bill and his wife donated hundreds of thousands of dollars to build a new church building. Bill farmed 2,000 acres near the church.) I have an old VHS recording of a sermon I preached at Bill's church. It is the only extant recording of a sermon I preached. I plan to have it converted into a digital recording that I will share on this blog and my YouTube channel.
Bruce Gerencser, 66, lives in rural Northwest Ohio with his wife of 45 years. He and his wife have six grown children and thirteen grandchildren. Bruce pastored Evangelical churches for twenty-five years in Ohio, Texas, and Michigan. Bruce left the ministry in 2005, and in 2008 he left Christianity. Bruce is now a humanist and an atheist.
Connect with me on social media:
Your comments are welcome and appreciated. All first-time comments are moderated. Please read the commenting rules before commenting.
You can email Bruce via the Contact Form.