As Polly and I travel the roads of Northwest Ohio, Southern Michigan, and Southeast Indiana, we are always on the lookout for God's True Church®. Here are a few of the churches we stumbled upon during our travels.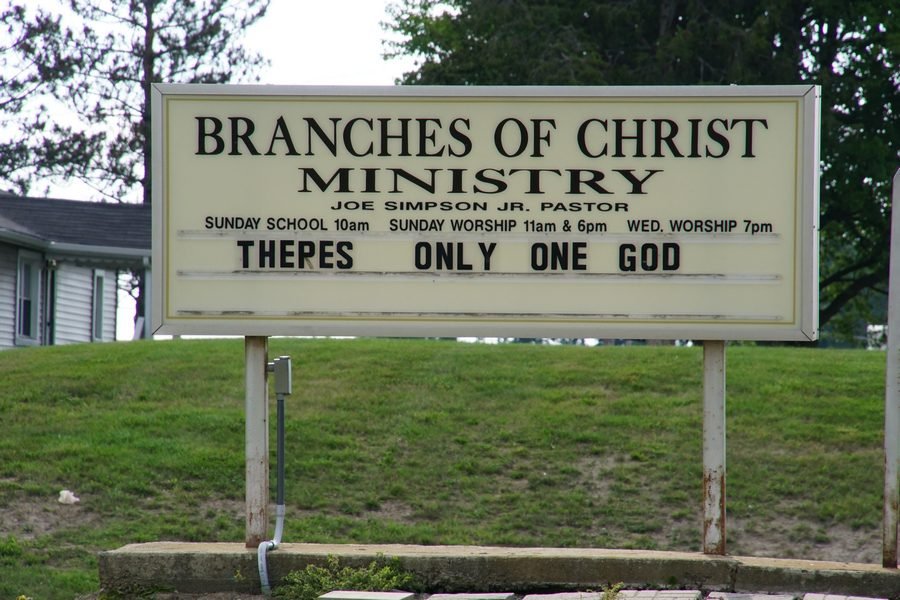 Branches of Christ Ministry, Fort Wayne, Indiana, Joe Simpson, Jr, pastor. Branches of Christ is a Pentecostal church. Their mission statement states:
Branches of Christ Ministries is a church with a purpose and a vision. We have learned throughout out the 36 years of ministry that we are only a shadow of a great mission that Christ spoke about . "Go ye into all the world and preach the gospel to every creature." Mark 16:15 that is the real purpose of our existence. The driving force behind this ministry is to restore and rebuild the lives of many that have been downtrodden and hurt. There are two more phases of construction before Branches of Christ is built. Just as the branches have been a symbol of the connection of hard work by the gardener. So will the love and relationships that are being forged by the people at Branches of Christ
There's only ONE God? So says every church and sect. Actually, among Christians there are countless Gods, with each believer having a God fashioned in their own image according to their personal beliefs.
Cecil Community Church, Cecil, Ohio, Ted Ramey, pastor. No web presence.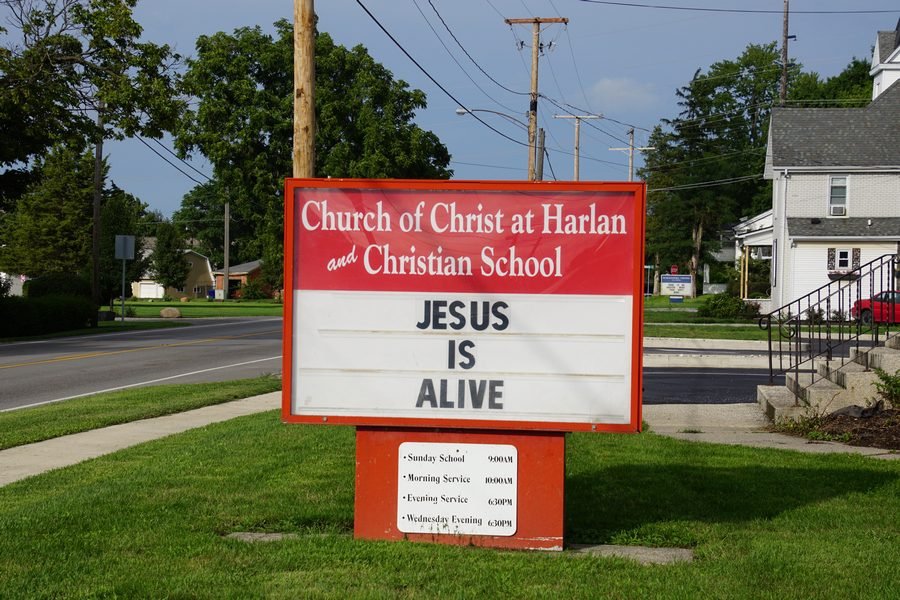 Church of Christ at Harlan, Harlan, Indiana, David Atchley, pastor.  This sign asserts a claim for which there is no evidence. SAYING Jesus is alive doesn't make it so. Pictures or a body would be nice. According to the church's website:
As the body of Christ here in Harlan, we are trying our best to follow what Jesus has set forth in His Word.   We exercise only what authority we have been given according to the Word in which Christ has delivered.  We claim no Lord but Jesus Christ.  We have purposed in our hearts, minds and souls to Seek the Lost, Send the Light and Serve the Lord so that the name of Christ will be glorified in all that we do.  We pray that what we provide on this website is pleasing to the Lord and profitable for your Spiritual life.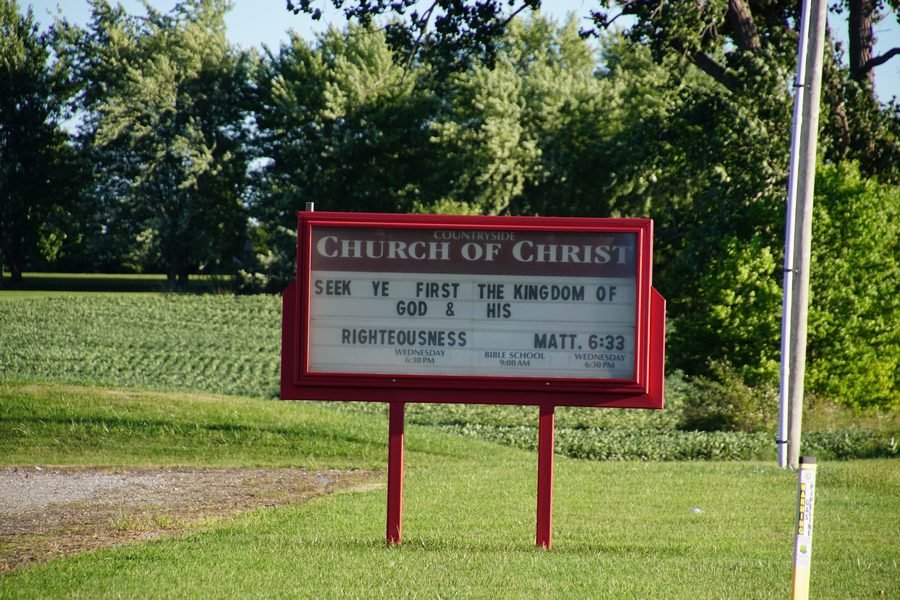 Countryside Church of Christ, Grabill, Indiana No Web Presence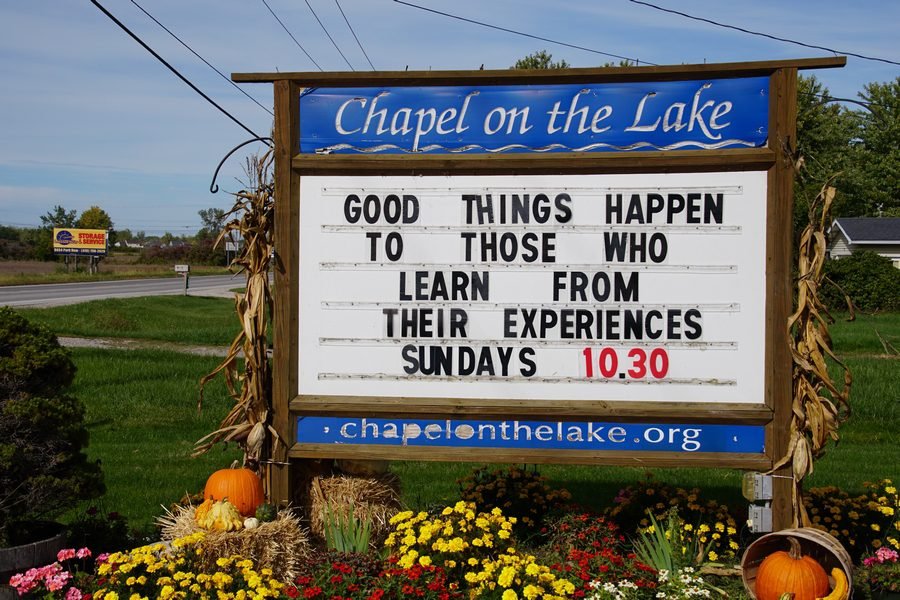 Chapel on the Lake, Lakeside, Ohio. The church's mission statement states:
Make Jesus Christ known in the place God has ordained, teaching and discipling all of those who God brings to us so they become effective ministers of the Gospel.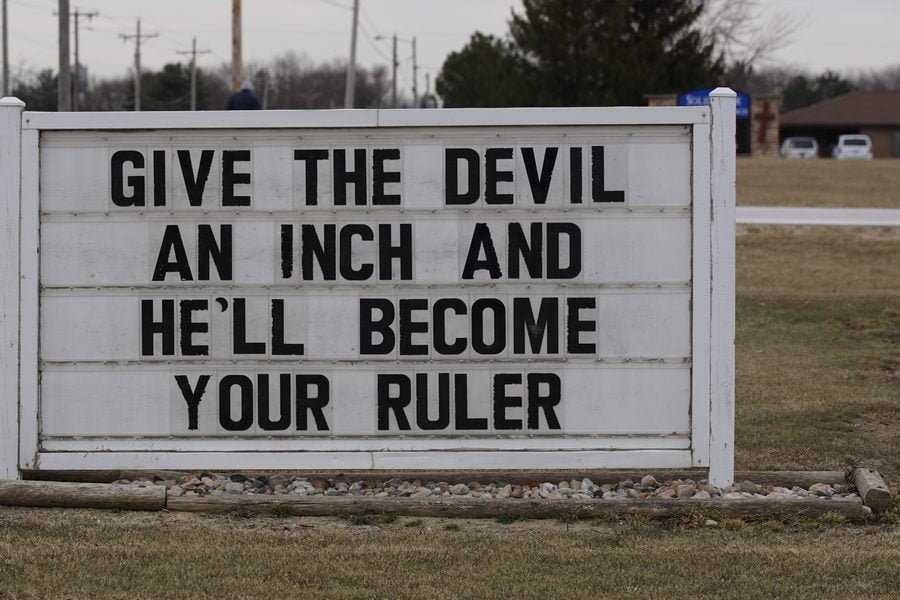 Church of Christ at West Unity, West Unity, Ohio Facebook