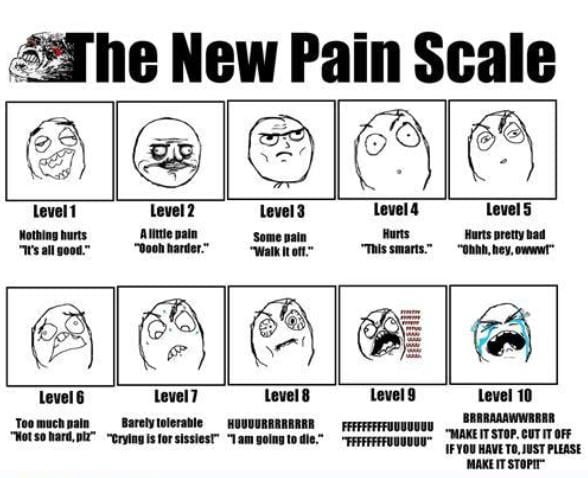 Several days ago, I received an unsigned letter from a sixty-four year old atheist woman. After reading my member introduction in the September 2017 Freedom From Religion Foundation newsletter, Freethought Today,  and rooting through my blog looking for personal health information, this woman decided to send me a typed two-page letter detailing her uneducated, ill-founded opinion of my weight and health, along with numerous paragraphs detailing what I should do to regain the Bruce of the 1970s.  At the end of her deconstruction of my physical being, she spent thirty-eight words complimenting me on my beard and thanking me for my story in the newsletter.
I sat on this letter for several days, waiting for my anger to calm before answering it. Yesterday, I talked to my counselor about the letter and why it is that people who don't know me and don't know my health background think it is appropriate to send me letters such as this one. It would be one thing if someone who was close to me talked to me about this or that health matter, but even then, no one, not even my wife, knows the depth and complexities of my health problems. People only know what I tell them, and trust me, there is a lot I don't talk about. That I am willing to talk about my struggles with chronic pain and debilitating illness at all is deemed by zealots and nuts as an opening for them to preach their gospel — complete with shaming me for "sin" and using my children and grandchildren as bait to attract me to their particular way of life or "cure."
I have received numerous letters from people offering unsolicited medical and lifestyle advice. Over the years, I have been told that the following will "cure" me or transform my pain and illness to a mere afterthought: essential oils, chiropractic care, magnets, acupuncture, reiki massage, homeopathic remedies, meditation, getting my chakras aligned, drinking magical shakes, and taking this or that supplement — more times than I can count. According to many of the people offering advice, Western medicine is evil, drug companies are out to kill me, and medical professionals are deliberately withholding care and treatment  that would cure me because they want to make money off my pain and health.
My latest letter writer takes a more simplistic approach, albeit she is every bit as ignorant of the latest science related to my health as the purveyors of the woo mentioned above. She contends that if I would just exercise more, lessen calorie intake, and not drink soda pop my life would be transformed. She assumes, of course, that I am NOT already doing these things, choosing instead to look at my photograph, seeing that I am fat/overweight/obese, and conclude that I am not following her prescription for having a born-again experience. The letter writer assumes that what worked for her will work for everyone else. She ignores the fact that human bodies are complex and what may work for one person won't work for others.. She also ignores genetic and environmental factors, choosing instead to focus on my body size. In many ways, she is much like Evangelicals who attempt to deconstruct my life, refusing to allow me to tell my own story. Instead she takes her atheistic religious health experiences and uses them as a standard by which to judge me.
Simply put, the letter writer is not in the position to make ANY judgments about my health or offer ANY advice as to proper treatment. I have a primary care doctor, along with medical specialists who provide me necessary and adequate care. I am satisfied with their care, knowing that the health problems I have, for the most part, cannot be cured. All my doctors can do for me is try to improve my quality of life and lessen my pain. I have told my primary care doctor several times that I don't expect him to fix what can't be fixed. I have accepted that this is my life — live with it, Bruce! I know that my health problems began when I was a slim, trim athletic fourteen-year-old teen. Genetics, exposure to dangerous chemicals that landed me in the emergency room, and communicable diseases set the stage for how things are for me today. A near-death experience with mononucleosis in 1991 and two bouts with pneumonia left my immune system wrecked beyond repair. The letter writer understood none of these things, choosing instead to just see a fat guy who, she thinks, eats too much.
The letter writer is offended by my stoic, matter-of-fact approach to my life and health. I was diagnosed with Fibromyalgia twenty years ago, and with neurological problems in 2007. For a time, doctors thought I might have multiple sclerosis. The symptoms fit, but the tests, so far, are inconclusive. Over the past two decades, osteoarthritis has slowly marched its way through my skeletal system. A visit to an orthopedic specialist last year revealed osteoarthritis in my hands, knees, feet, lower spine, neck, and shoulders. In other words — everywhere. The combination of these three diseases (and joint injuries) has left me disabled — another word the letter writer hates. Tough shit. That's what I am: d-i-s-a-b-l-e-d.  Most days, I walk with a cane, steadying myself so I don't fall and break something. Sometimes, I use a wheelchair — a sign to the letter writer that I am giving up. (Want to guess how many times I wanted to say go fuck yourself as I read her letter? You will need all your fingers and toes.)
The letter writer spends most of her sermon preaching about my weight. Evidently, she doesn't care for fat people, nor does she understand that body shaming is no longer considered acceptable conduct in polite company. Friends accept people as they are. I know I would never, ever write someone a letter like the one this woman wrote to me. Perhaps she thinks that because she is in her sixties, she has earned the right to say whatever she wants. I want to give her the benefit of the doubt, but it is hard to do so when I view her letter as a personal attack — an assault on who and what I am.
The letter writer reveals that she really doesn't understand current scientific evidence about body weight and weight loss. She wrongly says that weight loss is as simple as reducing caloric intake. This thinking is patently false, and can, at times, be dangerous or even life-threatening. She also assumes that I don't manage caloric intake and eat healthily. I do, about ninety-five percent of the time. Since last November, I have lost forty pounds. Massive bowel movements? Fluid loss? I don't really care. I try to eat healthily, and when I do not, I don't lose one moment of sleep over it. Life is too short. If eating ice cream is going to be the end of me, so be it. Praise Jesus, I will leave this life with the sweet taste of rocky road ice cream on my lips!
The letter writer tells me in capital letters, DO NOT EAT IN RESTAURANTS. This must be one of her religion's commandments, and if it is, NO THANK YOU. Polly and I spent the first twenty-five years of marriage rarely eating out. We couldn't afford it. Now we can, and me and the Mrs. plan on enjoying as much good food (and wine) as we possibly can. At home, my wife is a first-rate gourmet cook. She has the pans, knives, oven and cookbooks to prove it. Only food zealots would have a problem with what we eat.
The letter writer also shows a lack of understanding about pain and how narcotics work — wrongly believing that narcotics make pain go away. Sorry, but that's not how it works. Massive amounts of narcotics might take pain away, but they also render people unable to do much of anything but sleep. I have been on a pain management regimen for twelve years. The goal is to break the pain cycle so I can have a better quality of life. Pain levels, rise and fall, but the pain never goes away. I haven't had a pain-free day in years.
The letter writer tells me that a pain-free life is overrated, that I shouldn't take narcotics (take aspirin or ibuprofen instead), and that since I AM taking narcotics I shouldn't need to use a cane or wheelchair. According to her, if I would just lose weight, exercise more, all would be well and I would no longer have to use my cane or wheelchair. Calling my pain medications a crutch, she implores me to let pain have its way with me. This woman has serious health problems herself, including a major bout with cancer. I wonder how she might have felt had I come into the room after her surgery and told her what she had told me about pain. No need for morphine! Own your pain! Just take Aleve!
I am of the opinion that there is little value in ignoring pain or embracing it because there is some sort of nobility gained from not taking pain medications. Sorry, but I choose to live as pain-free of a life as possible. I choose to embrace my pain, but I am sure as hell not going to let it ruin my life by reducing me to an old man curled up in a fetal position wishing he could die. By properly managing my pain (and other aspects of my health), I have the ability most days to do the things I want to do. Some days, the pain meds simply don't work. On such days, I endure, knowing that surely better days lie ahead. And if they don't? Then I will embrace the present as my new normal.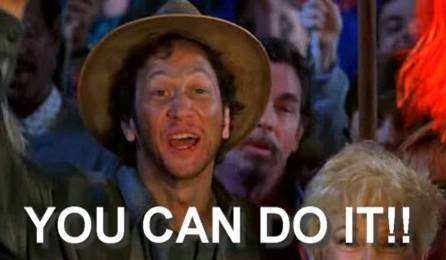 Finally, the letter writer should have plumbed the depths of my personality before sending her sermon my way. Had she done so, she would not have taken the motivational YOU CAN DO IT, OH YES YOU CAN approach. I loathe such approaches to life, and when someone tries to "motivate" me this way, their attempt always fails. I am a rationalist who approaches life in a matter-of-fact way. I don't need anyone to cheer me on. I am quite capable of determining for myself what I need to do, and then doing it. And if I do ever need a bit of Richard Simmons-like motivation, I look to my wife, children, and grandchildren for reasons to get up in the morning and keep moving. I drove my ex-daughter-in-law crazy (as did her husband) because I wasn't happy as a seal with a ball at parties and family events. I tend to be quite reserved emotionally, choosing to show my gratitude or praise with words such as fine, that's good, good job, thank you, or I appreciate it. I don't get all wide-eyed and slap-happy. People who know me understand that when I say something is fine, that is a high praise coming from me (except when I say fine when answering, How are you doing? Then, I am usually lying). I, for one, am quite tired of being treated as if there is something wrong with me if I don't have excitable emotional outbursts when expressing my approval of people or events. Who decided that being all jacked up on Mountain Dew is the only proper way to respond to things?  (Please read Bright-sided: How Positive Thinking is Undermining America by Barbara Ehrenreich.) Fuck that. I am who I am, and I am quite happy with being the one and only Bruce Gerencser on planet earth. Woo! Hoo! Ain't I a special snowflake!
Let me be clear, when it comes to my health and the medical treatment I receive, please keep your thoughts, opinions, sermons, and dogma to yourself. You may have stayed in a Holiday Inn, but you are not my doctor. I'm fine with close friends or family members sending me links and asking me if I have read this or that report or study. Most often, since I am an INFORMED sufferer of chronic pain and debilitating illness, I have already read the report/study. I appreciate that they genuinely care about me and hope that something will come along and improve my lot in life (money, lots of money – that will work). For everyone else? Please don't. Don't email me, don't write me letters, and don't post on my Facebook wall whatever it is you think will transform my life. Chances are it won't, or I have already tried it without success. Love me as I am and when you hear of my demise, be it today, tomorrow, or ten years from now, I hope you will remember me for the good I have done. Like everyone else, I want acceptance and respect from others. This letter writer demonstrated neither.
About Bruce Gerencser
Bruce Gerencser, 60, lives in rural Northwest Ohio with his wife of 39 years. He and his wife have six grown children and eleven grandchildren. Bruce pastored Evangelical churches for twenty-five years in Ohio, Texas, and Michigan. Bruce left the ministry in 2005, and in 2008 he left Christianity. Bruce is now a humanist and an atheist. For more information about Bruce, please read the About page.
Bruce is a local photography business owner, operating Defiance County Photo out of his home. If you live in Northwest Ohio and would like to hire Bruce, please email him.
Thank you for reading this post. Please share your thoughts in the comment section. If you are a first-time commenter, please read the commenting policy before wowing readers with your words. All first-time comments are moderated. If you would like to contact Bruce directly, please use the contact form to do so.
Donations are always appreciated. Donations on a monthly basis can be made through Patreon. One-time donations can be made through PayPal.