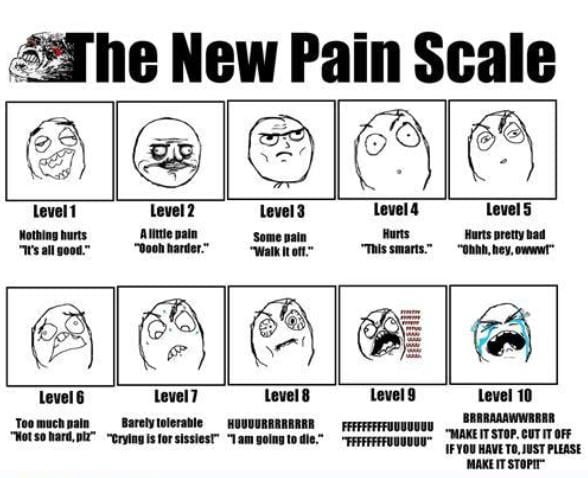 Last Friday, my surgeon called and asked me to come see him at 1:30 pm today so we could go over the recent biopsy results of the fluid removed from the mass in my chest. In early December, I had a huge cyst that spanned from my breast/collarbone to my sternum/underarm drained and biopsied. The interventionist radiologist removed 360cc of fluid. I IMMEDIATELY felt relief — all praise be to Asclepius.
The nurse came out to the waiting area and called my name. Someone new. "Where's MY nurse . . . dammit, I have no time to train a new one," I thought.
Into the room we went. I could hear my doctor talking to another patient next door. He seemed in a good mood, but then he always seems that way.
The nurse took my blood pressure and pulse. Then she asked, "are you in pain today?"
If there is one question that raises my hackles, it is this one. "Can't you read my chart? See right there where it says the patient has fibromyalgia, osteoarthritis, nerve pain, and is on narcotic pain management. Pay attention."
For a brief snarky second, I wanted to say, "Praise Jesus, I went to a Benny Hinn Miracle Meeting® on Saturday, and God healed me of everything except the cyst that is growing again in my chest." Instead, I said, "yes, I am always in pain."
Then the nurse asked me another question that I despise answering, "On a scale of one to ten, what's your pain level?"
I replied, "I hate pain charts. Pain charts are subjective, a waste of time."
I got the "look," you know that look that says, "give me a fucking number so I can enter it in the proper box on your chart."
I replied, "six."
Hell, it could have been ten or three or twelve. By what standard am I being asked to judge the level of my pain? Such a silly way to determine pain levels and what, if any, treatment is appropriate.
The surgeon entered the room with a medical student in tow. We traded a bit of chit chat and then moved to discussing the biopsy results and his recommended course of treatment. I told him the cyst had returned and was growing larger by the day. I stood up and had him feel the cyst. I turned to the medical student — a woman — and asked her if she would like to feel the cyst. She said, "yes," and proceeded to put her hand above my right breast. The surgeon had her feel above the left breast too so she knew what normal felt and looked like.
The surgeon told me that removing the cyst could be a difficult operation due to its proximity and depth. His suggestion was for the radiologist to drain the cyst again and then inject it with a sclerosing agent. Hopefully, this procedure will stop the fluid from accumulating again.
The surgeon asked Polly and I if we had any questions. Both of us said, "no." He then asked Polly how she was doing and if she was scheduled to see him soon (he is the doctor who will be reversing her colectomy). Polly answered in the affirmative. The surgeon and his student left, and my regular nurse came in to talk to me about scheduling the procedure. Hopefully, I will have it done in the next fourteen days.
The surgeon? He had left the office after seeing me and quickly made his way across the street to the hospital. Waiting for him was a young girl who needed emergency surgery.
What is your opinion of pain charts? Please share your thoughts in the comment section.
About Bruce Gerencser
Bruce Gerencser, 62, lives in rural Northwest Ohio with his wife of 41 years. He and his wife have six grown children and twelve grandchildren. Bruce pastored Evangelical churches for twenty-five years in Ohio, Texas, and Michigan. Bruce left the ministry in 2005, and in 2008 he left Christianity. Bruce is now a humanist and an atheist. For more information about Bruce, please read the About page.
Are you on Social Media? Follow Bruce on Facebook and Twitter.
Thank you for reading this post. Please share your thoughts in the comment section. If you are a first-time commenter, please read the commenting policy before wowing readers with your words. All first-time comments are moderated. If you would like to contact Bruce directly, please use the contact form to do so.
Donations are always appreciated. Donations on a monthly basis can be made through Patreon. One-time donations can be made through PayPal.