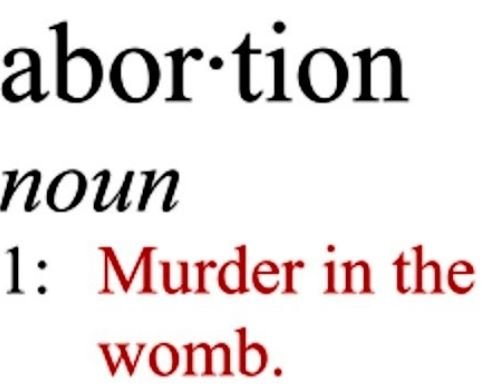 Tomorrow, Ohioans will vote on Issue 1 — the enshrinement of reproductive rights in the Ohio Constitution. The amendment will likely pass. If it doesn't, Ohio will be governed by a six-week abortion ban, with no exceptions for rape, incest, or the health of the mother.
A local Evangelical pastor has been seeking out people who have VOTE YES signs in their yards, asking them why they are baby killers. In his Bible-sotted mind, if you support a woman's right to choose, you are a baby killer; a murderer. I do not doubt that he believes that abortion should be criminalized and anyone who facilitates, participates in, or has an abortion should be criminally prosecuted and incarcerated.
I have no hope of meaningfully interacting with people who think I am a "murderer" because I think women should have a right to control their bodies; that abortion is an essential part of reproductive care.
So, does this mean I am a murderer; a baby killer? Of course not. Eight out of ten abortions take place in the first trimester, long before the zygote, tissue, or fetus is a "baby." To be sure, the fetus is "potential life," but not a baby (in the normative sense of the word). Once a fetus reaches viability — 22 to 24 weeks, roughly six months — then a case can be made for regulations to ensure that only fetuses that have fatal birth defects or are threats to the health and life of the mother are aborted (which account for roughly 12,000 abortions per year).
All of us have a right to bodily autonomy — including pregnant women. I will vote YES tomorrow because I want women, including my two daughters, daughters-in-law, and thirteen granddaughters, to have the absolute right to control their own bodies. Appeals to God, the Bible, or other dogma carry no weight with me. I don't care what the Bible says, the church says, or some preacher says about the matter. My only concern is for women themselves.
Bruce Gerencser, 66, lives in rural Northwest Ohio with his wife of 45 years. He and his wife have six grown children and thirteen grandchildren. Bruce pastored Evangelical churches for twenty-five years in Ohio, Texas, and Michigan. Bruce left the ministry in 2005, and in 2008 he left Christianity. Bruce is now a humanist and an atheist.
Connect with me on social media:
Your comments are welcome and appreciated. All first-time comments are moderated. Please read the commenting rules before commenting.
You can email Bruce via the Contact Form.