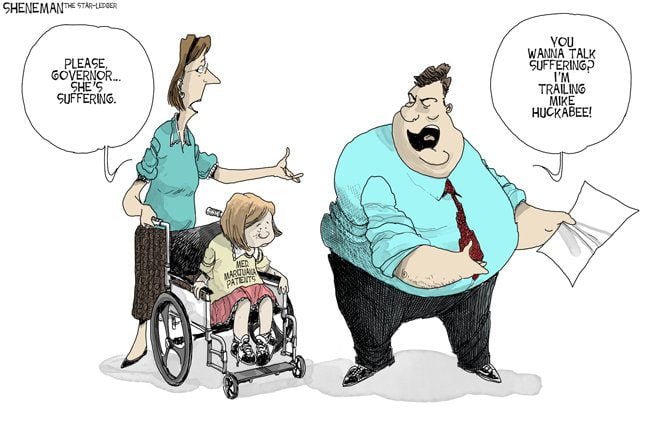 Four years ago, the Village of Hicksville, Ohio banned the establishment of medical marijuana facilities within its borders. The Defiance Crescent-News reports:
On Monday evening the Hicksville Village Council passed an ordinance prohibiting the establishment and operation of medical marijuana facilities within the village limits.

This is in response to previous sessions in which the possibility of such facilities coming to town was addressed, although no definite plans had been revealed to council by any such entities. Council had received strong support against these facilities by Police Chief Mark Denning and pastor Steve Eyers; no one has spoken out in their favor at any recent council sessions.
In February 2019, the Hicksville village council held a hearing on the matter. The Crescent-News reported at the time:
Pastor Steve Eyers of Lifeline Connect Church stated he has done sizeable research on medical marijuana since the last meeting and believed the jury to still be out, with no solid documentation existing substantiating positive claims about such facilities; he did observe that medical marijuana is not on the "approved" list of the Food and Drug Administration.

Eyers suggested council speak to state lawmakers and those in other municipalities which have approved medical marijuana production facilities about the results of such places, noting, "Once you open the door it will be difficult to close."
As readers will note, the main objector to medical marijuana was Steve Eyers, pastor of Lifeline Connect Church. At a previous council meeting, Eyers, a Fundamentalist Southern Baptist, used the "slippery slope" canard to argue against medical marijuana. In Eyers' world, every perceived negative (sinful) behavior is a step farther down the slippery slope that leads to Hell. I am sure Eyers believes that marijuana is a gateway drug, and once people start toking mary jane they will soon be hooked on crack, cocaine, heroin, or other highly addictive drugs. Funny how Eyers' "sizeable research" didn't turn up any evidence to the contrary:
The "gateway hypothesis" or theory refers to the idea that one substance — marijuana, in this case — leads to subsequently use and/or abuse other drugs. If [Governor Chris] Christie's point is simply that the use of marijuana tends to precede the use of other drugs, then he is correct — but that's not the whole story.

Though studies of large populations of people have indeed found that those who smoke marijuana are more likely to use other drugs, these studies show a correlation without showing causation — a commonly misunderstood phenomenon in science. In short, just because marijuana smokers might be more likely to later use, say, cocaine, does not imply that using marijuana causes one to use cocaine.

A 1999 report from the Institute of Medicine, which is part of the National Academy of Sciences, laid out this issue clearly (see pages 100-101): "In the sense that marijuana use typically precedes rather than follows initiation into the use of other illicit drugs, it is indeed a gateway drug. However, it does not appear to be a gateway drug to the extent that it is the cause or even that it is the most significant predictor of serious drug abuse; that is, care must be taken not to attribute cause to association."

We spoke with several experts and reviewed the available scientific literature on gateway theory. Christie's definitive statement is unsupported by evidence — there is some evidence in favor of a gateway effect, but the scientific community shares no consensus on the issue and there is little evidence on the underlying cause of that effect. — Factcheck.org.
Evidently, the good pastor was absent the day his teacher covered correlation and causation in science class.
There is no question that medical marijuana can and does help with many medical maladies, including chronic pain. Numerous readers of this blog can testify to medical marijuana's efficacy and how it has improved their quality of life. It is absurd to oppose any drug (or treatment) that will reduce pain and suffering. But, Bruce, people might get "addicted' if they start using medical marijuana. So what? Should it matter that a drug is "addictive" IF it's helpful? Shouldn't the goal be reducing pain and improving quality of life? Besides, moral crusaders such as Eyers usually confuse addiction with dependency. Addicts misuse drugs, using them for the sole purpose of getting high. Most people who use medical marijuana (and opioids such as Hydrocodone and Oxycontin) are not addicts. They use the drugs as prescribed to relieve pain and improve the quality of their lives. Long-term users can become dependent on such drugs, but, again, why does that matter? I have been on narcotic pain management drugs for fifteen years. Does this make me an addict? Of course not. I take the medications as prescribed by my family doctor. I have taken a variety of pain relievers over the years, but I have not, one time, abused them. Using these drugs for long periods has certainly made me physically dependent on them. If I were to stop taking Hydrocodone, for example, I would go through withdrawal. And believe me, that's not fun. Several years ago, I stopped taking Tramadol. I had been using Tramadol on and off for managing mild pain for over a decade. It took months of suffering to successfully wean myself off of the drug. The withdrawal symptoms were so severe that I had to sleep in the living room so my thrashing and crying wouldn't keep my wife awake. Yes, I survived, but at no time was I addicted to Tramadol. Dependent, yes. Addicted, no.
Count me as one person who is fucking tired of moralizing preachers such as Steve Eyers. First, they are hypocrites. Why did Eyers decide to take a stand against medical marijuana and not the drugs that are widely abused by Hicksville residents, including nicotine, caffeine, alcohol, and religion? Alcohol, in particular, causes all sorts of physical and social problems. Yet, crusading preachers are eerily silent on the subject — outside of an occasional anti-booze sermon. Why is that? Second, they attempt to force their personal or sectarian moral codes on others. There are times I wish that the Steve Eyerses of the world would come down with a debilitating, painful disease; one where relief could only be found through using narcotics or marijuana. Then, and only then, would they understand why chronic pain sufferers need drugs. Of course, I wouldn't actually wish that on anyone, but there's nothing like first-hand experience for revealing ignorant beliefs.
If Eyers and others like him want to live in pain, have at it. Taken literally as a moral prescription for living, the Bible encourages enduring pain and suffering. Just pray to God and trust that Jesus will be with you every step of the way, right? No thanks. As a humanist, my goal is to reduce suffering and pain, not only for humans, but all living animals. The greater goal is happiness and well-being for all. While suffering and pain can and do teach us valuable lessons, only Evangelical/Catholic sadomasochists think pain is desirable or necessary. Of course, when you believe the world is a shit hole ruined by sin, that all humans are born sinners/haters of God, that life is to be endured until the rapture, and that the grand goal is eternal life in Heaven, it should come as no surprise, then, that you don't put much emphasis on the here and now.
Medical marijuana sale and use is legal in Ohio, and there's movement towards making all use of weed legal (it could be on the ballot this November), All praise be to Shiva. Sadly, some Republican state legislators — who are overwhelmingly Christians — and regulators have gone out of their way to impede the opening of medical marijuana growers, processors, and sellers. Just over the border in Michigan, marijuana use is legal and much cheaper than Ohio's medical weed. Sellers abound. Further, here in the Land of God, Guns, and Republicans, most doctors refuse to write prescriptions for medical marijuana. The insane government war against opioids has scared the shit out of medical professionals — fearing the loss of their licenses — so they refuse to act in the best interest of their patients. Ohioans can go to one of the few doctors approved to write medical marijuana prescriptions, but this could cause them all sorts of problems with their primary care doctors — including the refusal to treat in the future. (Please see How the War on Opioids Hurts People With Chronic Pain, A Plea From a Chronic Pain Sufferer: Please Be Aware of Others, Medical Marijuana and Relieving Pain and Suffering, How Fundamentalist Prohibitions Cause Needless Suffering and Pain,  and Understanding and Helping Those Who Live With Chronic Pain.)
Years ago, I helplessly watched a devout Evangelical man suffer horrific pain as he slowly died of bowel cancer. He refused to take pain medications because he believed Jesus was better than morphine; that his suffering had some sort of redemptive value. My late father-in-law often went without pain relief because he believed drug "addiction" (I tried to explain to him the difference between addiction and dependence to him, without success) was sinful. As a pastor, I watched countless dying congregants forgo narcotic pain management because they wanted to be clear-headed when they entered the pearly gates. They needlessly suffered, and for what? Remove God and the afterlife from the equation, and I suspect most people will say YES to anything that reduces their pain.
If Steve Eyers wants to suffer for Jesus, have at it. All that I ask is that he not stand in the way of other people getting the help they need. Jesus is called the Great Physician. The gospels detail many of the healing miracles the Son of God purportedly performed while walking the dusty roads of Palestine. Be like Jesus, Steve, Be like Jesus. If you can't heal people, Steve, at least let the sick and hurting among you have access to people and drugs who can.
Pastor Eyers lost his battle against weed. Four years after his lies and distortions before the Hicksville Village Council, a new marijuana dispensary opened this week ten miles from his church in the village of Sherwood. Hicksville said no to the dispensary, as did the village I live in. Both Ney and Hicksville council members put their religious and personal beliefs before what was good for their communities. Tax money that could have helped fund local services went — dare I say it? — up in smoke.
Bruce Gerencser, 66, lives in rural Northwest Ohio with his wife of 45 years. He and his wife have six grown children and thirteen grandchildren. Bruce pastored Evangelical churches for twenty-five years in Ohio, Texas, and Michigan. Bruce left the ministry in 2005, and in 2008 he left Christianity. Bruce is now a humanist and an atheist.
Connect with me on social media:
Your comments are welcome and appreciated. All first-time comments are moderated. Please read the commenting rules before commenting.
You can email Bruce via the Contact Form.