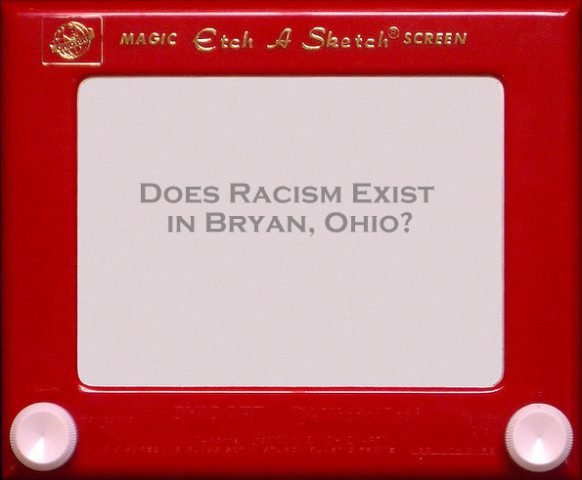 I used to be a member of the Growing Up in Bryan, Ohio Facebook group. The group is made up of people who live/lived in Bryan, Ohio. Recently, the subject of racism was brought up and this provoked a lively discussion about the state of race relations in Bryan. This got me to thinking: does racism still exist in rural northwest Ohio and Bryan? Have we reached a place where we live in a post-racial era, even here in homogenous rural Ohio? Before I answer this question, I want to spend some time talking about demographics and my own experiences as a resident of rural northwest Ohio.
My father grew up on a hundred-acre farm three miles south of Bryan and attended Ney High School. My mother moved to Bryan as a teenager. Both of them worked for local Bryan businesses such as K&R Cleaners, The Hub, Carroll Ames, and Bryan Trucking. My father was part of a close-knit ethnic Hungarian group that settled in the Bryan area in the 1920s and 1930s. My parents considered Bryan home, and in 1957 it became my home. My brother and sister were also born in Bryan.
Even though I have spent most of my life living in other places, Bryan is home to me. Try as I might to flee the topographically boring flatlands of rural northwest Ohio, I consider Bryan my home. Over the years, I've lived in California, Michigan, Texas, Arizona, and southeast Ohio. I've also lived in or near the northwest Ohio communities of Farmer, Deshler, Harrod, Alvordton, Mt. Blanchard, and Findlay. Currently, I live in Ney, a one-stoplight, two-bars village six miles south of Bryan.
Bryan was settled in 1840 and is the seat of Williams County. In 1950, the population was 6,365 people. In 2010, the population was 8,545 people. Bryan saw a 12.9% population growth between 1970 and 1980 and 5.9% growth between 1980 and 1990. Since 1990, the population has grown 8.2%.
According to the 2010 US Census:
94.3% (8,056) of Bryan residents are white
.6% (47) Black
.9% (73) Asian
.2% (14) Native American
.1% (5) Pacific Islander
2.0% (170) Mixed Race
5.1% (436) Hispanic or Latino
Statistics are taken from the 2010 US Census Report
The Bryan of today is more racially diverse than at any time in its 175-year history. While this is good news, the reason for the diversity is non-white medical professionals moving to Bryan to work for the local hospital and medical group and white-collar professionals moving here to work for local companies. This diversity is primarily driven by economics.
The Bryan of my youth was 100% white. I was five years old before I saw a black person for the first time — a porter at the Chicago train station. As a teenager, I was told by one proud and ignorant Bryanite that Bryan was 100% white and proud of it. According to him, back in the day, any black caught in town after dark was run out of town. I suspect his attitude was quite common.
In the 1970s, I attended high school in Findlay, Ohio, a community 75 miles southeast of Bryan. The 1970 population of Findlay was 35,800 people. Like Bryan, Findlay was as white as white could be. There were two black students who attended Findlay High School, and they were brother and sister. Today, .3% (886) of Findlay residents are black.
In the mid-1970s, I attended First Baptist Church in Bryan. I can still remember the day that a woman who once attended the church and moved away, returned home with her new black husband. Oh, the racist gossip that ran wild through the church: why, what was she thinkin . . . marrying a black man! Think of the children! It was not long before she and her husband moved on to another church.
It was not until I moved to Pontiac, Michigan to attend Midwestern Baptist College that I came into close contact with blacks. Freshman year, one of my roommates was a black man from Philadelphia. The college was connected with nearby Emmanuel Baptist Church. Emmanuel ran numerous bus routes into Pontiac and Detroit, busing in thousands of blacks. Most of the children from Detroit attended B Sunday school. The B was the designation given for the afternoon Sunday school. It was not long before I figured out that the B stood for black. When an overtly racist man became the bus pastor, one of the first things he did was stop running the buses to Detroit. We were told this was due to budget restraints, but many of us thought the real reason was race.
The college and church were located in a bad part of Pontiac. (Some might argue, is there a good part of Pontiac?) The projects were nearby and the area east of the college was decidedly black. My experiences with the local black community, with its rundown housing and rampant crime, helped to reinforce the racist stereotypes I had been taught by my parents. It didn't help that gangs of black youth repeatedly broke into the dormitory and ransacked the place while everyone was at church. A few years back, the college relocated to an overwhelmingly white community.
My parents, typical of their generation, were racists. It is impossible to paint the picture any other way. Whether their racism was from their own upbringing or their membership in the John Birch Society, they made no apology for their fundamentalist Christian-driven racism. They had a special hatred for Martin Luther King, Jr. My mother thought King got exactly what he deserved when he was assassinated in 1968. Like it or not, this is my heritage.
In the 1980s, Polly and I lived in southeast Ohio. For a number of years, we were foster parents. One of the children we cared for was black. We had made arrangements to rent a house outside of Somerset, Ohio — where I was pastoring at the time — from a retired school teacher. When we looked at the house, we did not have our foster child with us. Several days before we supposed to move in, the matronly pillar of the community called and said that she decided to not rent the house. We found out later that she told people that she was not going to have a "nigger" living in her house.
We moved to New Lexington, Ohio, and enrolled our foster child in the local public school, thinking little about how hard it might be for her to be the only black kid in the school. Needless to say, she was subjected to daily racial taunts. One day, the principal called us and said our foster child had created a disturbance in class. One of her classmates had called her a "nigger" and she threw her book at her taunter and stormed out of class.
I was quite upset at her behavior. Having never walked in her shoes, I had no way of knowing what it was like to be singled out and taunted for the color of my skin. I gave her the stern Pastor Gerencser lecture, reminding her that she was accountable for behavior and that she couldn't respond this way every time someone called her a "nigger." While my words had a ring of truth to them, they were quite insensitive and showed that I didn't have a clue about how difficult it was for her as a young black woman.
In the mid-1980s, the church I pastored had a black missionary come and present his work. I took the missionary on a tour of the area and we stopped at the Somerset Snack Bar for lunch. The Snack Bar was where locals hung out, and it was always a busy hive of storytelling, gossip, and news. The Snack Bar was quite noisy when we walked in the door, but as patrons glanced up to see who was coming in, the noise quickly dissipated. I later learned that several of the locals were upset over the Baptist preacher bringing a "nigger" into the Snack Bar.
In 1995, I moved back home to northwest Ohio, pastoring a church in Alvordton for a short time, and then pastoring a church in West Unity for seven years. Polly and I have lived in this area now for 23 years. This is our home. Our 6 children and 13 grandchildren all live within 20 minutes of our home.
It was during my time as pastor of Our Father's House in West Unity that I began to address my own latent racism and the racism that percolated under the surface of the local community. As my politics began to move to the left, my preaching took on a social gospel flavor, and this included preaching on racism.
When a church member would talk about "colored" people, I would ask them, so what color were they? Oh, you know what I mean, preacher! Yes, I do. So, how is the color of their skin germane to the story you are telling? I did the same when members talked about "those" people — "those" meaning blacks, Mexicans, or people perceived to be welfare bums.
What made things difficult was that we had a black man attending the church. He was a racist's dream — the perfect stereotype. He was on welfare, didn't work, lived in Section 8 housing, had an illegitimate child, and spent most of his waking hours trying to figure out how to keep from working. The church financially helped him several times, and we brought him groceries on numerous occasions. One time he called and told me he needed groceries. I told him that I would have someone bring them over to him later that day. He then told me, preacher, I'm a meat and potato man, so I don't want no canned food. Bring me some meat. He's still waiting for those groceries to be delivered.
As I read the comments on the Growing Up in Bryan, Ohio Facebook group (the post is no longer available), I noticed that there was an age divide. Older people such as I thought Bryan was still, to some degree, racist, while younger people were less inclined to think Bryanites were racist, or they thought local racists were a few bad apples. I think that this reflects the fact that race relations are markedly "better" now in this area.
The reasons are many:
Older generations, those raised in the days of race riots, Martin Luther King Jr., and Jim Crow are dying off.
Local residents are treated by doctors who are not white. My wife's gynecologist is a dark-skinned Muslim.
Interracial couples now live in the area.
Migrants workers, once a part of the ebb and flow of the farming season, are now primarily permanent residents.
Younger adults and teenagers no longer think race is a big deal.
Music, television, and the Internet have brought the world to our doorstep, allowing us to experience other cultures.
Sports, in which the majority of athletes in the three major professional sports — football, basketball, and baseball — are non-white. Cable and satellite TV broadcast thousands of college and professional games featuring non-white players.
Exposure breeds tolerance. Bigoted attitudes about gays and same-sex marriage are on prominent display in rural northwest Ohio. These attitudes remind me of how things once were when it came to race. Time and exposure to people who are different from us can't help but change how we view things like race and sexual orientation. My children are quite accepting and tolerant of others, and I hope that these attitudes will be passed on to my grandchildren. We are closer today than we ever have been to Martin Luther King's hope of "a day when people will not be judged by the color of their skin, but by the content of their character."
We haven't arrived. Latent, institutional racism must continue to be challenged. Recent protests and riots across the United States reveal that we have a long, long, long way to go before we reach King's hope and dream. Unfortunately, there are those who use race and fear to stoke distrust and hate of those who are different. We must forcefully marginalize (and vote out of office) those who want to return America to the 1950s. We must also be willing to judge our own attitudes about race. We enlightened liberals gleefully look at the extreme right and we see racism and bigotry in all its glory. Yet, if we are honest, such things exist in our own backyard. None of us can rest until we have achieved a post-racial world. We have much work to do.
Bruce Gerencser, 66, lives in rural Northwest Ohio with his wife of 45 years. He and his wife have six grown children and thirteen grandchildren. Bruce pastored Evangelical churches for twenty-five years in Ohio, Texas, and Michigan. Bruce left the ministry in 2005, and in 2008 he left Christianity. Bruce is now a humanist and an atheist.
Connect with me on social media:
Your comments are welcome and appreciated. All first-time comments are moderated. Please read the commenting rules before commenting.
You can email Bruce via the Contact Form.