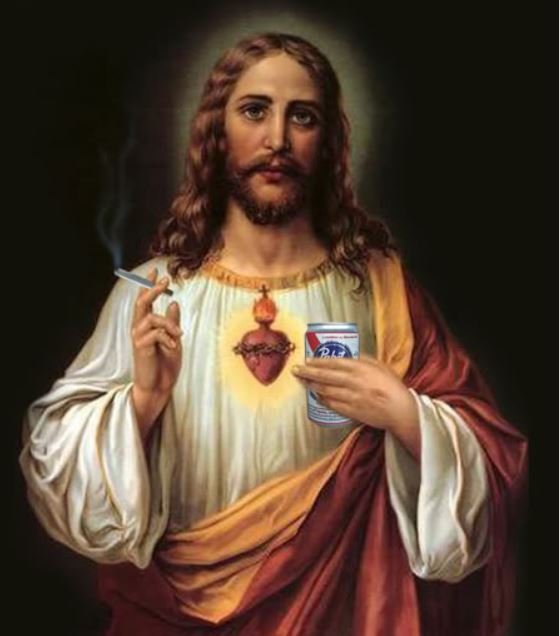 According to Bryan, Ohio resident L. Jay Nafziger, Satan, the head toker himself, is behind efforts to legalize marijuana in Ohio. Nafziger had this to say in a letter to the editor of the Defiance Crescent-News:
Did legalizing alcohol in the USA make our world a better place to live in? Why not ask one of the thousands  who have had a loved one tragically killed by a drunk driver.

Did legalizing abortion make the world a better place to live in? Definitely not for the millions of unborn children who never had the chance to live outside the womb.

Has legalized tobacco smoking made the world a better place to live in? Long before medical science "proved" that cigarette smoke is not good for the smoker or anyone else, good, old-fashioned, outdated, uncommon, common sense could tell a person that drawing smoke of any kind into your lungs over a period of time will probably cause problems.

So who is to say that legalizing pot will make the world a better place to live in? Time and time again, many FDA  approved "safe" prescription drugs have been pulled off the market because they were found to be "not so safe" after all.

I will admit that I think it is hypocritical for any government, society or culture to accept and allow alcohol, abortion and tobacco while not allowing marijuana. But then, on the other hand, how about this gateway drug thing? If marijuana is legalized, why not heroin and methamphetamine, and why limit prescription drugs?

Why not get rid of all hypocrisy and judgement and let anyone do anything they want to at anytime as long as they are not "hurting" someone else? And it could all be so good for the economy! Did you just detect my sarcasm?

The greatest evil of all is not alcohol, abortion, tobacco or marijuana, but Satan himself, the father of lies. One of his biggest lies is that we (human beings created in the image of God) can/should disregard the laws (ten commandments) of God (creator of the universe and everything in it) and instead, find happiness and fulfillment in life by "doing our own thing if it feels good, do it." Then, when we get into trouble and aren't feeling so good, he (Satan) offers us a short term solution or "fix" like alcohol, abortion, tobacco or marijuana, which can ultimately cause us more pain and dissolution than we had in the beginning.

My  new,  progressive,  updated,  upgraded,  evolved  mindset of 2015 says, "No, do not legalize pot." Any outdated mindset that keeps another "evil" from being legalized is far better than any updated mindset that says "smoking marijuana is good for you." How can a person know for sure that they are not being lied to, not by just another human being but by Satan himself?

God did not send his Son into the world to condemn it, but to save it. John 3. 17.

Jesus is the way, not cannibas. Jesus is the truth, not cannibas. Jesus is the light, not cannibas.
I think Nofziger's letter speaks for itself. He asks "did you just detect my sarcasm?" No, but I did detect the signs of a fundamentalist lobotomy.
I have several questions for Nofziger. If God is the creator of everything, who created marijuana? And tobacco? And alcohol? If drinking alcohol is a sin, was Jesus sinning when he drank wine and turned the water into wine? What about the verses in the Bible that suggest giving a sick and dying man alcohol to ease his suffering? If marijuana can ease the suffering of someone, shouldn't they be permitted to use it?
I did like the last sentence of his letter: Jesus is the way, not cannibas. Jesus is the truth, not cannibas. Jesus is the light, not cannibas. Ignoring the fact that Nofziger misspelled cannabis, I think Christians churches should start an evangelistic campaign that touts the superiority of Jesus to being high on marijuana. Get High on Jesus!