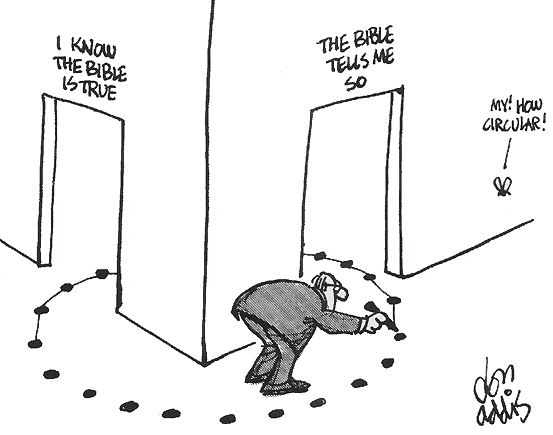 Snark ahead. You have been duly warned!
Recently, Bodie Hodge, a writer for Answers in Genesis, decided to take a crab-fork stab at the question, Other Religious Writings: Can They Be from God, Too? According to Hodge, the son-in-law of Ken Ham, only the sixty-six books of Protestant Bible are from God. Hodge writes:
Other alleged divine writings are not from God because they are not part of the Bible.

The answer seems too simple: other alleged divine writings are not from God because they are not among the 66 books of the Bible and, in fact, they contradict the Bible.

This is a "presuppositional" approach, which means to presuppose that God exists and that His Word, the Bible, is the truth. This is the starting point or axiom.

God never tried to prove His existence or prove that His Word is superior to other writings. God simply opens the Bible with a statement of His existence and says His Word is flawless (Genesis 1:1; Proverbs 30:5). The Bible bluntly claims to be the truth (Psalm 119:160), and Christ repeated this claim (John 17:17).

In fact, if God had tried to prove that He existed or that His Word was flawless, then any evidence or proof would be greater than God and His Word. But God knows that nothing is greater than His Word, and therefore He doesn't stoop to our carnal desires for such proofs.
There ya have it, boys and girls. Only the 66 books of the Protestant Bible are from God. Why? Because the Bible says so. So there, take that you liberals! Hodge and his daddy-in-law Ham are presuppositionalists. They presuppose that the Christian God is the one true God and that the 66 books of Bible are this God's words. No evidence is necessary. These truths are correct because Hodge and Ham, and by extension God, say they are.
According to Hodge, God will not contradict himself. Yes, sir he says that sober and with straight face. Here's the quote:
In the Bible, we read that God cannot lie (Titus 1:2; Hebrews 6:18). This is significant because it means that God's Word will never have contradictions. Though skeptics have alleged that there are contradictions in the Bible, every such claim has been refuted. This is what we would expect if God's Word were perfect.

Yet the world is filled with other "religious writings" that claim divine origin or that have been treated as equal to or higher than the Bible on matters of truth or guidelines for living. In other words, these writings are treated as a final authority over the Bible.

Any religious writing that claims divine inspiration or authority equal to the Bible can't be from God if it has any contradictions: contradictions with the Bible, contradictions within itself, or contradictions with reality.
And around and around we go. These other religious writings cannot be from God because he only wrote one book, the Bible. And unlike Harper Lee of To Kill a Mockingbird fame, God is not planning to write a sequel.
At the end of article, Hodge proves "conclusively" that other religious writings such as the Qur'an and the Book of Mormon are not from God. How does he do this you ask? Why he compares these writings to the Protestant Bible and shows that they have different teachings and words. This is a ploy commonly used by people who think the King James Bible is God's perfect Word for English-speaking people. Here's how this works. Take Isaiah 7:14, a verse Evangelicals believe prophesies the virgin birth of Jesus. The King James version renders the verse this way:
Therefore the Lord himself shall give you a sign; Behold, a virgin shall conceive, and bear a son, and shall call his name Immanuel.
However, the New Revised Standard Version renders the verse this way:
Therefore the Lord himself will give you a sign. Look, the young woman is with child and shall bear a son, and shall name him Immanuel.
Oh Lord, the NRSV takes away the virgin birth, says the King James onlyist. This is PROOF that the NSRV is not from God.
Let me give one more example of this kind of thinking. Take Mark 16:9-20. You know the passage that says in verses 16-18:
He that believeth and is baptized shall be saved; but he that believeth not shall be damned. And these signs shall follow them that believe; In my name shall they cast out devils; they shall speak with new tongues; They shall take up serpents; and if they drink any deadly thing, it shall not hurt them; they shall lay hands on the sick, and they shall recover.
Some newer translations omit this passage or footnote it saying that verses 9-20 are not found in the oldest manuscripts. King James onlyists see this omission as proof that modern versions are removing God's Words. If God didn't want these verses in the Bible he would never have written them to start with. But he did, end of story.
What's interesting here is that while King James onlyists believe Mark 16:9-20 is the very word of God, they pretty much ignore or explain away what the verses teach. Most King James onlyists are Baptists who believe that salvation is by grace. Baptism has no salvific effect. It is nothing more than a ceremonial act. Yet, this passage clearly says, He that believeth and is baptized shall be saved. Now who is the one taking away from the Word of God? The same goes for the verses that say that the followers of Jesus will cast out devils, speak with new tongues, take up serpents, drink poison without adverse effect, and heal the sick. I don't know of one King James onlyist church that takes these verses seriously and attempts to put them into practice. Hey Maude, pass the strychnine. It's my turn to drink poison.
In a similar manner, Hodge thinks if he compares the teachings of Bible with the teachings of the Qur'an he will show that the Protestant Bible is from God and the Qur'an is not. I suspect readers are by now doing a face palm. It's like a man comparing a Ford owner's manual with a Chevrolet owner's manual. Yep, only the Ford is an automobile. Why? The owner's manuals are different. Of course they are different. One's for a Ford and the other is for a Chevrolet. Both are automobiles.
So it is with religious texts. Difference is not proof of a text's truthfulness. Perhaps the Book of Mormon is from God and not the Protestant Bible. It is impossible to know one way or the other just by playing the world-famous Hodge Religious Text Comparison Game®. And Hodge knows this. He concludes his survey of the astounding wonders of the closed Evangelical mind with this statement:
So there are two options: place our faith in the perfect, all-knowing God who has always been there, or trust in imperfect, fallible mankind and his philosophies. The Bible, God's Holy Word, is superior to all other alleged holy books. God will never be wrong or contradict Himself. So start with the Bible and build your faith on its teachings so that you please Him.
Finally, Hodge gives the answer to every question about the Bible and its teachings: faith. Why not start with this answer? All Hodge had to say is that by faith he believes the Protestant Bible is from God. Faith cuts off any rational inquiry. Faith keeps Evangelicals from investigating Hodge's false claim that there are no contradictions in the Bible. Hodge doesn't want Answers in Genesis supporters to think for themselves. Just have faith, he says. How else can someone believe the universe is 6,020 years old? Such a belief, along with a plethora of other literalistic beliefs, require great faith. This is a faith that becomes blinders for the mind, keeping people from daring to rationally investigate the claims made by men such as Bodie Hodge.
Never will there be found in their possession one of Bart Ehrman's books. Reading such books and comparing them to what the keepers of Evangelical Biblical Truth® say will certainly lead to questions and doubt. And we can't have that. Doubt is a lack of trust in God. Doubt is sign that Satan is gaining a stronghold. We must not have questions and doubt, Evangelical preachers say. Just have faith and your doubts will go away. And if they don't? Dammit, stop asking questions and believe what I tell you to believe!!
Note
If you are interested in reading what Hodge thinks about atheists, please read Dear Atheists, from Bodie Hodge. Please grab a barf bag and have it nearby when you start to read. Trust me, you will need it.