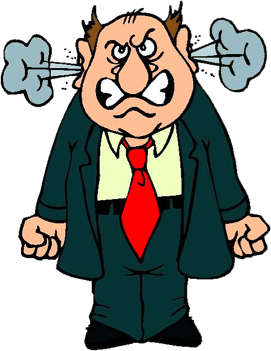 My letters to the editor of the Defiance Crescent-News often result in local Christians venting their spleen in my direction. I have no doubt that my recent letter about creationism will agitate the faithful, resulting in a new spate of letters denouncing evolution and atheism. Sometimes, letter writers make things personal. For example, here is a comment left by a local resident on the Crescent-News website:

Text:
Only problem that you have Gerencser is that you have yet to prove evolution is fact or disprove that there is a deity. So you really dont know any more then anyone else.. And isnt it so strange that you claim to be a minister from a diploma mill in Washington state and yet this is how you respond? Hows that working out for you since Ohio does not recognize this diploma mill? Hope you have not tried to marry anyone as the JAG of Ohio would not look too pleased if you did. Anonymous3371
I have a good idea who this asshole is, but since I don't know for sure, I will refrain from attaching their name to this comment.  If you would like to read other Christian responses to my letters to the editor, please check out the new Local Response Page. This page is currently 12,000 words long. I will continue to add to it anytime there is a letter to the editor that mentions me by name. You can find all of my letters to the editor here.
Now, about the scurrilous allegations in the aforementioned comment.
On July 7, 2013, a local Fundamentalist Christian by the name of Daniel Gray wrote:
Bruce Gerencser should use facts in his letters. His latest rant is so full of errors as to make his point completely obtuse. Here are a few examples…

…The fact that Gerencser can marry anyone is laughable. He received his claimed ministerial credentials by professing a faith in a deity and swearing to follow that religions teachings. So unless he does so, then his authority to marry anyone under the same is null and void. Anyone he marries could actually find that they are not and never have been married. And last, the only way to change our Constitution is by a constitutional amendment…

…History and facts yet again destroy the views of Gerencser. He should be used to that by now.
Here's my response to Gray:
This letter is my brief response to Daniel Gray's recent letter to the editor.

Gray continues to paint me as a liar, a deceiver, immoral, and an all-round bad person. Gray does not know me personally, so I am not sure how he comes to the conclusions he does about me. I have never made one of my letters personal, yet Daniel Gray and a few other letter writers think it is okay to attack my character and suggest that I am not a good person.

As a public figure, I know I must endure such attacks, but I wish my critics would focus on the issues rather than the person. If they would like to have a public discussion on these issues, I am quite willing to participate in any public forum they put together.
On July 21, 2013, I wrote another letter to the Defiance Crescent-News stating:
For the third time Gray suggests that I am not legally able to marry people and that anyone married by me is in danger of having their marriage invalidated. Gray seems to not understand the legal requirements for being licensed to marry people in Ohio. I meet all the statutory requirements and I am duly licensed to marry people in Ohio. Anyone can verify this by doing a ministerial license search on the Ohio Secretary of state's website.
On August 25 , 2013, fellow shit stirrer Willy Pack, came to my defense:
…Our secular government guarantees all of its citizens freedom of religion and freedom of speech. Fundamentalists, however, have made many clumsy attempts aimed at silencing Mr. Gerencser through intimidation and denigration.

Can anyone doubt that if they had the power of past ages, they would summon him before the court of the Inquisition? They all seem to be vying for the position of head inquisitor. What would be his crime other than not sharing their beliefs and daring to say so publicly? Are they really that intolerant of others' beliefs or just afraid their beliefs cannot stand up to a little scrutiny?

With all of the different religions, denominations and sects on this planet, one thing is for certain: We are all going to hell according to somebody's religion.
Once again, let me provide proof of my ordination and my legal right to perform weddings in the state of Ohio:
And here's the final proof, straight from the Ohio Secretary of State's Minister Licensing database:
I originally publicly posted these credentials in a January 23, 2015 post titled, Bruce Gerencser, The Ney, Ohio Atheist. Since this post, I have added ANOTHER ordination: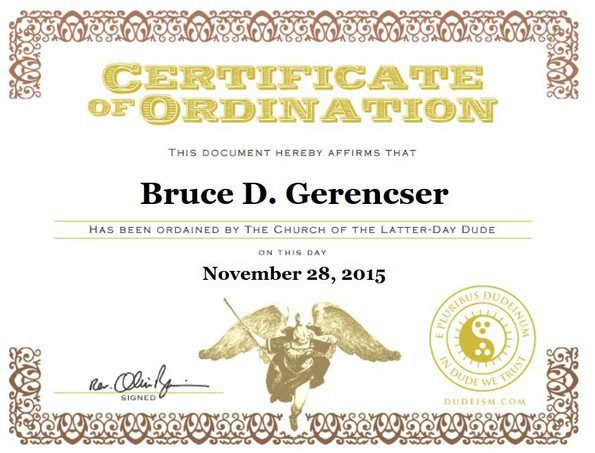 The charge that I have a degree from a Washington state diploma mill is absurd. I attended Midwestern Baptist College from 1976-1979. I was an average student who worked a full-time job, attended church three times a week, ran a bus route, and preached at a drug rehab center while attending college. Need proof?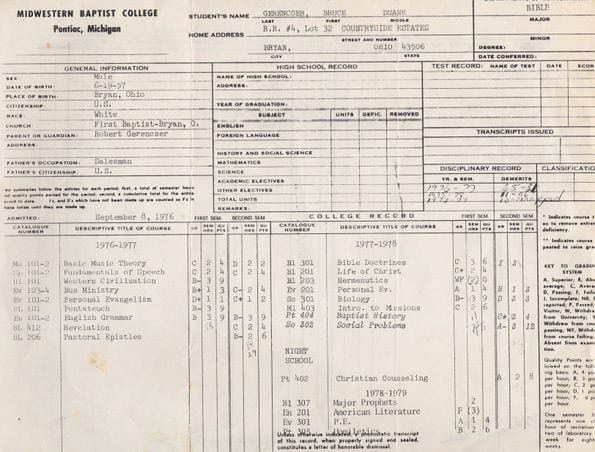 What's next? Proof that I am circumcised? Proof that I am married, have six children, and eleven grandchildren?  Sadly, some local Christians have no shame. They are quite willing to smear me in public if it means it will make me look bad or cause others to question my credibility.
To Daniel Gray, Anonymous3371, and anyone else who seems to be obsessed with lying about me? I will let Mikey Wilson speak for me: