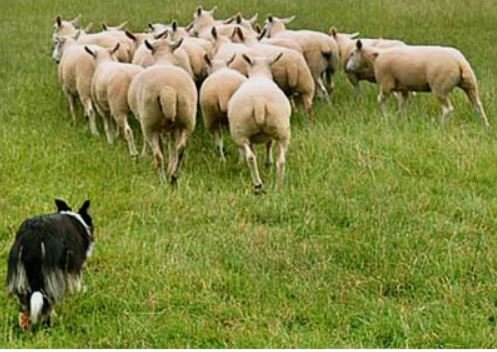 It is not often that an Independent Fundamentalist Baptist preacher of the stature of Dr. not-a-real-Dr. Bob Gray, Sr., exposes for all to see the way he really does the work of the ministry. While I appreciate Gray's "honesty," something tells me that he won't appreciate this blog post.
There was a day when the job description for Evangelical pastors included things such as preaching, teaching, visiting the sick and the elderly, marrying the young and burying the old. These days, Evangelicals pastors, especially those who pastor megachurches, inspire and encourage church members. Every Sunday, church members file into the sanctuary hoping to get their weekly fix of Jesus. Pastors, knowing they must rev up congregants to keep them happy and tithing, resort to all sorts of tricks to make sure felt needs are met and every person leaves the sanctuary all jacked up on Mountain Dew, I mean Jesus.  This type of ministry has turned church members into spectators.
Down in Longview, Texas, things are different at the Longview Baptist Temple — a sin-hating, devil-fighting, King-James-Only Independent Fundamentalist Baptist church. The Gray clan — Bob Gray, Sr., and Bob Gray II — have little interest in inspiring, motivating or encouraging church members. Death is certain, hell is real, and Jesus is coming soon, preach the Grays, and they have no time to coddle church members. According to Gray, Sr.'s recent blog post, God-called preachers should drive their church members to do what they want them to do. Gray wrote:
The more I think about the subject of driving people the more I realize how we badly have missed the boat regarding this. In every other area of life we taut [sic] and praise the people who are driven and do drive others for a cause.

We celebrate a coach who drives his team to victory, but criticize the pastor who drives his church to reach their city for Christ. We praise the teacher who drives her students to study harder to get good grades, yet slander the pastor who drives his people to fulfill the great commission as they are commanded to do. We rejoice over the parent who drives their child to practice their musical instruments so that they can become accomplished musicians, but we demonize the pastor who drives his people to give more to God.

Let me ask you a question. Is winning the lost less important than winning the national championship? Tell me why Nick Saban can drive his Alabama football team to win and we love it, but we criticize the preacher for driving his people.
It seems that Gray, now 70 years old, has failed to learn that rarely does driving people result in long-term success. When people feel they are constantly being pushed to do, do, do, and do some more, they will, over time, tire of it and seek rest and relaxation somewhere beyond the incessant pushing of their drug-dealer pastor. I wonder if Gray, Sr. has ever thought about the thousands of church members he has driven right off a cliff? Tens of thousands of people have been won to Jesus through the soul-winning efforts of sheepdog Gray and Longview Baptist Temple (LBT) sheep. Shouldn't the auditorium of LBT be teeming with members by now? Surely, 30 plus years of driving congregants to give, give, give and win souls, win souls, win souls, should result in overflow attendance on Sunday; yet attendance at LBT is a smidgen of what it once was. Longview Baptist Temple used to regularly publish its attendance numbers, bus rider numbers, and number of souls saved. Today? These numbers are no longer shared with the public. If continually driving church members is the way to do the work of the ministry, why does attendance at LBT continue to decline?
Where did preachers such as Bob Gray, Sr. get the notion that church members must be driven to accomplish great things for God? For many years, Jack Hyles — pastor of First Baptist Church, Hammond, Indiana — held an annual Pastor's School. Thousands of Independent Fundamentalist Baptist (IFB) preachers and church members flocked to Hammond to sit at the feet of Hyles. First Baptist — at the time, the largest church in the world — was the crown jewel of the IFB church movement. Numerous preachers — Bob Gray, Sr. included — took to heart Hyles' preaching and returned home to drive their churches to give, give, give, and win souls, win souls, win souls. The result? In the 1970s and early 1980s most of the Top One Hundred churches in attendance were IFB churches. Today? Only a handful of IFB churches are on the list. None is anywhere near the top of the list, having been displaced by friendlier, generic Evangelical churches.
The blame for the decline of the IFB church movement rests at the feet of Jack Hyles and those who followed in his steps. Hyles taught these so-called men of God to verbally, emotionally, and mentally abuse church members. As one aged IFB preacher said years ago, We hit our people over the head with the sin stick so often that they duck when we begin to preach. For years, Sunday after Sunday, IFB church members filed into churches such as Longview Baptist to hear preachers tell them that they were never doing enough. Souls for Jesus is our battle cry. Souls for Jesus is our battle cry. We never will give in while souls are lost in sin. Souls for Jesus is our battle cry, sang the Midwestern Baptist College student body when I attended there in the 1970s. Today, the school has a handful of students, and the church which students were required to attend — Emmanuel Baptist Church — is no longer in existence; a church, by the way, that once exceeded 5,000 in attendance.
Thousands of souls were saved through the work of Midwestern college students. Required (driven) to evangelize, students fanned out across the Pontiac and Detroit area, knocking on doors and offering the one-two-three- repeat-after-me IFB gospel to those who dared to answer their knock. Freshmen students, filled with zeal and unaware as to how the soul-winning game was played, were those most likely to devote themselves to saving the lost. By the end of their first year, students who had been repeatedly berated at church, college chapel, and Saturday bus meetings over their poor souls-saved numbers, learned how to lie about their soul-winning conquests. Students were required to report each week how much time they spent evangelizing the lost and how many people were saved. Midwestern even held soul winning contests. Won souls were carefully tabulated and the best soul-winners had their names affixed to a chart.
Many IFB churches have moved on from their hyper-soul-winning days. As members began to burn out, attendance numbers declined. These IFB preachers — considered compromisers by men such as Gray — say they are now focused on quality and not quantity. Other IFB preachers, refusing to admit that they have burned through several generations of church members, continue to drive their churches — demanding more and more from fewer people. The numbers are against them, and in time churches built on the Hyles model of sheep-driving will collapse, and the remaining sheep will scatter, finding pastors and churches who treat them like people instead of a commodity. Whatever my feelings are concerning religion, I consider that those who choose to believe should be treated with respect. After all, they are the ones doing the work and paying the freight. Without them, preachers would be forced to sell vacuum cleaners and hamburgers to make ends meet.
Note
Gray, Sr. recently took to his blog to whine about people saying he drives church members. Gray wrote:
Recently it has been brought to my attention that someone who once worked side-by-side with me in my ministry has criticized me to several men for having "driven" my people rather than leading them. Now, normally I would actually consider that to be a compliment. However, it was obvious that it was not said as a compliment but as a criticism.

It is interesting that someone who would claim to be a friend would say what my enemies also have said about me. This is not something new. Nor is it something that concerns me other than for the fact that it came from a source I would have trusted. Plus it confuses people as to what good leadership is.

People who are told they are "hurting" after being so-called "driven" never knew it until they were told so. We are basically lazy by nature and anyone who will feed that will have to be critical of prior leaders who were driven because of a cause. It is an insult to those who gave their lives to a cause to say they were "driven" without a choice in the matter.

….

So, I say to those who accuse me of driving my people, you are right, I did drive my people. I drove them to do what's right. I drove them to obey the Great Commission. I drove them to sacrifice for the cause of Christ. I drove them to put the Kingdom of God above themselves. I drove them to be the Christians they should be.