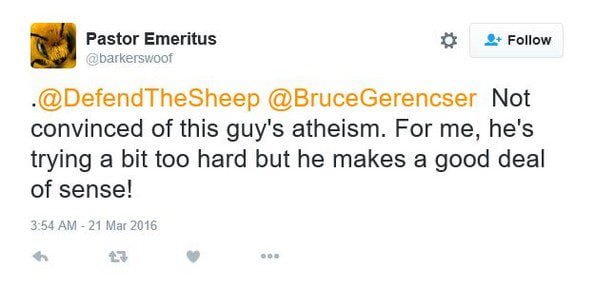 Bruce, you never were a Christian! Bruce, you are still a Christian! Bruce, I doubt that you are a "real" atheist! That's right, now I have people questioning whether I am an atheist. Quoting Shakespeare, a Christian recently told me, "methinks the lady doth protest too much." Evidently, because I write passionately about religion — particularly Evangelical Christianity — this proves that I still have some sort of latent religious belief. I wonder what I have to do to "prove" that I am an atheist? Sodomize Jesus on the communion table while pissing in the chalice and eating a ham sandwich? Use the Bible for toilet paper? Or how about seven years of writing about Christianity, Evangelicalism, the Independent Fundamentalist Baptist church movement, atheism, and humanism. I can't think of one thing I have written that would lead anyone to conclude that I am a Christian or that I have some sort of religious hangover.
This has been a common problem for me since I deconverted. Instead of accepting at face value what I say about my life — past and present — critics comb through my life looking for inconsistencies or contradictions. Several years ago, one Christian wrote on a discussion forum that my story "didn't ring true." He went on to say that he had contacted several people who lived in an area that I "said" I once pastored in and none of them had heard of me. Conclusion? I was lying.
I have given up trying to "prove" my life to people. I am the one who lived my life. I know what I know. When my autobiography is published later this year, I am sure that I will face a new round of scrutiny and criticism. I suppose I should be used to this by now. If I am going to write first person articles and books — naming names, dates, and places — I should expect to have my writing scrutinized. This is the price I pay for playing in the middle of the freeway during rush hour traffic.