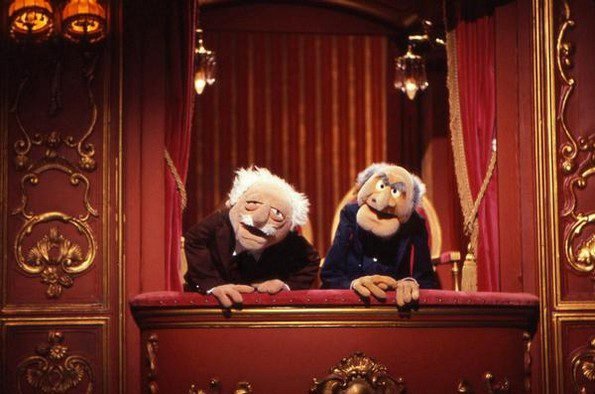 Over the past eight years I have been told more times than I can count that I am going to hell  At first, such proclamations bothered me. I thought, man if I am wrong I will fry in hell f-o-r-e-v-e-r. Since I spent fifty years hearing and preaching sermons about a vengeful God of wrath who sends unbelievers to hell — a place of never-ending pain, suffering, and torment — it should come as no surprise that eternal damnation was deeply imprinted on my mind. It took me several years to totally free myself from stray thoughts about being wrong and ending up in hell. I now view such thoughts as a hangover of sorts. Past Evangelical beliefs can be hard to shake, often hanging on for years after people deconvert. These thoughts are similar to vestigial organs that once served a purpose, but no longer do so. At one time, threats of judgment and hell reminded me of the great price Jesus paid for my salvation. They also reminded me of what happens to those who refuse to believe the gospel and be saved. Threatening people with eternal punishment is effective when attempting to increase church attendance. This is why Evangelical pastors encourage congregants to invite the unsaved to church. Once there, these sinners can hear what "God" thinks of them and their sin. Using a carrot-and-stick approach, pastors promise eternal life to those who will believe, and threaten eternal judgment for those who won't. Needless to say, this kind of thinking can really fuck with mental wellness.
These days, threats of hell no longer elicit a what if I am wrong response from me. Of course, Evangelical zealots say that the reason for this is because God has given me over to a reprobate mind (Romans 1). I have crossed the line of no return, and my eternal destiny is sealed. I think this is one of the reasons many Evangelicals treat me so poorly. I am beyond help, so there is no need to treat me decently and with respect.
Recently, a person with the name I LOVE MY MESSIAH took it upon himself to let me know what he thought of me and where I should expect to spend eternity. Enjoy!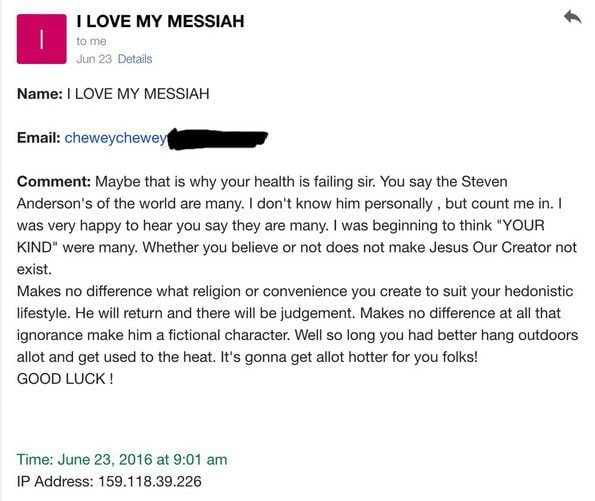 Text of Email
Name: I LOVE MY MESSIAH
Email: cheweychewey
Comment: Maybe that is why your health is failing sir. You say the Steven Anderson's of the world are many. I don't know him personally , but count me in. I was very happy to hear you say they are many. I was beginning to think "YOUR KIND" were many. Whether you believe or not does not make Jesus Our Creator not exist.
Makes no difference what religion or convenience you create to suit your hedonistic lifestyle. He will return and there will be judgement. Makes no difference at all that ignorance make him a fictional character. Well so long you had better hang outdoors allot and get used to the heat. It's gonna get allot hotter for you folks!
GOOD LUCK !
Time: June 23, 2016 at 9:01 am
IP Address: 159.118.39.226