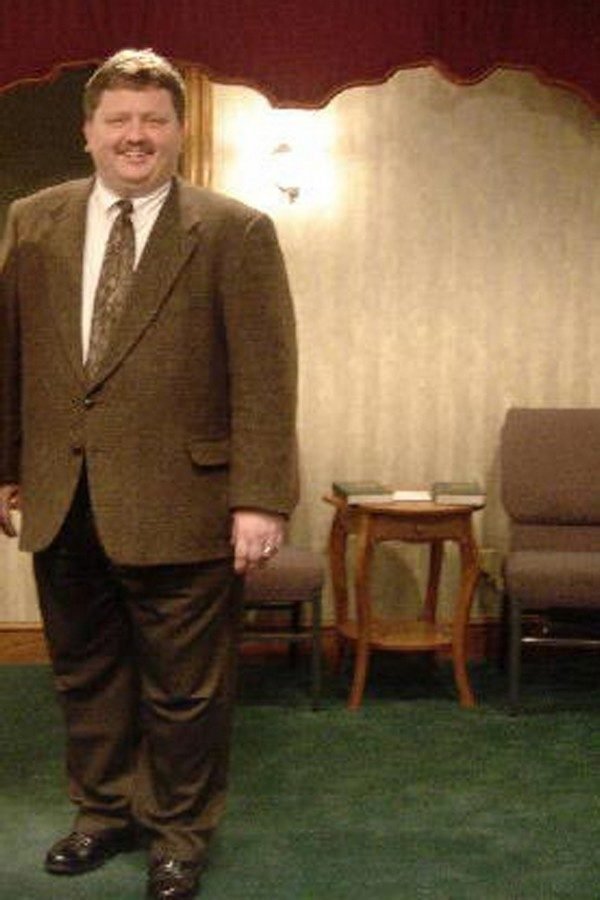 The Black Collar Crime Series relies on public news stories and publicly available information for its content. If any incorrect information is found, please contact Bruce Gerencser. Nothing in this post should be construed as an accusation of guilt. Those accused of crimes are innocent until proven guilty.
Last week, an Ohio appeals court overturned the child rape conviction of IFB preacher Richard Mick. Mick was, at the time of his conviction, the pastor of Lighthouse Baptist Church in Sandusky, Ohio.
The Sandusky Register reports:
An Ohio appeals court said a Sandusky pastor previously sentenced to life in prison for child rape must receive a new trial.

Richard Mick, 56, who was sentenced in Erie County Common Pleas Court in 2016, had his conviction overturned Friday by the Sixth District Court of Appeals. A jury originally found Mick guilty of four felony charges of rape and gross sexual imposition.

Mick, formerly a pastor at Lighthouse Baptist Church, appealed his conviction after his trial was notably marked by his then-attorney K. Ronald Bailey refusing to participate in the trial.

Bailey, in 2016, argued the trial should have been delayed, and Judge Roger Binette held him in contempt of court after Bailey told Binette he was "not participating" in the trial. Bailey eventually served a 30-day sentence in the Erie County jail for the contempt charge.

Bailey did not respond to requests for comment Friday afternoon.

Mick's appeal, filed by his new Cleveland-based attorney, Russell Bensing, alleged Bailey's refusal to participate in the trial violated his right to effective counsel, according to the appeal.

The appeals court agreed with Mick, according to a court opinion written by Judge Thomas Osowik.

"Although Mick could have waived his constitutional right to counsel, the record shows he did not," Osowik said.

There are not any court dates set following the overturned conviction Friday.

Mick has another pending court case in Erie County Common Pleas Court, where he faces more counts of gross sexual imposition, according to court records. He has a pretrial in that case set for May 16.
An October 5, 2016, Sandusky Register report stated:
The long-delayed trial of a Sandusky pastor accused of sexually abusing children got off to a rocky start Tuesday when his attorney refused to participate altogether, and then defied the presiding judge.

The trial for Richard Mick, 55, of Lighthouse Baptist Church, is slated to resume Wednesday morning before Erie County Common Pleas Judge Roger Binette, but it remains to be seen just how the proceedings will unfold.

Soon after jury selection began on Tuesday, defense attorney K. Ron Bailey refused to participate and said he does not intend to do so for the duration of the trial.

"I've been practicing for over 33 years and I've never done this before, but, Your Honor, defense counsel cannot and will not be able nor willing to proceed today," Bailey told Binette.

Despite Bailey's actions, Erie County Assistant Prosecutor Aaron Lindsey said he will continue prosecuting the case as normal.

"We're moving forward with the case," Lindsey told the Register.

The trial could take up to two weeks, but will be decidedly one-sided if Bailey continues on this course. If he does, witnesses may not be cross-examined, evidence may not be presented in Mick's defense, and defense witnesses may not be called at all.

In the meantime, prosecutors will continue seeking a conviction against the pastor, who's facing a potential sentence of life imprisonment. Mick is accused of raping an approximately 8-year-old girl — and fondling an approximately 8-year-old boy — over a decade ago.

Bailey's refusal to participate at trial seems to revolve around a few specific issues.

Last week, he filed two motions with the court — one asking that the trial be delayed, and one asking Binette to recuse himself.

According to court documents, Bailey asked for a delay for essentially three reasons:

•He had to travel out-of-state for his son's wedding over the weekend.

•Mick had been ill recently.

•He hadn't been able to fully investigate new accusations that Mick sexually assaulted another child. (Allegations that led to eight new indictments being leveled by a grand jury in August).

Bailey's request came after more than two years worth of delays in the case. On previous occasions, he asked for the trial to be pushed back for a myriad of reasons, including Mick being ill, parking issues near the courthouse due to Ohio Bike Week, and not having enough time to prepare, according to court documents.

Binette ultimately denied Bailey's new request for another delay, and ordered the trial move forward as planned on Tuesday.

Binette also denied Bailey's request to recuse himself, which was, in part, predicated on Binette's refusal to delay the case yet again.

Bailey also told the Register that the primary reason he wasn't participating in Mick's current jury trial is because no ruling had been made regarding an expert witness's testimony.

"The biggest thing is…the motion…that was filed back in August hasn't been ruled on yet," he said Tuesday afternoon.

Binette, however, ruled on that motion Tuesday morning following a heated exchange with Bailey in the courtroom, court records state.

After Bailey declared his intentions not to participate during jury selection, Binette told Bailey and Lindsey to return to their seats and step away from his bench.

"You may step back, you are excused," Binette told the men.

Lindsey retreated, but Bailey stayed put and cut the judge off.

"I was talking about—" he said.

"You may step back," Binette said, firmly.

The exchange repeated itself, and Bailey again interrupted.

"I know I may but I won't…" Bailey responded.

At that point, Binette ordered the jurors out of the room and warned Bailey for contempt of court.

"Counsel, this court said 'Step back' (and) you said 'you may but you weren't'. Further activity like that will be held in direct contempt of court and the court will sanction appropriately," Binette said before resuming proceedings.

The jury selection process then continued where it left off — but Bailey refused to chime in each time he was given the opportunity.

"We're not participating," he said multiple times. "I previously told you that I won't participate in this trial and I'm sticking to that."

Bailey argued that continuing with the trial "would violate Reverend Mick's rights to guaranteed due process."

….
An August 31, 2016 Sandusky Register report stated:
Just weeks ahead of his trial for other alleged child sex crimes, a local pastor was indicted yet again — this time for allegedly touching a five-year-old boy.

Pastor Richard Mick, 55, of the Lighthouse Baptist Church, was indicted this month on eight felony counts of gross sexual imposition.

It marks the fourth time since 2012 Mick has been accused of child sexual abuse.

The alleged victim in this case, like the previous cases, was a member of Mick's Cleveland Road church, police say.

The boy, now 15, told investigators Mick inappropriately touched him on multiple occasions about a decade ago.

"He said he used to get in trouble at the church and Mr. Mick would talk to him alone in his office," Sandusky police Detective Ken Nixon said.

It was during those meetings Mick allegedly touched the boy.

"He recently had to talk to some counselors and disclosed this to them. The counselor passed it on to police and Children Services," Nixon said.

The boy's story is similar to the accounts of two other children (now teenagers), who each alleged Mick abused them at the church when they were about eight years old.

One of the alleged victims in that case said she was raped by Mick, and the other alleged victim said he was fondled by the pastor.

Mick was indicted for both of those incidents in 2014, and his jury trial is now scheduled for October 6.

The pastor was accused of raping another girl back in 2012, but Erie County prosecutors dropped that case, saying they could not prove it beyond a reasonable doubt, according to court records.

When the Register contacted Mick's defense attorney, K. Ronald Bailey, for comment, he did not address Mick's eight new indictments directly. He did, however, point to a lie detector test Mick underwent for the 2014 case.

"He has passed polygraph examinations showing that the allegations are false," Bailey stated.

Bailey asked for those results to be included in Mick's upcoming trial, but polygraph exams are generally inadmissible, and a judge denied his motion.

The most recent allegations against Mick surfaced in early July, after the boy's counselor reached out to local authorities.

The boy was then interviewed on July 22, and the case was presented to an Erie County grand jury, which opted to level eight new indictments against the pastor.

….
An October 7, 2016 Sandusky Register report stated:
A Sandusky pastor was convicted of child rape and sentenced to life in prison Friday at the conclusion of a tumultuous trial.

A jury found Richard Mick, 55, of Lighthouse Baptist Church, guilty on four felony counts, two of which carried a mandatory life sentence.

Mick raped a young girl on two occasions, and fondled a young boy multiple times. Both were members of his church.

"A pastor is (supposed) to take care of his flock," Erie County Common Pleas Court Judge Roger Binette told Mick. "You didn't do that."

He called Mick a "wolf in sheep's clothing," before handing down the sentence.

"They thought you were protecting them and you weren't. You were harming them," Binette said.

Mick received a life sentence for raping the girl and an additional five years for victimizing the boy.

Two other alleged victims testified at trial this week, detailing other alleged abuse they said they sustained at Mick's hands.

The pastor is facing eight additional counts of gross sexual imposition for one of those cases, which is still pending. Over the coming months, Mick will likely be shuttled back to Erie County to answer for those alleged crimes.

"This trial has been about courage, the courage of four young adults to come forward and share their inner demons," said assistant Erie County prosecutor Aaron Lindsey during his closing arguments Friday morning.

The jury ultimately agreed with prosecutors. They returned with guilty verdicts after less than two hours of deliberation.

The defense strategy of Mick's attorney, K. Ronald Bailey, was highly unusual. He refused to participate in the trial, and essentially argued no case on his client's behalf. Local officials said they'd never witnessed anything like it.

….