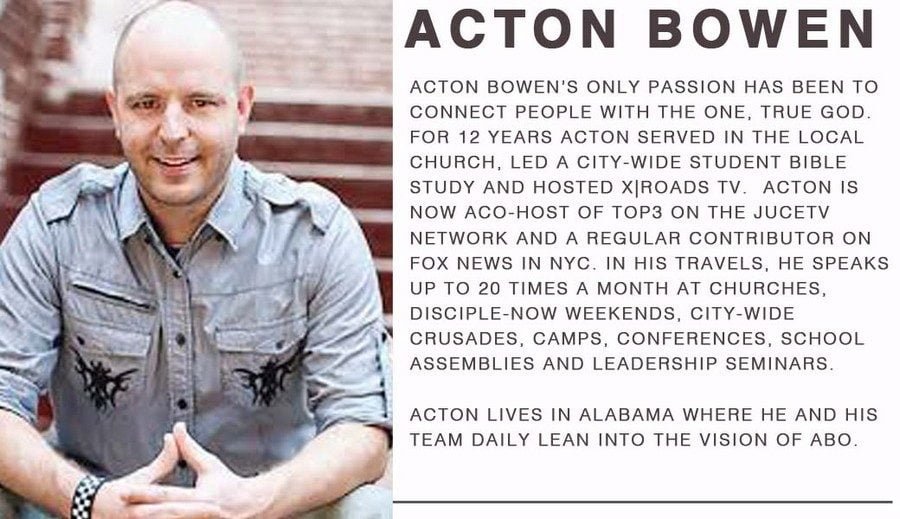 The Black Collar Crime Series relies on public news stories and publicly available information for its content. If any incorrect information is found, please contact Bruce Gerencser. Nothing in this post should be construed as an accusation of guilt. Those accused of crimes are innocent until proven guilty.
(Please read Black Collar Crime: Evangelical Evangelist Acton Bowen Arrested on Child Sex Charges and Black Collar Crime: Why Did Young Boys Need to be Protected from Evangelist Acton Bowen? and Black Collar Crime: Evangelist Acton Bowen Accused of Additional Sex Crimes for further information about Acton Bowen.)
Law enforcement has broadened its investigation of Evangelical evangelist Acton Bowen, saying that it is likely that there are other victims in multiple jurisdictions. AL.com reports:
Evangelist Acton Bowen, currently facing sex abuse charges in connection with five teenage boys in two counties, is being investigated in three other jurisdictions.

That's according to an Etowah County prosecutor, who said in court today that additional charges could come against Bowen as early as this week. Deputy District Attorney Carol Griffith, arguing why Bowen's $500,000 bail should not be reduced or changed, said Bowen is being investigated by the FBI and in Orange Beach, as well as in Florida and Colorado.

"The true extent of these crimes is not yet known," Griffith said. "Under the guise of leading children to the Lord, he was abusing them and leaving them more lost than ever before."

District Attorney Jody Willoughby was even more forceful in arguing before Presiding District Judge David Kimberley.

"Acton Bowen is a danger to every child in this community," he said. "The only place he remains not a danger is in the Etowah County Detention Center."

….