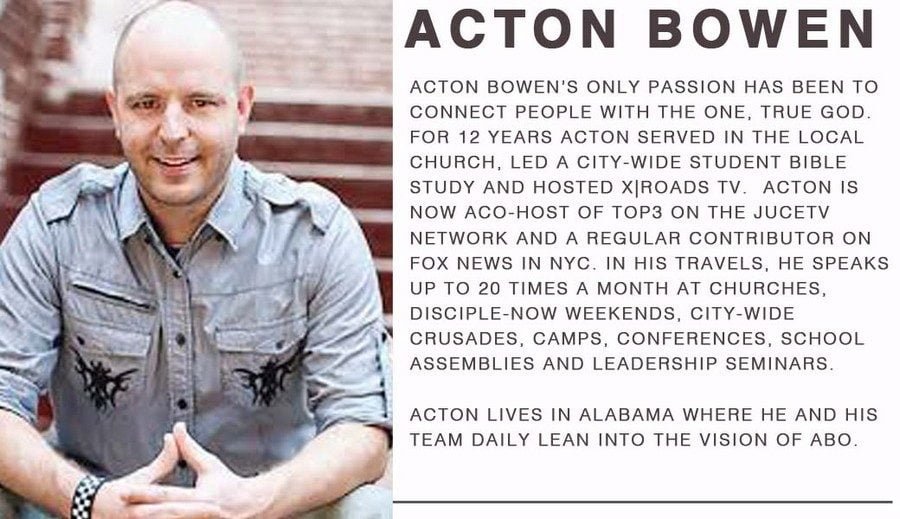 The Black Collar Crime Series relies on public news stories and publicly available information for its content. If any incorrect information is found, please contact Bruce Gerencser. Nothing in this post should be construed as an accusation of guilt. Those accused of crimes are innocent until proven guilty.
Acton Bowen, a noted Evangelical evangelist, conference speaker, and friend of Donald Trump, was arrested Tuesday on child sexual abuse charges.
A well-known Alabama evangelist, public speaker and author was arrested in Hoover Tuesday on child sex charges.

Paul Edward Acton Bowen, a 37-year-old Gadsden native who now lives in Etowah County's Southside community, was taken into custody by Hoover police about 12:35 p.m. The founder of Acton Bowen Outreach Ministries is charged with second-degree sodomy, enticing a child to enter a vehicle or house for immoral purposes, and second-degree sex abuse. The victim was a young male, but police did not release his age except to say he is over 12 and under 16.

Hoover police Capt. Gregg Rector said the department's Special Victim's Unit first launched an investigation three weeks ago. The Jefferson County District Attorney's Office issued the warrants on Monday.

"This is certainly one of the more disturbing cases that we've investigated in quite some time," Rector said. "Mr. Bowen is in a highly-respected position of influence and he is trusted by many. We believe he betrayed that trust in the worst kind of way."

Bowen was taken into custody in Pelham and transported to the Hoover City Jail. He was moved to the Jefferson County Jail where he was released early Wednesday on $90,300 bond.

Rector said the victim in this case is an underage family acquaintance, "He is currently doing well and has been in a safe environment since police were first notified," Rector said.

….

Bowen is president and founder of Acton Bowen Outreach. His bio says he served for 12 years in a local church, led a citywide student Bible study in Gadsden and was also the host of xlroads TV, a worldwide broadcast viewed weekly by millions of teens and adults in every city in America and over 170 countries around the world.

The website says Bowen is a cohost of Top3 on the JuceTV Network in New York City.

"Everyone associated with JuceTV was shocked and disheartened to hear of the egregious allegations made against Acton Brown this week. Our prayers go out to those who may have been hurt and victimized," a JuceTV spokesperson said in a statement to AL.com. "Mr. Brown made four appearances on JuceTV, an affiliate of TBN, the most recent last summer, but there are no on-going ties."

The outreach website described Bowen as a regular contributor on Fox News as a correspondent on faith and religion. However, network officials say Bowen has never been employed or paid by Fox News.

It goes on to say he speaks up to 20 times a month at churches, disciple-now weekends, citywide crusades, camps, conferences, school assemblies and leadership seminars – giving him a live platform in front of more than 350,000 people.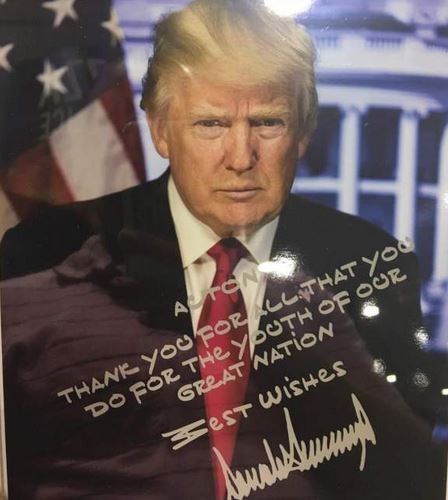 Today, Bowen responded to his arrest, saying that he is completely innocent of all charges:
I have not done what I am accused of and have not acted inappropriately in any way. My family and I trust the legal system and the people who are entrusted with the duty of protection each of our rights. I believe the truth will stand and I will be vindicated of this false accusation. We ask that each of you keep everyone involved in this process in your prayers.
In his first public statement, Bowen said he wanted to say "thank you" to the countless number of people who have prayed for his family. "My wife, Ashley, and I along with our incredible family are so grateful for your prayers," he said.

"I'm also thankful for the countless calls of support from those who have walked a lot of life with me and know me best," he said. "Your steadfast, unshakable support gives me strength. For almost 20 years (since I was 18) my life has been committed to serving Jesus by serving people."

"When this accusation was made known to me I was hurt, confused, and heartbroken," he said. "Prior to the arrest only one side of the story was heard."

….
According to an April 13, 2018 ABC-33 report, Acton's wife has filed for divorce:
New developments have emerged in the case of a youth minister arrested in Hoover for sex crimes involving a child.

Acton Bowen's wife, Ashley Nabors Bowen, filed for divorce and claimed that she feared for her safety from him.

An Etowah County judge Friday granted her immediate temporary exclusive possession of their home in Southside while restraining him and her from any contact or behavior intended to harass, threaten or intimidate the other.

The 29-year-old filed to end her two-year marriage just after the founder of Acton Bowen Outreach Ministries was taken into custody Wednesday by Hoover police on charges of sexual abuse, sodomy and enticing a child.

….