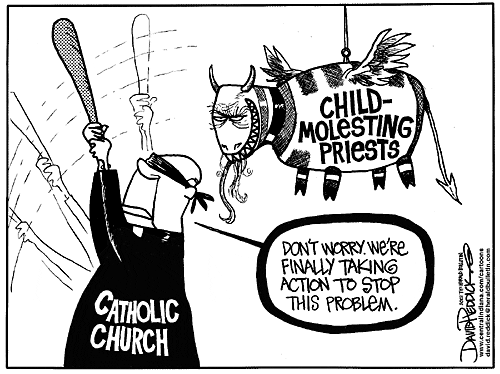 Guest post by MJ Lisbeth
When I heard about the Pennsylvania grand jury report on children sexually abused by Roman Catholic priests, my reaction was, "Only 1,000 kids? Only 300 priests? — over 70 years?"
I am not a lawyer or any sort of expert on laws regarding child sexual abuse (or on any other kind of law, for that matter). But I do know that in most states, it's all but impossible for anyone over the age of 30 to bring charges against a priest or church for abuse suffered at age ten, fifteen or even twenty. Depending on the state, a victim can only file a suit up to a certain age or, perhaps worse, a certain number of years (usually five to ten) after the abuse.
This all but prevents most victims from bringing their perpetrators — or the churches or other institutions that harbored them — to account. I know; I am one.
More than three decades passed from the times I was sexually molested by a priest in the parish where I was an altar boy until the time I finally told someone: my partner at the time, as we were breaking up. Until then, I had experienced a failed marriage, a bunch of other failed relationships, difficulties with supervisors and other authority figures, substance abuse, suicide attempts, financial ruin and general confusion about my sexual orientation and gender identity — the latter of which I began to resolve only after telling my now-ex-partner about my abuse.
The abuse I suffered — or, I should say, the experiences of abuse I can recall most vividly and terrifyingly — occurred when I was nine years old. I had received my first holy communion about a year and a half before that, and I was confirmed only a few months after the last of those incidents. The reason I recall those incidents most clearly and terrifyingly, I believe, has to do with the priest who committed them and the time in my life in which he victimized me. I will not get into either of them here; instead, I will try to answer the question of why it took so long for me to talk about them — and why the statutes of limitations regarding such abuse needs to be lengthened.
A Culture of Authority
That priest took advantage of my vulnerabilities — I was in a new school and didn't have a very supportive home life — half a century ago, in the late 1960's. That time is often associated with the Sexual Revolution and other changes in society, but those things could have just as well happened in a different world from the one in which I grew up. It was a milieu (a word nobody in that environment would have used) in which authority was to be, if not entirely trusted, then unquestioningly obeyed. Young men did not protest being drafted to fight in Vietnam; some even volunteered to go. Anyone who dared to question, let alone resist, fighting in the war was branded as a coward or traitor — or with the most damning epithet of all: Communist.
(My uncle, who was even more progressive than I am now on issues of race relations, gender roles and sexuality, nonetheless refused to watch any film, television program or other show in which "Hanoi" Jane Fonda appeared. He kept up this embargo until the day he died.)
Most of the men in my world — my own father, uncles and grandfathers, as well as those of nearly every kid with whom I grew up — were blue-collar workers.  Many had fought in Korea or World War II; nearly all had military experience of some sort. And just about all of us were children or grandchildren of immigrants who believed that their gratitude for what America offered them could be expressed only as unquestioning obedience, which they conflated with loyalty. I did, too, for a long time.
Most of them were also Roman Catholics, and their attitudes toward secular authority made them all-but-perfect candidates to follow the flock of their Good Shepherd — or, more precisely, his representatives on Earth. If you are of my generation and raised Catholic (I went to Catholic schools), you were taught that your parish priests, and even more so the bishop of your diocese, were just that: your connection to God, as it were. That, in a church, where the Pope is considered infallible.
You may not have known about that last doctrine (officially defended under Pius IX, but asserted long before that) as a kid, but you probably knew — or, more importantly, felt — the weight of the trust and authority granted to your priests and bishops. It was even greater than any power your parents, teachers or other elders held over you. When you are living under such an imbalance of power, you realize early on that if you speak up against someone who is held in as high esteem as your principal, let alone your priests or bishop, your credibility cannot hold a candle to theirs.
That is, if you can even explain what happened to you.
Human anatomy, let alone sex education, wasn't part of the fourth-grade curriculum in my Catholic school — or most others, I imagine — in 1967. Or, for that matter, most kids' homes, including mine. Even today, many parents avoid talking with their kids about the body's processes, let alone sex, for as long as possible. In many families, even today, that discussion never takes place. I know it never did in mine.
So, when our parish priest molested me, I didn't even know the names of the parts of my body he was touching. It almost goes without saying that I had no vocabulary, or any other way, to describe the ways in which my body reacted: I had not experienced anything like it before. I also did not have words, let alone expression, for the unease I felt: I knew that what he was doing wasn't right, but I didn't know why, and I never could have defended myself against those who would have blamed me for it. (Remember, this was at a time when the usual responses to rape were: What was she wearing? What was she doing there, at that time of day/night?) I am sure others abused by priests when they were children could say something similar.
Given the repressive conditions I've described — one in which authority is not questioned, church leaders have absolute authority and children do not learn about their own bodies, let alone how they can be used against them — is it any wonder that most victims don't recount their abuse by priests to anyone but themselves — if, indeed, they ever do — until they are well into adulthood? Or that some never speak up about it? One reason, I'm sure, that the Pennsylvania report didn't name more victims is that some have taken their stories to their graves. Needless to say, some are in those graves by their own doing. And, I'm sure, many priests parted this vale of tears before their victims could confront them. Mine did, about two decades before I told anyone, although I didn't realize it at the time.
Whenever they are ready.
Thus, as long as there are implicit as well as explicit rules and forces that enforce obedience and silence, particularly among children, victims need the freedom and the space to discuss their molestation whenever they are ready — whether at 20 or 40 or 80. Whenever it is, we can only hope that it's before marriages fail, jobs are lost, families are broken up, substances are abused and lives are ended prematurely. Victims deserve the right to repair or reclaim their lives; there should not be a time limit on that.