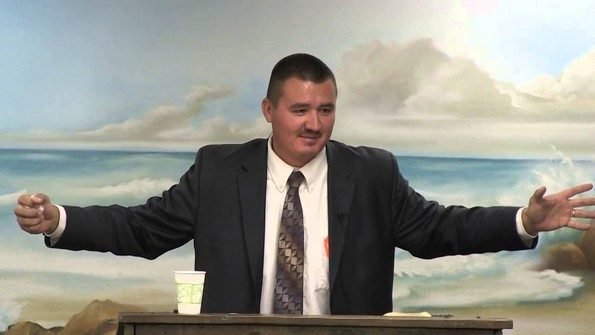 Donnie Romero is the pastor of Stedfast Baptist Church, Fort Worth, Texas. Romero is the bosom buddy of Steven Anderson, pastor of Faithful Word Baptist Church in Tempe, Arizona. Yesterday, Anderson released a video detailing Romero's resignation from Stedfast Baptist. According to Pope Anderson, Romero was cavorting with prostitutes, smoking weed, and gambling.  What's next? Romero secretly used the NIV to study for his sermons? The good news is that according to Anderson's and Romero's soteriology, the fallen pastor is still saved. There's nothing Romero can do to ever lose his salvation. Once saved, always saved, baby, even if Romero brings shame to his family or infects his wife with a STD.
Anderson must be livid over Romero exposing that his little club of IFB churches is just like the rest of the bunch; that for all their talk about soulwinning, homosexuality, and any human behavior they deem sinful, these "men of God" are no different from the unwashed, uncircumcised Philistines of the world.
Here's Anderson  five-minute video:
Here's Anderson's eighty minute speech to congregants at Stedfast Baptist. It is evident, at least to me, that Anderson views himself as the Apostle Paul of his little group of hyper-fundamentalist Baptist churches. Anderson has already chosen a new pastor for the church.
Romero's church bio states:
Pastor Donnie Romero was born in Western Colorado in 1982. He was raised as a Roman Catholic. In 2002 at the age of 19, he was saved through door to door soul winning. He met his wife ***** a few years later. In 2007, they started to attend an independent Baptist church and were married shortly thereafter. The Romero's have been blessed with 7 wonderful children. Pastor Romero is now faithfully training up men to preach the gospel door to door as the bible teaches.

Pastor Romero does not believe that churches are started by bible colleges or denominations, but they are built by the Lord Jesus Christ, through soul winning and hard Bible preaching. He is a faithful soul winner and has a desire to see lives changed as a result of the Word of God. He also whole heartedly believes that the Bible is the final authority in all matters of life.
If you are up to it, please read the YouTube comments. You will gain fresh insight into how IFB Christians think. Some commenters believe Romero is a hero, a man of character for owning up to his "sins."  That his confession shows that the "new" IFB church movement takes such behaviors seriously. Sure it does . . .
You can check out Romero's sermons here. Please have a barf bag handy, you will need it!