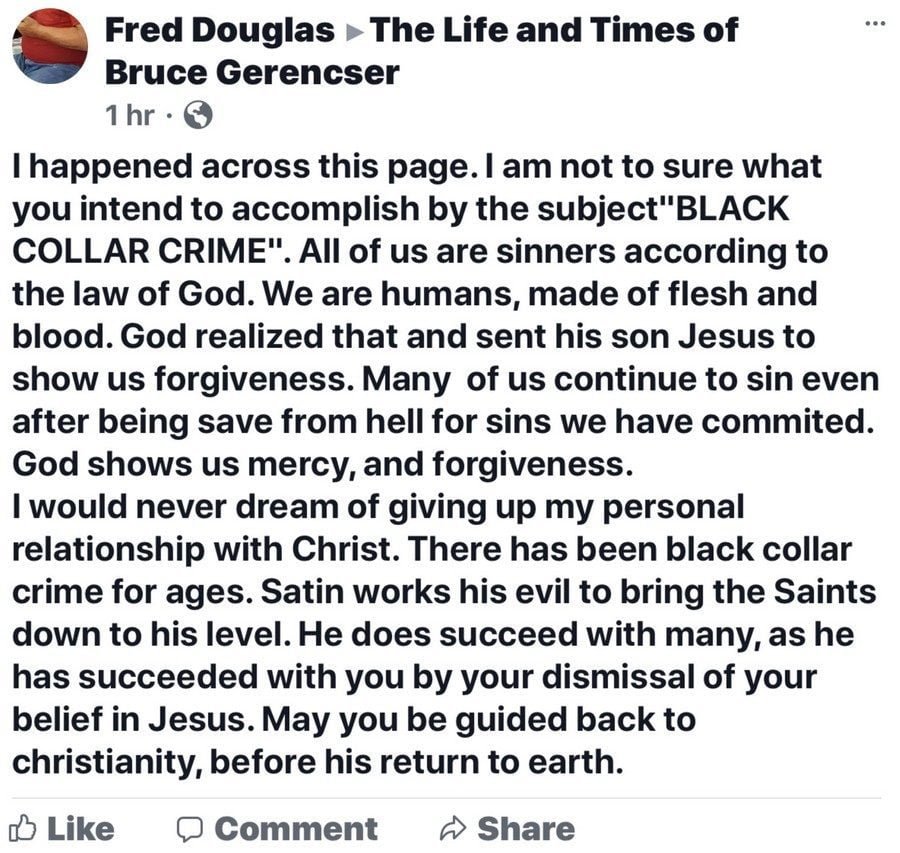 A man who lives not far from my home left the above comment on my Facebook page (if you have not yet LIKED the Life and Times of Bruce Gerencser page, I would appreciate you doing so.) Based on a bit of social media stalking, I have determined the commenter is retired and is a King James-Only Baptist. That he is a Baptist gave me a bit of context as I determined how best to respond to his comment. Last year, emergent church guru Brian McLaren said:
I feel that the role of Baptists — not Cooperative Baptist Fellowship but other Baptists — in doing harm to our nation and world is so great. I really feel well-meaning, sincere people who are deeply committed to the term 'Baptist' are often at the forefront of being careless about the environment. They are often at the forefront of being hateful towards Muslims. They are often at the forefront of promoting — unconsciously very often — white supremacy and continuing harm being done to racial minorities. We don't even need to mention the harm being done to LGBTQ persons.

….

I think one of our great challenges in the Christian religion at large is for Christianity to grow up, to be a world religion meaning not just an American religion and certainly not just a southern or rural American religion, but a religion that grapples with all the challenges of our interconnected world.

In my mind, the underlying issue is actually patriarchy. We could talk about white Christian supremacy, but at the core of this is white, Christian, patriarchal supremacy. It's a way of organizing life around powerful men.

A whole lot of people are wondering, can the Christian religion extract itself from patriarchy, or is belief in God the Father, Son and Holy Spirit so inherently patriarchal that Christians actually believe in a patriarchal universe?

….

Watching the success of Donald Trump win over especially white people, and especially white Christians and especially white evangelical and Baptist Christians, in my opinion this is a pivotal moment.
Baptists, those damn Baptists. Their theology fuels the continued support of the pussy-grabbing, adulterous president of the United States, Donald Trump. Franklin Graham and Robert Jeffress — both are Baptists — continue to defend Trump against accusations of rape, sexual assault, and adultery. It was primarily the Baptists who held the line of defense for Independent Fundamentalist (IFB) Baptist pervert Roy Moore. (Keep in mind, many generic Evangelical churches are Baptist in everything but their name.) According to Baptist theology, there's no sinful act that can kick you out of the family of God once Jesus has saved you and the Father has adopted you into his family. This is why more than a few Evangelicals believe that I am still a Christian. Once saved, always saved; once married to Jesus, no divorce. This is why serial killers Jeffrey Dahmer and Ted Bundy went to heaven when they died. No matter the sin, if your soul has been washed in the blood of Jesus, you are forever a child of God.
Thus, for the aforementioned commenter, there's no good reason for publishing the Black Collar Crime Series. Yes, Evangelical pastors, deacons, Sunday school teachers, worship leaders, and church congregants can and do rape women, sexually assault children, and commit all sorts of sexual crimes, and as long as these saved-by-grace Christians are in the flesh, they can and do sin. But, no matter what they do, God will forgive them. That's what so w-o-n-d-e-r-f-u-l about Evangelical soteriology; forgiveness is only a prayer away.
Evangelicals are frequently reminded of 1 John 1:9: "If we confess our sins, he is faithful and just to forgive us our sins, and to cleanse us from all unrighteousness." No matter what Evangelicals do, the most-awesome-God-ever stands ready and willing to grant forgiveness. Awesome, right? No matter how heinous the crime or behavior, Evangelicals are just a prayer away from a clean slate.
The commenter reminds me that all of us are sinners, and that Christians often continue to sin after they are saved. If this is so, why bother to get saved; why read the Bible, pray, tithe, and attend church on Sundays if the new birth doesn't turn sinners into new creations (as the Bible says it most certainly does)? Of course, according to the commenter, sinning Evangelicals aren't really to blame for their sinfulness — Satin is. Those damn satin sheets I just knew that they would lead to the fall of the human race. Humor aside, I'm sure the commenter meant SATAN was to blame for the sexual sins and crimes detailed in the Black Collar Crimes Series. Doesn't the Bible say of believers, "greater is he (God) that is in us than he (Satan) that is in the world?" Doesn't the Bible say that Christians are overcomers and have victory in Christ? Doesn't the Bible say that Evangelicals who sin are of the Devil and Christ does not abide in them? Doesn't the Bible say that faith without (good) works is dead (and I assume sexually assaulting children and raping women are not good works)?
It seems, then, that the commenter has a problem with the Bible. Perhaps his bankrupt Baptist theology has warped his thinking, leading him to believe that Christians can be perverts and adulterers and still make it to God's Trump Hotel in the Sky®. I wonder if he has read 1 Corinthians 6:9-11:
Know ye not that the unrighteous shall not inherit the kingdom of God? Be not deceived: neither fornicators, nor idolaters, nor adulterers, nor effeminate, nor abusers of themselves with mankind, Nor thieves, nor covetous, nor drunkards, nor revilers, nor extortioners, shall inherit the kingdom of God. And such were some of you: but ye are washed, but ye are sanctified, but ye are justified in the name of the Lord Jesus, and by the Spirit of our God.
And such were (past tense) some of you, the Apostle Paul says.
Revelation 21:27 and 22: 14,15 says:
And there shall in no wise enter into it [New Jerusalem] any thing that defileth, neither whatsoever worketh abomination, or maketh a lie: but they which are written in the Lamb's book of life.

Blessed are they that do his commandments, that they may have right to the tree of life, and may enter in through the gates into the city. For without are dogs, and sorcerers, and whoremongers, and murderers, and idolaters, and whosoever loveth and maketh a lie.
But, what do I know, right? According to the commenter, Satan has deceived me, bringing me down to the level of Evangelical Christians — his words, not mine. Say it isn't so! How dare the commenter drag me into the Evangelical gutter. My humanistic morality teaches me that raping women, sexually assaulting church teens, and abusing children are bad/harmful behaviors. I value people and, as such, I would not abuse/assault/harm others. I don't need salvation, and I sure as hell don't need forgiveness from a mythical deity. I'm more in the Tony Baretta school of life: Don't do the crime if you don't want to do the time. (Too bad Robert Blake didn't follow his own advice.) To the Evangelical sexual abusers, child molesters, and rapists I say this: if you don't want to be featured in the Black Collar Crime Series, DON'T DO THE CRIME! It's really that simple.
Why, then, is there an ever-widening Evangelical sexual abuse scandal? The short answer is this: Baptist theology; the very theology espoused by the aforementioned commenter. When people believe they are weak, helpless sinners in need of God's power and forgiveness to make it through the day, what do you expect? Churches are filled with people who believe they can't help themselves; that the flesh and Satan keep them from doing right. Their lives consist of a constant cycle of sin/forgiveness. You might remember what one Catholic priest said when he was arrested for abusing boys: I asked for forgiveness after every time I abused a boy. Evangelicals do the same when they pray for forgiveness AFTER they have harmed others.
God, I have an idea. How about getting the Holy Spirit — who supposedly lives in every believer, teaching, guiding, and directing them in righteousness and holiness (talk about bad job performance!) — to stop believers from harming others BEFORE they do so! Surely, an all-powerful, all-seeing, all-knowing, always-present God can act like a pre-crime bureau for Christians, stopping them from committing crimes before they do them. How hard can it be, God?
As for the WHY of the Black Collar Crime series, let me conclude this post with an excerpt from a previous post titled, Why I Write The Black Collar Crime Series :
I realize that these reports are often dark and depressing, but the only way to dispel darkness is to turn on the lights. Clergy who prey on congregants — especially children — must be exposed, prosecuted, convicted, and sent to prison. By leveraging this blog's traffic and publishing these reports I am serving notice to law enforcement, prosecutors, and judges: we are paying attention, and if you fail to provide justice for victims, we will hold you accountable.

Sadly, many clerics have enormous power over people. How else do we explain that repeat abusers of children and sexual predators such at Lester Roloff, Jack Patterson, and Mack Ford — to name a few — never spent a day in jail for their crimes? Mack Ford, in particular, spent decades physically and psychologically destroying teenagers, yet, thanks to his connections in the community, he was never prosecuted for his crimes.(Please see Sexual Abuse in the Name of God: New Bethany Home for Girls, Teen Group Homes: Dear IFB Pastor, It's Time for You to Atone for Your Sin, What Should We Do When Religious Freedom Leads to Child Abuse?)

Sometimes these seemingly untouchable predators are brought to justice, but not before the public puts pressure on law enforcement and prosecutors, forcing them to act. The sordid story of abuse at Restoration Youth Academy is case in point. Decades of reports about abuse were filed with local law enforcement, yet nothing was done. Yes, they finally acted and the perpetrators are now in prison, but what do we say to the hundreds of children and teenagers who were ritually abused before prosecutors got around to doing their job?

I am sure that this series will bring criticism from Evangelical zealots, reminding me that accused/charged clerics are innocent until proven guilty. While they are correct, all I am doing is sharing that which is widely reported in the news. In the nine years I've been writing about clergy misconduct, I can count on two fingers the number of pastors/priests/religious leaders who were falsely accused. Two, out of hundreds and hundreds of cases. The reason for so few false accusations is that no person in his or her right mind would mendaciously accuse a pastor of sexual misconduct.

People often believe that "men of God" would never, ever commit such crimes. One common thread in the crimes committed by Jack Schaap, Bill Wininger, Josh Duggar, David Farren, and a cast of thousands, is that family and fellow Christians were absolutely CERTAIN that these men of God could/would never commit the crimes with which they were charged. Even when presented with overwhelming evidence, their supporters, with heads in the sand, refuse to believe that these servants of Jesus did the perverse things they are accused of. (Please see What One IFB Apologist Thinks of People Who Claim They Were Abused, Evangelicals Use 'We Are All Sinners' Argument to Justify Sexual Abuse)

Secondary reasons for this series have to do with exposing the lie that Evangelicalism is immune to scandal. I remember when the Catholic sex scandal came to light. With great glee and satisfaction, Evangelical preachers railed against predator priests and the Catholic Church who covered up their crimes. Now, of course, we know that Evangelicalism is just as rotten, having its own problem with sexual abuse and subsequent cover-ups. Evangelicals love to take the high moral ground, giving the perception that their shit doesn't stink. Well, now we know better. Not only does Evangelicalism have a sexual abuse problem, it also has big problem with pastors who can't keep their pants zipped up. (Please see Is Clergy Sexual Infidelity Rare?)

…
To the commenter I say, instead of getting all peachy-preachy about the Black Collar Crime Series, how about focusing your outrage on the sex crimes and cover-ups that are being committed by pastors, deacons, evangelists, missionaries, choir directors, worship leaders, Sunday school teachers, janitors, bus drivers, preschool teachers, school principals, high school teachers, and church board members in scores of Evangelical churches, including Independent Fundamentalist Baptist congregations. Instead of being all worked up over the messenger, how about focusing on the message? Ask yourself, what would Jesus do? Don't know what Jesus would do? Let me leave you with Jesus' words in Mark 9:42: "And whosoever shall offend one of these little ones that believe in me, it is better for him that a millstone were hanged about his neck, and he were cast into the sea."
About Bruce Gerencser
Bruce Gerencser, 62, lives in rural Northwest Ohio with his wife of 41 years. He and his wife have six grown children and twelve grandchildren. Bruce pastored Evangelical churches for twenty-five years in Ohio, Texas, and Michigan. Bruce left the ministry in 2005, and in 2008 he left Christianity. Bruce is now a humanist and an atheist. For more information about Bruce, please read the About page.
Thank you for reading this post. Please share your thoughts in the comment section. If you are a first-time commenter, please read the commenting policy before wowing readers with your words. All first-time comments are moderated. If you would like to contact Bruce directly, please use the contact form to do so.
Donations are always appreciated. Donations on a monthly basis can be made through Patreon. One-time donations can be made through PayPal.