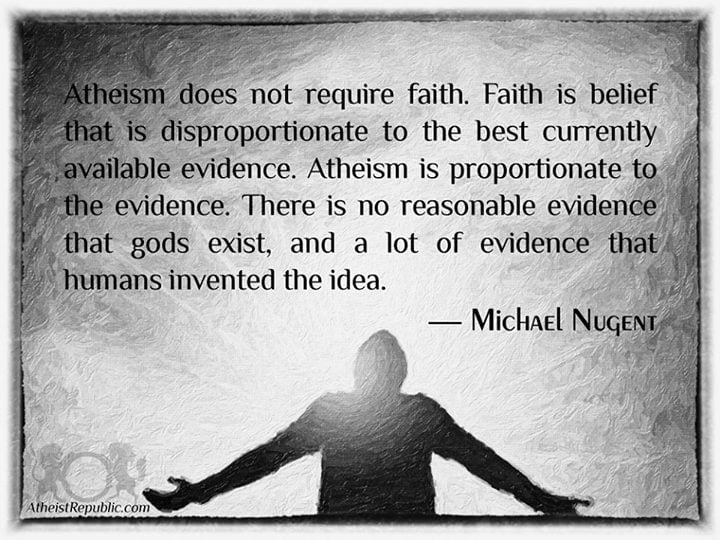 Recently, a Christian man asked me if I had "faith." Before I answer his question, it is necessary to define the word faith. Faith means trusting or relying on someone or something; having confidence in a person or plan; loyalty or allegiance to a cause or person. Christians, however, load the word "faith" with all sorts of religious baggage. There's a big difference between saying I have faith that the sun will rise in the morning, and saying I have faith that Jesus will miraculously heal me from cancer. The former can be understood through science, evidence, and personal experience, whereas the latter claim is without foundation and proof. The former relies on believing what we know to be true, whereas the latter relies on believing despite evidence to the contrary. The former rests on reason, the latter on fancy. There's a plethora of evidence for the rising of the sun each day, whereas there's no evidence for Jesus healing people from cancer. Is it possible that Jesus heals people from cancer? Well, anything is possible, but such a notion has no rational foundation. Thus, Jesus healing people from cancer is wild speculation without factual evidence. Christians saying, I KNOW JESUS HEALED ME, is not evidence since no proof of the claims can be provided.
Either one believes Jesus heals, or one doesn't. Such a belief requires great faith. The sun coming up in the morning, however, is easily provable by scientific evidence, photographic evidence, and personal experience. I turned sixty-two in June. The sun has arisen 22,733 times since my birth at Cameron Memorial Hospital in June, 1957. I am confident that the sun will appear again tomorrow, and if I am alive, I will see it. Can I know for sure that the sun will arise in the morning? No, but based on past experience, I am relatively certain it will. Thus, I have faith the sun will rise in the morning.
The definition of Christian faith is found in Hebrews 11:1-3, 6:
Now faith is the substance of things hoped for, the evidence of things not seen. For by it the elders obtained a good report. Through faith we understand that the worlds were framed by the word of God, so that things which are seen were not made of things which do appear . . . But without faith it is impossible to please him: for he that cometh to God must believe that he is, and that he is a rewarder of them that diligently seek him.
For the Christian, faith is hoping for, and the evidence of, things not seen. Is not the essence of Christianity believing, having faith in things that cannot be seen? Millions of Americans "talk" each day to a God whom they have never seen. I have long argued that the main reason I am not a follower of Jesus is that I do not have requisite faith necessary to do so. I have looked at the evidence for the central claims of Christianity, and I have found them lacking. (Please see The Michael Mock Rule: It Just Doesn't Make Sense.) I am unwilling to put my faith in something that has little, if any, proof. Evangelicals, in particular, believe that the Protestant Christian Bible is the inspired, inerrant, infallible Word of God. How do Evangelicals know this claim is true? They don't, but by faith, they believe anyway — despite everything Dr. Bart Ehrman says in his books. The same could be said of the virgin birth of Jesus, his resurrection from the dead, and the countless miracles he purportedly worked. Remember, the Bible only records a sliver of the miracles performed by Jesus. The author of the gospel of John said in chapter twenty-one, verse twenty-five:
And there are also many other things which Jesus did, the which, if they should be written every one, I suppose that even the world itself could not contain the books that should be written.
Hyperbole? Exaggeration? Not if you are a literalist and an inerrantist. According to Wikipedia, the Library of Alexandria contained upwards of 100,000 books. According to John, this is nothing when compared to all the books that should have been written about the life, works, and miracles of the man, myth, and legend, Jesus Christ. Jesus was such a prodigious miracle worker that the known world couldn't contain all the books written about his exploits. Yet, contemporary historians and writers were silent concerning Jesus and his traveling magic show. Despite this deafening silence, Christians, by faith, believe Jesus did these things. Is such faith rational?
So, yes, as an atheist, I have faith, but not the kind of faith Christians have. My faith rests on a foundation of reason and evidence. Recently, my wife was hospitalized for three weeks. Polly had major abdominal and bladder surgery. All told, Polly was off work for almost two months. It was a scary, heart-wrenching moment to helplessly watch as Polly was wheeled away by surgical staff. I wondered, with tears in my eyes, will this be the last time I see the love of my life alive? Maybe, as was the case with my father decades ago, but I put my faith in the surgeons, anesthesiologists, and nursing staff. These well-trained professionals were skilled at performing these surgeries, and I was confident that there would be a successful outcome.
What if I had, on the other hand, prayed and put my faith in Jesus, the God-man whom Christians call the Great Physician? How could I ever know whether Jesus was actually behind Polly's successful surgeries? Scores of Christians at the church Polly's parents attend were praying for a successful outcome. How could they ever know it was Jesus who "healed" her? Well, Bruce, look at the outcome. Wait a minute, wasn't it medical professionals, performing to exacting standards, who healed Polly? (Imagine the outcome if Polly relied on prayer alone!) Well, um, sure, but it was God who gave them the ability and strength to do so. And your proof for this claim? I just know that's what happened. By faith, I believe. Surely, readers can see the difference between my faith and that of the Christian.
Yes, I have faith, but my faith is different from that of the typical Christian. Our foundations are different. My faith is built on reason and rationality, giving me the confidence to believe this or that will happen. Evangelicalism, on the other hand, rests on naked faith; an irrational faith that says, believe despite evidence to the contrary. Is that not exactly what Christians have been doing for 2,000 years? Jesus is coming soon!, every generation of Christians has confidently said. Yet, twenty-one centuries later, Jesus still has not returned to earth. Is it reasonable or rational to believe Jesus's return is imminent? Of course not. The exant evidence tells us that Jesus lies buried somewhere in Palestine. He's d-e-a-d, end of story. Yet, countless Christians believe that not only is Jesus alive, he will return to earth very soon to establish his eternal Kingdom. Is not such belief (faith) irrational? Without faith, Christianity crumbles into nothing. I know there are Evangelical apologists who vociferously argue that their faith is reasonable and rational. These "sophisticated" Christians use all sorts of outlandish arguments to "prove" their claims, but I see little difference between their faith and that of the uneducated Christians. Press either of them enough, and they always retreat to the safety of irrational faith.
About Bruce Gerencser
Bruce Gerencser, 62, lives in rural Northwest Ohio with his wife of 41 years. He and his wife have six grown children and twelve grandchildren. Bruce pastored Evangelical churches for twenty-five years in Ohio, Texas, and Michigan. Bruce left the ministry in 2005, and in 2008 he left Christianity. Bruce is now a humanist and an atheist. For more information about Bruce, please read the About page.
Are you on Social Media? Follow Bruce on Facebook and Twitter.
Thank you for reading this post. Please share your thoughts in the comment section. If you are a first-time commenter, please read the commenting policy before wowing readers with your words. All first-time comments are moderated. If you would like to contact Bruce directly, please use the contact form to do so.
Donations are always appreciated. Donations on a monthly basis can be made through Patreon. One-time donations can be made through PayPal.