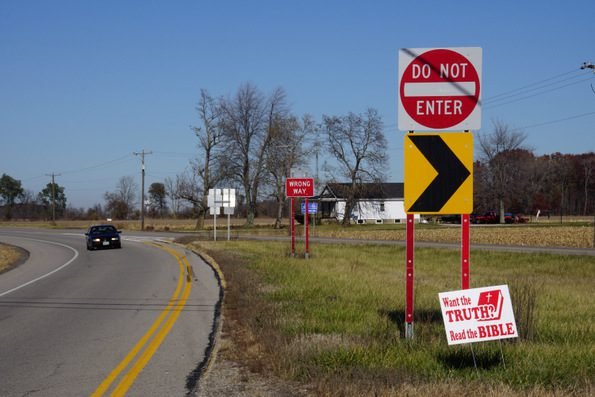 Recent posts about Christian counseling caused more than a few outraged Evangelical counselors to object to my assertions. (Please see Beware of Christian Counselors, Questions: Should People Trust Christian Counselors with Degrees from Secular Schools?, and Outrage Over Christian Counselor Post.) Of particular note were the people who emphatically said that pastors are NOT counselors; that pastors offer congregants spiritual advice, and not professional counseling (regardless of what congregants believe they are receiving).
Anyone who has attended an Evangelical church knows that such an assertion is false. Pastors routinely counsel people — both inside and outside of their churches — and counselees believe they are receiving professional services. I don't know of an Evangelical preacher who doesn't provide counseling services. It is for this reason that I wrote the post Beware of Christian Counselors. Just because a man is a pastor doesn't make him qualified to counsel people. In fact, I would argue that many pastors cause incalculable harm by posing as trained and qualified counselors — their only qualifications being that they own a Bible and can read.
I was part of the Christian church for fifty years. I spent twenty-five of those years pastoring Evangelical churches in Ohio, Texas, and Michigan. Over the course of my ministerial career, I counseled hundreds of people. When people walked into my office, they believed — without ever checking — that I was qualified to provide counseling services; that I had all the answers for whatever was ailing them. Why did I think I was "qualified" to counsel people?
I grew up in churches where the pastor (or youth director) was considered God's Answer Man®. Armed with an inspired, inerrant, and infallible King James Bible, my pastors were ready, willing, and able to dispense supposed life-changing wisdom. I watched my mentally-ill mother suffer through countless pastoral counseling sessions without ever getting the help that she needed. Her failure to respond to their Biblical admonitions was, according to our pastors, a lack of obedience on her part to God/Church/Bible. Her confinements to Toledo State Mental Hospital, drug addiction, and periodic electroshock therapy treatments should have been screaming warning signs to these men of God, but they weren't. Mom wanted
"God's best" for her life, so she sought out counseling from her pastors. Every pastor believed he could "fix" Barbara. Arrogant to the end, these servants of God believed they offered the mentally ill the same deliverance Jesus gave the Maniac of Gadara. Mom finally found the deliverance she so desperately sought. One Sunday morning, she turned a Ruger .357 magnum on herself, blowing a hole in her heart. Mom ignominiously died in a matter of minutes. She was 54. (Please see Barbara.) All praise be to Jesus, right? At least she was "saved" and went to Heaven.
I don't remember a time before her death when Mom's mental health problems weren't a part of my life. For the longest time, I shamefully believed that Mom was just a drug addict who loved sin more than she loved Jesus. If she would only repent and follow the teachings of the Bible, all would be well. Oh, how I wish life offered do-overs! I guarantee you that my mom would have received different care; that I would have been a better son. Would the outcome have changed? I don't know, but one thing is for sure, I will NEVER have the opportunity to find out.
Young preachers tend to model what they see in the lives of their pastors and older colleagues in the ministry. I know I did. I never heard one pastor or colleague suggest that he was anything but competent to counsel church members. I never heard one sermon that ever suggested that anything other than Jesus, the Holy Spirit, and the Bible were answers for the human condition. Secular counselors and mental health treatment were routinely ridiculed and condemned. It was even suggested that "mental illness" was nothing more than the result of disobedience to God.
In the mid-1970s, I attended Midwestern Baptist College in Pontiac, Michigan. Midwestern was an unaccredited Independent Fundamentalist Baptist (IFB) institution. Many of my professors were graduates of Midwestern — quite the incestuous relationship. Professors sporting doctorates were often honorary doctors, having received this recognition from Midwestern or another IFB school. (Please see IFB Doctorates: Doctor, Doctor, Doctor, Everyone's a Doctor) All told, I took one class related to counseling. Most of the class was spent "debunking" secular psychology and counseling. Everything I experienced at Midwestern taught me that my pastors and colleagues were right: Jesus, the Holy Spirit, and the Bible were all that people needed to successfully navigate life.
I entered the ministry believing that I was called by God to "shepherd" his flock (fellow Christians), and offer them infallible counsel and help from the Word of God. I sincerely believed that the Bible was God's answer book; a divine blueprint for life; a standard by which Christians were to live their lives. I believed the answer to every question was "Thus Saith the Lord!" My past experiences with my mom should have taught me differently, but I viewed her as a rebellious sinner, and not someone who needed physical and psychological help.
As a pastor, I counseled hundreds of congregants and outsiders. Not one time did I say to a counselee, "you need professional help." How could I? My entire life and ministry were built upon the notion that "With God (and by extension the Bible) All Things Are Possible." In my mind, Jesus and the Bible were a vending machine. Just push the proper buttons for whatever was ailing a person, and out came the answer. When you believe, as Evangelicals do, in the sufficiency of Scripture, to do anything that suggests otherwise is heresy.
I know that what I have written so far sounds insane to non-Evangelical Christians and unbelievers. However, when you live in the Evangelical bubble, everything makes sense. The Bible as the manual for mental illness? Yes, Praise Jesus! Prayers as a cure for whatever ails you? Absolutely! In a self-contained world — built brick-upon-brick with verses from an ancient religious text — such nonsense seems reasonable. When you are told for years that the "world" is out to destroy you and your family, and that safety and protection can only be found in Jesus, the church, and the Holy Bible, the level of dysfunction and harm should come as no surprise. It was not until I left the ministry (2005) and left Christianity (2008), that I was able to experience life outside of the Evangelical box. (Please see The Danger of Being in a Box and Why it Makes Sense When You are in it and What I Found When I Left the Box.) It was then, as many of you can attest in your own lives, that I realized that I had a lot of bat-shit crazy beliefs. I had caused incalculable harm to people who loved me and called me preacher. While they bear some blame for the damage done (and sadly many former congregants are still being ritually abused in Evangelical churches), I bear the greater burden. I had a duty and responsibility to competently help them. Instead, I arrogantly believed, as the Apostle Paul did, that I could be "all things to all men." Marital problems? Rebellious children? Substance abuse? Sexual dysfunction? Suicidal thoughts? Mental illness? Financial problems? Praise be to Jesus, I had ALL the answers. Except, I didn't, and for that, I will forever live with regret. I can't fix the past, but I sure as hell can warn people about what goes on behind closed office doors in countless Evangelical churches and Christian counseling "ministries."
About Bruce Gerencser
Bruce Gerencser, 62, lives in rural Northwest Ohio with his wife of 41 years. He and his wife have six grown children and twelve grandchildren. Bruce pastored Evangelical churches for twenty-five years in Ohio, Texas, and Michigan. Bruce left the ministry in 2005, and in 2008 he left Christianity. Bruce is now a humanist and an atheist. For more information about Bruce, please read the About page.
Are you on Social Media? Follow Bruce on Facebook and Twitter.
Thank you for reading this post. Please share your thoughts in the comment section. If you are a first-time commenter, please read the commenting policy before wowing readers with your words. All first-time comments are moderated. If you would like to contact Bruce directly, please use the contact form to do so.
Donations are always appreciated. Donations on a monthly basis can be made through Patreon. One-time donations can be made through PayPal.