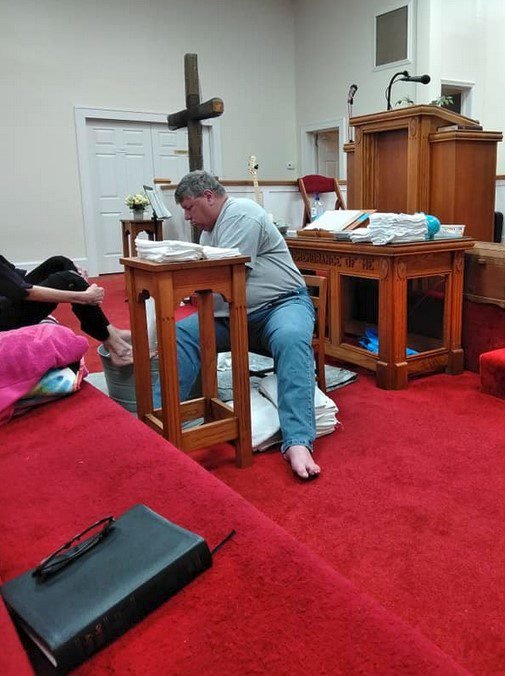 Some Christians, mostly from the Evangelical, Independent Fundamentalist Baptist (IFB) tribes, refuse to obey social gathering orders. Sometimes, as in Ohio, churches continue meeting because state governments have exempted them from gathering orders. (Please see Dear Governor DeWine, Why are Churches Exempt from the Group Gathering Ban?) Just last week, a Georgia Baptist preacher refused to shutter his church, held a foot-washing service, contracted the COVID-19 virus, is now in the ICU hooked to a ventilator.
Danielsville Baptist Church posted the following statement on Facebook Monday: "Pastor (Robert) Burt has tested positive for COVID-19. Please pray for us all during this time of uncertainty. He is in Piedmont Athens in ICU and on a ventilator. Thank you for your prayers."

The church also posted: "All people within the church have been contacted and know to self quarantine. We are sorry for the scare within the community. The preacher and his wife have not been out in the community in the last week. We ask for prayers for all of the community."

….

In the meantime, 911 Director Brenan Baird said his office is working with Smith to trace those who may have been in contact with Pastor Burt. A March 16 post on the Danielsville Baptist Facebook page included two photos of Burt conducting a foot-washing service.
Danielsville Baptist has had what can be best described as a "come to Jesus" moment. Yesterday, the church posted on its Facebook page:
A reminder that God is in control and at work in a mighty way in the middle of this storm.

All activities at Danielsville Baptist are canceled .

No Sunday Morning services.

No Wednesday Night services

No clothes closet.

Please keep all the country in your prayers!!
I want to say to Danielsville Baptist and its pastor, you have reaped what you sowed. Galatians 6:7 says: Be not deceived; God is not mocked: for whatsoever a man soweth, that shall he also reap. You ignored what health officials were telling you, and now COVID-19 is at your doorstep and no amount of praying and saying God is in control is going to keep you from getting infected. Pastor Burt ignorantly and arrogantly put his misguided faith and theology before reason, science, and common sense. Now he and his fellow Christians will pay the price.
Having said that, I do hope Pastor Burt recovers and others infected by his negligence recover too. I may despise the level of stupidity demonstrated by this church and its pastor, but I genuinely do not want to see any of them get sick and die.
Danielsville Baptist is affiliated with the Southern Baptist Convention (SBC). Today, the mayor of Danielsville, Michael Wideman, signed an executive order shutting down the town. The Athens Banner-Herald reports:
The pastor of a small Baptist church in downtown Danielsville has been hospitalized with the coronavirus and members of the church have been asked to self-quarantine, according to the church.

….

The city of Danielsville on Monday also issued an executive order signed by Mayor Michael Wideman that affects businesses and organizations citywide, including two other churches inside the city.

All restaurants, coffee shops and other places were food is served to the public are now limited to take-out, drive-through or delivery. Dining on the premises is prohibited.

Public gatherings of 10 people or more are also prohibited. All barbershops, hair salons and fitness training centers are limited to six people or less.
Danielsville, Georgia, population 560, is similar in size to the rural Ohio community I live in. Everyone knows each other. Virus exposure can quickly spread in such communities due to close human interaction at church, school, and local businesses. Danielsville or Ney, Ohio will likely never become epicenters of virus exposure like New York, but residents should love their neighbors as themselves — as Jesus commanded — and avoid contact with each other. That includes church. Refusing to do so is direct disobedience to the Word of God.
That's right, after two weeks of fasting, praying, and deep, deep, I mean deep Bible study, I have found a verse that directly addresses the Coronavirus Pandemic, COVID-19 infection, and whether churches should listen to government health officials and cancel their services.
Here's what I found in the inspired, inerrant, infallible Word of God:
A prudent man foreseeth the evil, and hideth himself: but the simple pass on, and are punished. (Proverbs 22:3)
I love how the Contemporary English Version (CEV) translates this verse:
When you see trouble coming,
don't be stupid
and walk right into it—
be smart and hide. (Proverbs 22:3)
Surely, we all can agree that the Coronavirus is "trouble coming." In fact, it has arrived in all fifty states. In New York, hundreds of people are dying. According to health experts, the United States is in the early days of the pandemic. Want to see what our future likely holds? Look to Italy. (Please see Lessons from Italy: Six Stages of Coronavirus.) The Bible says that anyone who sees the Coronavirus coming and walks right into it is "stupid." Just today, our Stupid-in-Chief, Donald Trump, said that he hopes churches are PACKED on Easter. That's right. Nineteen days from now, the President wants and expects churches to be filled with worshipers of the "risen" Jesus. Surely, people of reason and common sense see the absurdity and stupidity of such words. The President is tired of limiting gatherings. He's got campaign rallies to attend (and make no mistake about it, thousands of people will show up if he holds rallies) and an election to win. Lacking any sense of empathy for the American people or the world at large, all Trump cares about is his image, hotels, and stock portfolio. By suggesting Christians pack their local churches on Easter Sunday, Trump is stupidly running into trouble. And when the virus continues unabated? Blame the Chinese or Barack Obama.
God, in the Holy Bible, commands Christians to be smart and hide from the Coronavirus. That's right. God doesn't say have faith and stand your ground. God doesn't say to take authority over the virus and pretend it doesn't exist or doesn't affect you. GOD SAYS, BE SMART AND HIDE!
What's the best way to hide from the Coronavirus? Stay home. Stay away from other people. Do everything you can to avoid contact with other people. It really is that simple.
And if you refuse to do so? God says you are stupid. 'Nuff said, Amen? Can I get a witness?
Other Posts About Churches Refusing to Close Their Doors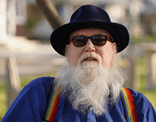 Bruce Gerencser, 65, lives in rural Northwest Ohio with his wife of 44 years. He and his wife have six grown children and thirteen grandchildren. Bruce pastored Evangelical churches for twenty-five years in Ohio, Texas, and Michigan. Bruce left the ministry in 2005, and in 2008 he left Christianity. Bruce is now a humanist and an atheist.
Connect with me on social media:
You can email Bruce via the Contact Form.
Your comments are welcome and appreciated. All first-time comments are moderated. Please read the commenting rules before commenting.