Repost from 2015-2016. Edited, updated, and corrected.
When Evangelicals speak of "God," they often do so in ways that give people the impression that God is a generic deity who is the same regardless of the name of the sect. When it suits Evangelicals, they will appeal to the deities of other sects as proof that their God exists.
Evangelicals point to supposed universal moral traits in the various world religions as proof of the existence of God. They also point to the various creation myths and flood myths found in many sects, and suggest that the universality of these stories is more proof for the existence of God.
Don't be misled by the subterfuge of Evangelicals. While they may speak of God in generic ways and appeal to other religions as proof that God exists, they really don't believe this. Don't listen to their public talking points, points used when they want to convince the public that they really are nice people who just want to get along with everyone.
Go to your local Evangelical church and listen to the preaching. Behind closed church doors, Evangelical pastors no longer have to play nice. These so-called men of God are free to say what they really think about the gods of other religions. I can tell you what you won't hear. You won't hear about a generic God, or the universal commonalities the religions of the world have, Oh, no. What you will hear is that all other gods but the Evangelical Christian God are no God at all.
There is some movement within Evangelicalism to be more inclusive when it comes to other sects, but at the heart of Evangelical belief is the notion that there is one God: a triune being, revealed to humankind in the 66 books of the Protestant Christian Bible. For Evangelicals, there is no other God but this God.
The Mormons, Jehovah's Witnesses, Seventh Day Adventists, Quakers, Unitarian Universalists, Jews, Muslims, Buddhists, Roman Catholics, and Greek Orthodox all, according to Evangelical apologists, worship false gods. Some Evangelicals even suggest that unless a sect holds to a certain soteriology, they too are worshiping a false God. Calvinists often make this claim about Arminians. Believe in free-will? Believe you can lose your salvation? You aren't a Christian, according to many Calvinists.
In the days of the Roman Empire, Christians were considered atheists. Why were they considered atheists? The Romans had a plethora of gods, and they worshiped all of them. The Christians would have none of this. They were monotheists (actually polytheists), rejecting all other gods but theirs. Are not modern-day Evangelicals atheists; rejecting all other gods but the Father, Son, and Holy Ghost?
Ask Evangelicals: do all roads lead to Heaven? and they will emphatically say no. According to Evangelical orthodoxy, there is one road that leads to Heaven and life eternal, and that road is the road bought and paid for by and through of the blood of Jesus, his death on the cross, and his resurrection from the dead three days later.
This road is a straight and narrow road that few people travel. Most of humanity — past and present — will not go to the Evangelical Heaven when they die. Billions and billions of people will go to Hell (The Lake of Fire) when they die and be tortured for all eternity by the loving, kind Christian God.
Most Evangelicals are quite Fundamentalist when it comes to God. And those Evangelicals who are not? They most likely are not really Evangelicals. An increasing number of Evangelicals, influenced by the emerging church and liberal/progressive politics, are becoming more inclusive in their view of other sects. It is not uncommon to hear Evangelicals say that while Catholics, Mormons, and Seventh Day Adventists, to name a few, are heterodox, they are still Christian sects. While this is good news as far as inclusiveness is concerned, such beliefs are betrayals of core Evangelical dogma.
Evangelicals who are more inclusive have one foot in the Evangelical church and the other foot in the liberal/progressive church. I suspect inclusivists will, in time, leave Evangelicalism altogether and join up with liberal/progressive Christian sects or completely leave Christianity. Countless on-fire-for-Jesus Evangelicals have walked away from Christianity and embraced atheism, agnosticism, or other forms of unbelief. The number of defections grows daily.
Are you a member of a non-Evangelical religious sect? The next time you have a discussion with an Evangelical about God, just remember he thinks your God is no God at all. Don't be tricked into thinking that their use of the word God includes your God. It doesn't.
This is why Evangelicals are so evangelistic. Since they worship the one, true, and living God, members of every other sect but theirs are soulwinning targets. They believe every human being needs to know, in a personal, salvific way, the Evangelical Christian God. A refusal to do so means spending eternity in the Lake of Fire.
If you happen to be an Evangelical and are reading this post, please explain to me why you do not call yourself an atheist? The ONLY difference between you and atheists such as I and many of the readers of this blog is that we have one less god on our NO GOD LIST than you do. You think every other god but your God is a false god. Please be honest enough to admit this. Please boldly tell non-Evangelicals — billions and billions of loving, caring, thoughtful people — that they are going to Hell after they die, and will be tortured by your God for all eternity unless they start worshiping Jesus.
No well, only God knows who is going to Heaven or Hell, cop-out allowed. This is not what Evangelical pastors preach on Sundays. Their sermons make it very clear who is and isn't worshiping the true God. If this is your belief, then why not proudly own it? Why not proudly wear a button that says, My God is the only true and living God or God chose me but not you!
And if this is not what you believe, then why are you still sitting in the pew at the local Evangelical church? Are you not condoning their exclusivism and bigotry by continuing to attend an Evangelical church? Why not join up with people who share your theological, political, and social views?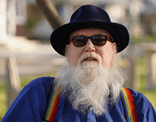 Bruce Gerencser, 64, lives in rural Northwest Ohio with his wife of 43 years. He and his wife have six grown children and thirteen grandchildren. Bruce pastored Evangelical churches for twenty-five years in Ohio, Texas, and Michigan. Bruce left the ministry in 2005, and in 2008 he left Christianity. Bruce is now a humanist and an atheist.
You can contact Bruce via email, Facebook, Twitter, or YouTube.
Your comments are welcome and appreciated. All first-time comments are moderated. Please read the commenting rules before commenting.