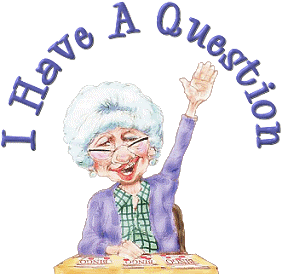 Greetings, earthlings and residents of other galaxies.
It's been a while since I asked readers to submit questions for me to answer, so I thought I would, once again, open the call lines and ask readers to submit their questions, along with $66.66 donations to help me reach Evangelicals throughout the universe. Reason — praise be to Reason! — has called me to evangelize Evangelicals, and your donations will help me take the gospel of critical thinking and skepticism to infinity and beyond. Just kidding. While donations are always appreciated, what I really want are questions; your pithy, short, erudite questions. Please try to ask questions that you think I haven't answered before.
If you have a question you would like me to answer, please ask it in the comment section of this post. I will answer questions in the order they are received; that is unless you are a bigly donor. Readers who shower me with cash, checks, gold bullion (ouch), Bitcoins, and restaurant gift cards just might be moved to the front of the line or be sent a 13×19 glossy photo of me pole dancing at the Big Bear Strip Club — "might" being the operative word. (Long-time readers who know and understand my humor, sarcasm, and snark know whether I am speaking factually. Everyone else? Keep on dreaming of Bruce Almighty swinging on a brass pole wearing only his shorts, suspenders, and wingtips.)
You can also email your questions to me via the contact form.
Please do not answer the questions. In the past, well-intentioned commenters have answered the questions, making my responses moot. Once I answer the questions, feel free to give your own answer.
Let the fun begin.

Bruce Gerencser, 66, lives in rural Northwest Ohio with his wife of 45 years. He and his wife have six grown children and thirteen grandchildren. Bruce pastored Evangelical churches for twenty-five years in Ohio, Texas, and Michigan. Bruce left the ministry in 2005, and in 2008 he left Christianity. Bruce is now a humanist and an atheist.
Connect with me on social media:
Your comments are welcome and appreciated. All first-time comments are moderated. Please read the commenting rules before commenting.
You can email Bruce via the Contact Form.