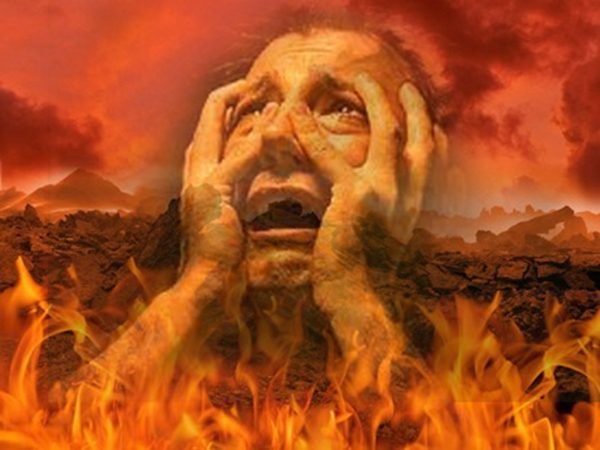 A Fake Name Evangelical Christian sent me an email that said:
Is it because of the relationship with your dad and what happened with your mother the reason you walked away from Jesus Christ?

I'm not trying to be ugly or cause painful memories and I know how you feel I know what it is like to lose a mother young. Mine was 51.
Before I could respond, he sent me another email:
One day you will stand before Jesus Christ and everything you ever did,said and even thought will be revealed!

The REAL questions are this:

Will you face him as Saviour or judge? You do not want to face him as your judge.

How much time do you have before this appointment?

Every person regardless of age,health,wealth and so on in only ONE UNO heartbeat away from death.

For the person who has trusted in Jesus Christ for eternal salvation and forgiveness of sins heaven awaits and eternal life with Christ and fellowship with believers from all time.

For the unbeliever who has chosen to reject his grace and opted to pay for their own sins they will be separated from Christ in the lake of fire for all eternity and will be in complete isolation.

Also the lost will remember every sin and every time they mocked and chose to reject the gospel for all eternity.

"BELIEVE ON THE LORD JESUS CHRIST AND THOU SHALT BE SAVED " ACTS 16:31
and . . . before I could reply to either of these emails, this AFJ (Asshole for Jesus) sent me this:
It is truly sad that anyone would reject the grace and mercy of Jesus Christ especially someone who "preached " it once.
Let me sum up this AFJ's emails:
Bruce, you are going to burn in Hell after you die unless you get saved.
Today, another AFJ sent me the following illustrated email: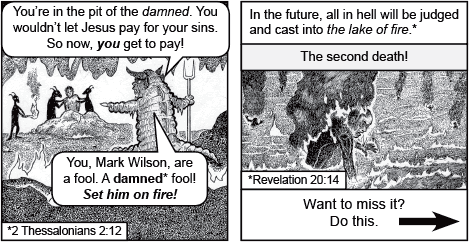 You are not going to want this future my friend.
Day in day out, Evangelical zealots threaten me with eternal punishment, thinking that doing so will magically lead me to fall on my knees, repent of my sins, ask Jesus to save me, and return to Christianity — the one true faith.
Ain't going to happen . . . but that won't stop zealots from continuing to bombard me with threats of death, Hell, and eternal damnation. Evangelicals can't help themselves. Bothering and badgering people about their "eternal destiny" is part of Evangelical DNA.
On to Monday Night Football . . .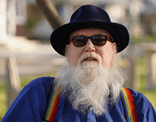 Bruce Gerencser, 64, lives in rural Northwest Ohio with his wife of 43 years. He and his wife have six grown children and thirteen grandchildren. Bruce pastored Evangelical churches for twenty-five years in Ohio, Texas, and Michigan. Bruce left the ministry in 2005, and in 2008 he left Christianity. Bruce is now a humanist and an atheist.
You can email Bruce via the Contact Form.
Your comments are welcome and appreciated. All first-time comments are moderated. Please read the commenting rules before commenting.