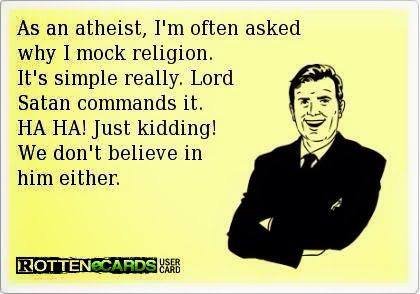 Warning! Snark Ahead!
What follows is my response to a comment left on the post  Quit Complaining, Your Suffering is Nothing Compared to What Jesus Faced and a comment posted on the Seeking His Kingdom blog.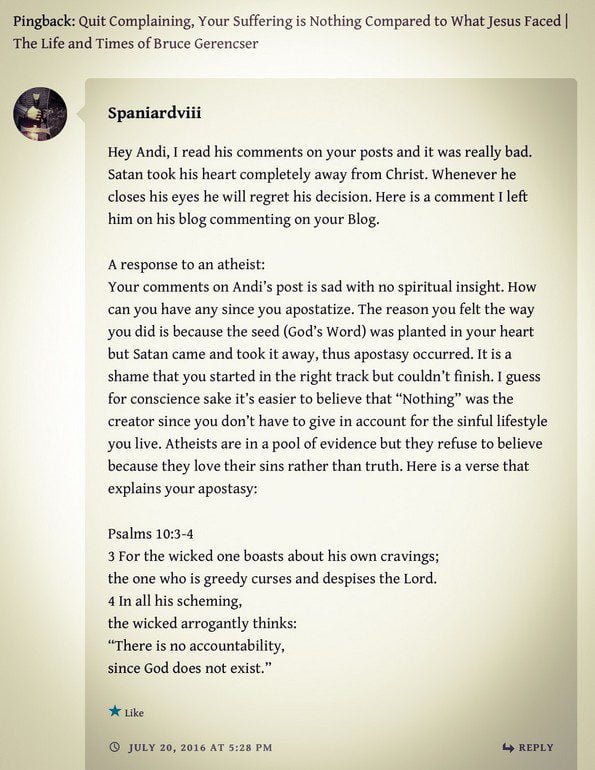 A Fundamentalist Christian using the Spaniardviii moniker thinks that Satan has taken my "heart" completely away from Christ: which is funny, of course, because the word "heart" in the Bible refers to the mind, and I can assure you my mind is still firmly attached to my decrepit body. And what's this idea that I will regret my decision to reject the teachings of Christianity every time I close my eyes? I scientifically tested Spaniardviii's hypothesis — closing my eyes one hundred times. I waited for regret to appear, but alas it never made a grand appearance. Not one time. I think I can safely conclude that Spaniardvii's hypothesis is false.
According to Spaniardviii I have no "spiritual" insight. How could I, right? I am now an apostate. But, I wasn't always an apostate. At one time, I was an on-fire, sold-out follower of Jesus. I was certainly "spiritual" for many, many years. People such as Spaniardviii will search in vain for any evidence to bolster their claim that I was never a True Christian®. Since real Christians never, ever walk away from Jesus, and I am now an atheist, it is evident that I was never a member of Club Jesus®.
Several years ago, I posted an email I received from an Evangelical who said I was living a hedonistic lifestyle. And now, here's another commenter making a similar claim. According to Spaniardviii, I am living a "sinful" lifestyle. What is this sinful life I am living? I ask. I suspect, to most people, my lifestyle would be quite benign and boring. What is it in my way of living that suggests I am some sort of hedonistic sinner? Now, I might want to live such a life. But alas, want and ability are two different things. The Bible says, the spirit is willing, but the flesh is weak. That's me. I sure want to be a bad, bad, bad sinner, but my body won't cooperate.
In another comment left on Seeking His Kingdom, Spaniardviii says:
Your [sic] welcome but I know for sure that he will delete it [his comment] but at least he will read it.
Wrong again, Spaniardviii.
According to Spaniardviii's blog, Spiritual Minefield, his goal is to "help Christians avoid false doctrine." It's too late for me since God has most certainly given me over to a reprobate mind, but it might not be too late for some of you. Perhaps Spaniardviii can help get you on the right track — that track being, of course, the one that he is on. Amazing, yes? Every Christian thinks his track (belief) is the right one.
Bruce Gerencser, 66, lives in rural Northwest Ohio with his wife of 45 years. He and his wife have six grown children and thirteen grandchildren. Bruce pastored Evangelical churches for twenty-five years in Ohio, Texas, and Michigan. Bruce left the ministry in 2005, and in 2008 he left Christianity. Bruce is now a humanist and an atheist.
Connect with me on social media:
Your comments are welcome and appreciated. All first-time comments are moderated. Please read the commenting rules before commenting.
You can email Bruce via the Contact Form.