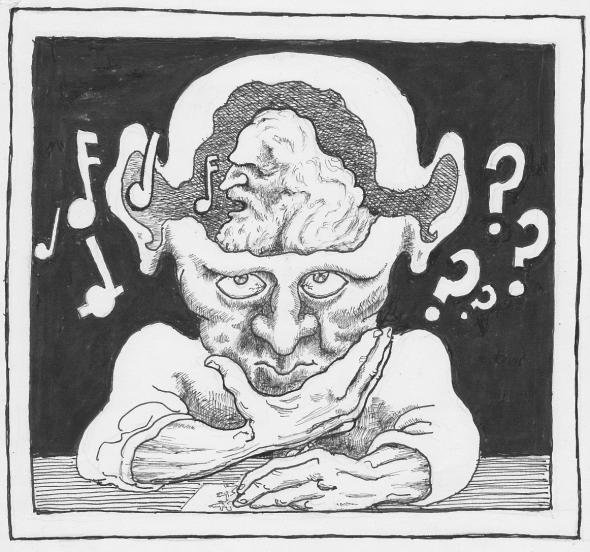 Spend enough time around Evangelicals and you will learn that not only do they talk to God, but they also "hear" God talk to them. In any other setting, "hearing" voices will land you in the hospital on a 72-hour psych hold, but if the voice being heard is GOD, then hearers of this silent utterance are considered sane, rational beings. Evangelicals believe God not only speaks to them through the words in the Bible, but he also audibly, yet silently, speaks to them during prayer and meditation and at random moments throughout the day. Evidently, the Christian God is able to carry on millions of silent conversations with his followers at the same time. Awesome, right? Too bad this same God is not very good at making sure everyone he is talking to is hearing the same message.
Evangelicals say they hear the voice of God, but often other followers of Jesus hear different things, often wildly contrary to what God told someone else. I noticed this particularly during church business meetings. Members were expected to pray and seek the will of God on the matter of business before the church. After, "hearing" from God, members were expected to be of one mind — Greek for "agreeing with the pastor." As anyone who has ever attended a Baptist business meeting will tell you, unity of mind is rarely on display. If everyone is supposedly "hearing" the voice of God, why are there so many competing viewpoints? What color should we paint the auditorium, the pastor asks? Let's seek God's mind on the matter! You would think that God would tell everyone BLUE. Nope. God, ever the jokester, whispers to various members different colors, sowing discord among the brethren.
Years ago, I started Somerset Baptist Church — an Independent Fundamentalist Baptist (IFB) congregation in southeast Ohio. The congregation first met in an empty storefront. After a few months, we moved to what was then called the Landmark Building. We rented the entire second floor for $200 a month. One day, I was out and about and stumbled upon an old abandoned Methodist church building — five miles east of Somerset, on top of Sego Hill. I made some inquiries about the building, and found out that it was for sale. I told the congregation about my exciting find, asking that they would pray about us buying the building. After a week or so, I held a business meeting, thinking God had told congregants the same thing he told me: buy the building! Imagine my surprise when it became clear to me that the church was NOT in favor of buying the building. I was so depressed. How could they NOT hear God's voice? I thought. Yes, the building was $20,000, a large sum for a fledgling church, but I believed God never ordered anything he didn't pay for. Dejected, I called the Methodists and told them we wouldn't be buying the building.
Several weeks later, the Methodists called me and asked me if the church had changed its mind about buying the building. Before I could respond, the man said, make us an offer, Bruce. I shot a quick prayer to Jesus, asking him what I should do. As sure as I am sitting here today, I heard him say, offer them $5,000. I thought, $5,000? The Methodists will never accept such a low offer. But, not wanting to disappoint Jesus, I made the $5,000 offer. The man said, we will talk it over. Sure enough, a few days later, the Methodists called to tell me that they accepted my offer! I thought, PRAISE JESUS, we are going to have our own building. All I had to do is convince the congregation that the voice they thought they heard at the business meeting was not God's; either that, or in the intervening weeks God had changed his mind. Fortunately, the church heard MY voice, and we bought the building.
Silly story, I know, but I think it aptly illustrates the idea that God speaks to people. I wanted something — a church building — and I got my way. I heard the voice of God countless times during the twenty-five years I spent in the ministry, and, without exception, what God was saying almost always perfectly aligned with what I wanted, needed, or desired. God's will be done, as Evangelicals are wont to say, was actually Bruce's will be done. 
In late 1993, Pastor Pat Horner and Community Baptist Church in Elmendorf, Texas, extended to me an invitation to become their co-pastor. I prayed about the matter, deciding that God wanted me to stay as pastor of Somerset Baptist Church. I "wanted" to move to Texas, but God said NO, or so I told myself anyway. Several weeks later, I was pondering the future of Somerset Baptist, and all of a sudden, I started crying. In that moment God spoke to me, telling me he wanted me to move my family to San Antonio, Texas so I could become the co-pastor of Community Baptist. Wait a minute, didn't God "tell" you several weeks before that he wanted me to stay in Ohio? Yes, he did, but evidently, he changed his mind. Never mind the fact that the Bible says, I am the Lord thy God and I changeth not and Jesus is the same yesterday, today, and forever. I called Pat Horner and asked if the offer was still open. It was. You see, God had told them that I was going to be their co-pastor, so me — uh, I mean God — changing his mind was just confirmation to them of what he said to them. Two months later, I packed up my family and worldly goods and moved to Texas. My tenure at Community lasted all of seven months — an unmitigated disaster.
Another silly story, I know, but it again illustrates how crazy it is to think God "speaks" to anyone. God didn't tell me not to move, nor did he tell me to move. There is no God, so the only voice I was hearing was my own. The NO and YES were in my mind and reflected the struggle I was having about whether I wanted to continue pastoring Somerset Baptist Church. I spent eleven years at Somerset Baptist, living in poverty the whole time. For five years, my family and I — all eight of us — lived in a 12×60 mobile home fifty feet from the church building. I was worn out, burned out, and tired of being poor, yet I loved the congregation. What was it then that caused me to change my mind?
We heated our mobile home with coal and wood. We also heated the church and school building the same way.  We were running out of wood, so I asked a man in the church if he could get some wood for us to burn, He said, sure. Several days later, the man dumped a pickup load of wood in the parking lot and quickly left. I thought, it would have been nice if he had stacked it, but okay, he at least got the wood for us. I gathered up some of the wood, took it inside, and put it in our Warm Morning stove. I quickly found out that wood was unusable — too wet and green to burn. At first, I was angry over the wet wood, but then I began to cry. This one event — not a big deal in and of itself — pushed me over the proverbial edge. I was done. Is it any surprise, then, that God changed his mind and told me he wanted me to move to Texas? A good salary and a new 14×70 mobile home awaited me. A congregation thrilled over the prospect of me being their co-pastor awaited me. A young, fast-growing congregation awaited me. New challenges and opportunities awaited me. I said NO to all of this because I had a sense of loyalty to the people at Somerset Baptist. Most of them had been members for years and walked beside me as we built the church. I felt guilty over thinking about leaving them so I could have a better life; so my family would no longer have to live in poverty. But when the wet, green wood was dumped in the parking lot, my thinking changed. Enough, I thought, and God agreed with me.
Now, I am sure that my critics will pick these stories apart, suggesting that I was the problem, not God; that the voice I was hearing was self, and that if I had been more spiritual, I would have heard God's voice and he was would have directed me in paths of righteousness for his name's sake. I don't believe that for a moment. There is no God, so I couldn't have heard his voice. All my decisions reflected were the struggles I was having over life and the ministry. The voice I heard was my own, giving life to my wants, needs, and desires.
Bruce, I don't care what happened in your life, I KNOW God speaks to me. How do you KNOW it is God's voice you are hearing? What evidence can you give for such a claim? Why do God's silent utterances to you almost always match your own wants, needs, and desires? Have you ever stopped to think that maybe, just maybe the voice you are hearing is your own? Yes, the Bible contains stories about God speaking to people — from God speaking to Moses from a burning bush, to God telling Abraham to murder his son Isaac, to God speaking to the crowd at Jesus' baptism. Jesus told his disciples: my sheep hear my voice, and I know them, and they follow me. How can any of us know that it is God speaking? There's absolutely zero evidence for God speaking to anyone. Evangelicals are free to believe that they have heard the voice of God, but they can't expect non-believers to accept their stories as true without some sort of verifiable proof.
Believing God speaks to you is a matter of faith, a faith I do not have. Most often, hearing the voice of God is harmless, but there are times when hearing his voice leads to dangerous, harmful behavior — including murdering your children or taking a twelve-year-old girl as your virgin bride. Evangelical missionaries John Allen Chau and Charles Wesco lost their lives because they believed that they had heard the voice of God commanding them to go reach the lost for Jesus in dangerous foreign lands. Why would God tell these men to leave their houses and lands and go to the mission field only to kill them days later? What a cruel, schizophrenic God. Or, perhaps God has nothing to do with this; perhaps the only voices these men heard were their own; perhaps their deaths rest on the shoulders of the myriad of pastors, professors, and parents who whispered in their ears about the wonders of serving God in a foreign land and the rewards that would await them if they became missionaries.
Think I am wrong? Just ask God to tell me.
Bruce Gerencser, 66, lives in rural Northwest Ohio with his wife of 45 years. He and his wife have six grown children and thirteen grandchildren. Bruce pastored Evangelical churches for twenty-five years in Ohio, Texas, and Michigan. Bruce left the ministry in 2005, and in 2008 he left Christianity. Bruce is now a humanist and an atheist.
Connect with me on social media:
Your comments are welcome and appreciated. All first-time comments are moderated. Please read the commenting rules before commenting.
You can email Bruce via the Contact Form.