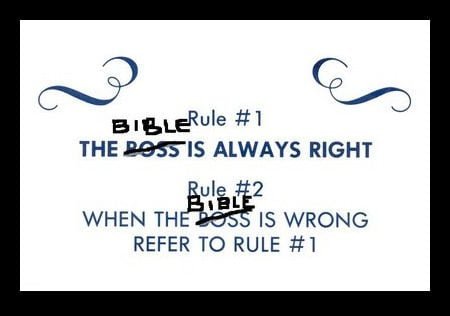 Millions of Americans believe the Bible is the inspired, inerrant, infallible Word of God. This belief is the foundation of much of the nonsense spouted by Evangelical culture warriors and Republican politicians. In their minds, the Bible is written by God and is perfect in every way, including matters of science and history. Blinded by lifetimes of Fundamentalist indoctrination, they believe that no one has ever proved the Bible has mistakes, contradictions, or errors. The B-i-b-l-e, yes that's the book for me. I stand alone on the Word of God, The B-i-b-l-e. BIBLE! Or so the popular Evangelical song goes anyway. No matter what other books say, if their words contradict the Bible, then they are wrong. God can never, ever be wrong, so that means the only book he ever wrote can't be wrong either.
Those of us who are ex-Evangelicals turned atheists/agnostics/humanists/pagans/liberal Christians know how the belief that the Bible is inerrant negatively affects the ability to reason and think critically. What belief underpins creationism, flat-eartherism, hatred of LGBTQ people, and opposition to abortion, same-sex marriage, homosexuality, premarital sex, birth control, family planning, socialism, gambling, drug use, alcohol drinking, women working outside of the home, women wearing pants, long hair on men, rock music, and Game of Thrones — shall I go on? Without people believing the Bible is some sort of infallible religious text, most of these "beliefs" turn into personal opinions. It is only when the Bible is vested with inerrant divine authority that it becomes a dangerous weapon in the hands of preachers and congregants alike.
Of course, the Bible is not inerrant, nor is it infallible. Whether one believes the Bible is inspired is a matter of faith, not fact, so this aspect of belief is beyond empirical inquiry. Several years ago Dr. Bart Ehrman, a New Testament scholar at the University of North Carolina, posted an article on whether the Bible has contradictions (behind paywall). Here are three of the four of contradictions Ehrman listed:
I start with one that may seem completely unimportant, but is, to me, a clear contradiction. In Mark 5:21-24 a man named Jairus approaches Jesus in distress. His daughter is "very ill." He wants Jesus to come heal her so she doesn't die. Jesus agrees to go, but before he can get to Jairus's home, he is delayed by a woman who herself desperately needs to be healed (5:25-34). While Jesus is dealing with her – it takes a while – someone comes from Jairus's house to tell him that it is too late, the girl has now died (5:35). Jesus comforts Jairus, goes, and raises her from the dead. Matthew also tells the story (Matthew 9:18-26). But in this case …Matthew also tells the story (Matthew 9:18-26). But in this case Jairus comes to Jesus to tell him that "My daughter has just now died" (9:18). He wants him to raise her from the dead. Jesus goes and do so.

So the contradiction: when Jairus comes to Jesus: does he want him to heal his sick daughter, who unfortunately dies before Jesus can get there? Or does Jairus come only after the girl is dead, wanting Jesus to raise her from the dead?

Of more importance, but a famous one. Matthew and Luke both give a genealogy of Jesus that is strictly patrilineal: father to son, going back for generations (Matthew 1:1-16 starting with Abraham and bringing the family line down to Joseph, Jesus' alleged father; Luke 3:23-38 starting with Joseph and taking the family line the other direction, all the way past Abraham to Adam).

Question: Who was Joseph's father, grandfather, and great-grandfather, and so on –all the way back to King David? Was it Jacob, Mathan, and Eleazar … (Matthew 1:15-16)? Or was it Heli, Matthat, and Levi… (Luke 3:23-24).

In considering the question, note: both genealogies are *explicit* that this is the line of Joseph (not, for example, Mary; or the brother of Joseph; or someone else. Joseph). And note, these are not simply alternative names for the same people: most of the names are *completely* different from one another, all the way back to David. That's because in Matthew Joseph is the descendant of David's son Solomon; in Luke he is the descendant of a different son, Nathan. Moreover, the genealogies are patrilineal – not traced through mothers but explicitly through fathers to sons.

More complicated. In Matthew's account of Jesus' birth (Matthew 2:1-23), he is born in Bethlehem. Nothing indicates that his parents came from anywhere else to get there: there is no story here of a trip from Nazareth to register for a census only to find there was "no room in the inn." They simply are in Bethlehem. When the wise men come to worship the child, the King of the Jews, Herod, learns of Jesus' existence, and he sends the troops to kill him (2:16-18). Joseph is warned in a dream, and he takes Jesus and Mary and they travel, on foot, to Egypt, where they remain until Herod dies (2:13-15, 19-23). When they return home, though, they cannot return to Bethlehem (presumably their home, since there would be no other reason to ponder coming back there), and so relocate in Nazareth. In Luke's account (Luke 2:1-39) Joseph and Mary are from Nazareth and they end up in Bethlehem because of a census in which "the entire world should be enrolled" (Luke 2:1). Mary is pregnant, full term, and happens to give birth while they are there. After Jesus is circumcised (2:21), and brought to the temple (2:22), they perform the sacrifice required for women who have given birth in order to return to ritual purity (2:24). This is to follow the law laid out in Leviticus 12:2-8; the sacrifice was to happen 33 days after the circumcision (so 40 days after birth). As soon as that is completed, they return straight to Nazareth (2:39).

There is no word in Luke about King Herod's decision to have the child killed or of the flight of the holy family to Egypt. And so, the contradiction: if Luke is right that 40 days after Jesus' birth, the family returned directly to Nazareth, how can Matthew be right that they instead went and stayed in Egypt until the death of Herod?
If you want to learn more about the text of the Bible and Christian church history, I encourage you to join Dr. Ehrman's blog. The annual membership fee is $29.95, with all proceeds going to charity.
Remember, it only takes one error, contradiction, or mistake to bring the inerrancy house tumbling down. Most educated Evangelical pastors know that the Bible isn't what they claim it is, yet Sunday after Sunday they stand before their congregations and say, THUS SAITH THE LORD! These liars for Jesus know they would be unemployed and the pews would be empty if congregants ever learned the truth about the Biblical text.
I have had a number of Evangelical preachers and laypeople come to this site, certain that their Bibles (and beliefs) were infallibly true. As I always do, I asked them to read several of Bart Ehrman's books. There is no value is trying to engage zealots if they won't, at least, look at the evidence for the claim that the Bible is NOT an inerrant, infallible text. Over the past fifteen years, I have only had one person read Dr. Ehrman's books and still believe the Bible is inerrant. Everyone else was forced to admit that the Bible was not what Evangelicals claim it is. Sometimes, this resulted in loss of faith. Other times, people held on to their faith, but moved on to religious environments that valued intellectual inquiry and facts. Want to destroy the hold Christian Fundamentalism has on our country? Disabuse Evangelicals of the notion that the Bible is some sort of perfect text, different from all other books. Once Evangelicals see that the Bible is not what their preachers and teachers say it is, they will be forced to determine whether they can trust anything their leaders say.
Books by Bart Ehrman
The Triumph of Christianity: How a Forbidden Religion Swept the World
Misquoting Jesus: The Story Behind Who Changed the Bible and Why
How Jesus Became God: the Exaltation of a Jewish Preacher from Galilee
Jesus Before the Gospels: How the Earliest Christians Remembered, Changed, and Invented Their Stories of the Savior
Jesus, Interrupted: Revealing the Hidden Contradictions in the Bible (And Why We Don't Know About Them)
Did Jesus Exist?: The Historical Argument for Jesus of Nazareth
Forged: Writing in the Name of God–Why the Bible's Authors Are Not Who We Think They Are
God's Problem: How the Bible Fails to Answer Our Most Important Question — Why We Suffer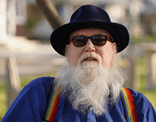 Bruce Gerencser, 65, lives in rural Northwest Ohio with his wife of 44 years. He and his wife have six grown children and thirteen grandchildren. Bruce pastored Evangelical churches for twenty-five years in Ohio, Texas, and Michigan. Bruce left the ministry in 2005, and in 2008 he left Christianity. Bruce is now a humanist and an atheist.
Connect with me on social media:
You can email Bruce via the Contact Form.
Your comments are welcome and appreciated. All first-time comments are moderated. Please read the commenting rules before commenting.