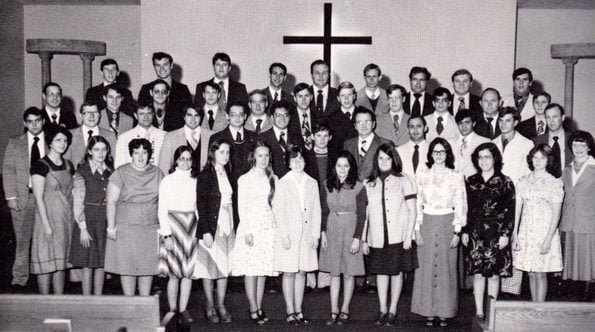 My wife, Polly, and I attended Midwestern Baptist College in Pontiac, Michigan from 1976 to 1979. Midwestern was a small, affordable, Independent Fundamentalist Baptist (IFB) institution started in 1954 by Dr. Tom Malone. "Doc" was the pastor of Emmanuel Baptist Church — a nearby megachurch. Both the college and the church were built around winning souls for Jesus. Students were expected to participate in soulwinning activities and witness to people every week. The goal was to lead people through the plan of salvation — typically The Roman's Road — and encourage them to pray the sinner's prayer. (Please see Let's Go Soulwinning and Door-to-Door Soulwinning.) On Sundays, students were expected to account for their soulwinning activities the previous week. I suspect most students fudged their numbers.
There were numerous IFB churches in the Pontiac area. Most of them were quite aggressive in reaching sinners for Jesus. These churches, along with Emmanuel Baptist, and Midwestern, turned Pontiac is to a burned-out zone — an area so evangelized that sinners were hard to find. Week after week, IFB church members and college students would fan across Pontiac and the nearby suburbs looking for prey, uh, I mean, unsaved people. Scores of people were allegedly "saved" every week, so much so that virtually all of Pontiac was saved. The deep south, with Baptist churches on every street corner, has a similar problem. So many soul winners, so few sinners. One pastor told me that there were so many Baptist churches in Chattanooga, Tennessee — home to IFB institutions Tennessee Temple and Highland Park Baptist Church, pastored by Lee Roberson — that everyone in Chattanooga was saved. Yet, young preachers would still be "led" to Chattanooga to start new churches. Easy pickings, I'd say.
Midwestern would annually hold a soulwinning contest — a period of time when students were expected to regularly and aggressively evangelize Pontiac residents. These contests were the regular soulwinning programs on steroids. Imagine a busload of Jehovah's Witnesses showing up in your neighborhood and not leaving for two weeks. Knocking on your door, repeatedly. That's what the annual soulwinning contests were like.
Midwestern put up a chart in the gymnasium/cafeteria that tracked the number of souls saved. This chart listed the names of the top soulwinners. As with all such contests, there were some students that were really committed to the contest, hoping to win the prize for winning the most souls. Yes, there were prizes. It was widely believed among dorm students that the top soul winners were likely lying about the number of souls they led to Jesus. I was among those who believed the top soulwinners were fudging their numbers. Of course, it may have been that we were just jealous that God had not blessed us with soulwinning power. Students were required to take evangelism classes each year, but some students didn't take to the techniques as well as others. (It would be interesting to do a study on the psychology of those who were at the top of the souls saved leaderboard.)
Polly and I weren't very good soulwinners. Polly didn't win one soul to Jesus during her three years at Midwestern; I won two. I worked a full-time job, attended classes 25 hours a week, attended church three times a week, taught Sunday school, drove a church bus, went on Tuesday visitation and called on my bus route on Saturdays, preached at a drug rehab center on Sunday afternoons, and went out on double dates with Polly on weekends. I also played basketball often as I could. The dorm had a curfew — 10:00 pm, I think. When, exactly, did I have time to win souls? (As a pastor, I did put what I learned at Midwestern to work, but I never did like doing door-to-door evangelism. I always felt such practices were coercive.)
Midwestern would also hold annual fundraising contests. (Midwestern always seemed to be broke, often begging poor college students to give money to the college.) One year, students were asked to sell jumbo-sized O'Henry candy bars for $1. Students were expected to sell the candy bars to everyone they came in contact with, much like the college students who knock on your door in the summer, selling books, magazines, and knives. I halfheartedly tried to sell the candy bars. My biggest buyer ended up being me. 🙂
As I thought about the soulwinning contest and the candy bar fundraising contest, I realized that they were one and the same. The techniques were the same. The goals were the same: buy the product we are selling. The rewards are the same: recognition and your name on a chart. And the people who were at the top of the souls saved chart were the same people at the top of the candy bars sold chart.
Bruce Gerencser, 66, lives in rural Northwest Ohio with his wife of 45 years. He and his wife have six grown children and thirteen grandchildren. Bruce pastored Evangelical churches for twenty-five years in Ohio, Texas, and Michigan. Bruce left the ministry in 2005, and in 2008 he left Christianity. Bruce is now a humanist and an atheist.
Connect with me on social media:
Your comments are welcome and appreciated. All first-time comments are moderated. Please read the commenting rules before commenting.
You can email Bruce via the Contact Form.