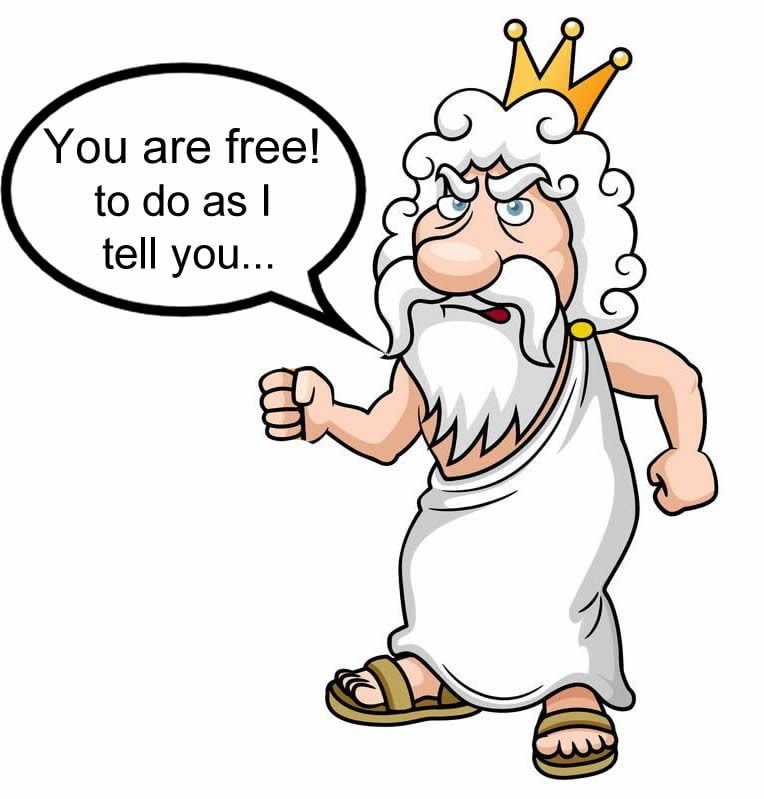 The first verse in the first book of the Christian Bible says, In the beginning God created the heavens and the earth. The verses that follow go on to explain all that God created. His crowning achievement was the creation of Adam and Eve — humans created in the image of God. Adam and Eve would later eat fruit from a tree that God said was off-limits. Their love of fruit brought sin and death into the world. From this point forward, humans come forth from their mother's wombs at variance with God. According to the Bible, newborns come into the world speaking lies. Humans are, by nature, enemies of God. Wanting to repair the fractured relationship between the Creator and his creation, God cooked up a scheme through which sins could be forgiven. In the Old Testament, the Bible says God required blood sacrifices for the expiation of sin. Animals were ritually slaughtered and their blood was placed upon altars to provide atonement for national and personal sins. In the New Testament, the Bible says that God sent himself to earth in the form of a God-man by the name of Jesus. This Jesus was one hundred percent man and one hundred percent God. After traveling through Palestine for three years, working miracles, and preaching sermons, this Jesus was accused of heresy by the Jews, arrested by the Roman government, and executed. Three days later, this Jesus miraculously came back to life, spent forty days appearing to his followers, after which he ascended to Heaven. According to Christians, for the past 2,000 years, Jesus has been hanging out in heaven doing God things: building rooms (mansions) for Christians to live in, helping Christians score touchdowns, helping grandmas find their car keys, and controlling presidential elections. While Jesus, at least according to those who speak on his behalf, is intimately involved in the minutest details of the lives of his followers, it seems he can't be bothered with important issues such as war, starvation, global climate change, human trafficking, and the Cincinnati Reds winning the World Series. Why is it that Jesus never seems to be around when you really, really need him?
Most Christian sects can be plotted along the line between Arminianism and Calvinism. While these two systematic theologies are poles apart from one another, both agree that the Christian God is the absolute, authoritative ruler of the universe. While Arminians and Calvinists argue amongst themselves about free will and the order of salvation, both agree that God is sovereign, and that he has the whole world in the palm of his hands. This God is omniscient, omnipotent, and omnipresent. The Bible says that none of us can escape the presence of this God. He is everywhere — the ultimate voyeur.
If everything is created by God, owned by God, known by God, and nothing escapes his ever-seeing eye, isn't it logical to say that God is responsible for sin? Isn't it logical to hold God responsible for everything that happens? If humans are not ultimately in control of their lives or their destiny, how then can they be held responsible? If God alone — either through predestination and election or prevenient grace — saves sinners and gives them keys to their Jesus-built mansions in the sky, how then can any of us be held accountable for not becoming Christians? If it is God, through the Holy Spirit, that gives life to dead sinners so they can believe, how then can any un-quickened sinners be held accountable for their depravity? Billions of people, past and present, live in places where Christianity has no influence. People can go through their entire lives without hearing the Christian gospel, yet when they die God will hold them accountable for not hearing that which they had no opportunity to hear. Does this sound just and fair?
Does any of this make sense to you? Wouldn't it have been better for the Gods — Yahweh, Jesus, and Holy Spirit — to cut out all the bullshit and create a universe not tainted by sin and depravity? Surely it was in God's power to create an Adam and Eve who were incapable of sinning. It's a fair question, then, to ask why God did what he did. If God controls the universe and nothing escapes his sovereign grasp, why all the war, violence, rape, starvation, and terrible contemporary Christian music?
Start asking Christian pastors and laypeople these questions, and you'll quickly conclude that they really don't have any answers. Oh, they will spin some sort of elaborate theological answer that will leave you neck-deep in quicksand, but don't expect them to give direct, succinct answers. Most often, apologists for the Christian God will give contradictory or incoherent answers, and when their nonsense is pointed out they will swiftly run to the house of faith, slamming the door while they scream, GOD'S WAYS ARE NOT OUR WAYS! GOD'S THOUGHTS ARE NOT OUR THOUGHTS! HOW DARE YOU CHALLENGE THE CREATOR! HE CAN DO WHAT HE WANTS! This screaming is the equivalent of la-la-la-la, I can't hear you, now fuck off.
A perfect illustration of this can be found in a post on the Faith-It website by Christine Suhan. Titled, Dear Christians, Stop Saying 'Everything Happens for a Reason,' Suhan shows how it is impossible for Christians to develop a coherent understanding of the world while at the same time trying to hold on to Evangelical beliefs. Here's some of what she had to say:
Have you ever found yourself, in the midst of unimaginable grief, pain, heartache or despair, wondering how you are going to make it through another day? Wondering where your next breath is going to come from? Your world has crumbled beneath you and you are left feeling shattered, empty and hopeless.

And then a well meaning friend or family member comes along and drops the infamous "Everything happens for a reason" bomb. You smile kindly and nod—that's all you can do to keep yourself from punching them in the face.

….

Sometimes bad things happen for no reason other than we are human beings having a human experience. Pain, heartache, grief, loss, disease and death are inevitable parts of the human experience.

We hear people say "Life dealt me a crappy hand" as if pain and hardships are not the norm. We assume that life is supposed to be easy and when things don't go our way, we feel like we have been wronged. Human beings seem to have an innate sense of entitlement. We think that we are owed a pain-free existence.

But the truth is that human beings are not exempt from the human experience. And struggle is an innate part of the human experience. None of us are exceptions to this rule. We all struggle. We all suffer. We all experience pain, heartache and loss. And sometimes, there's just no reason other than we are human and pain is a part of the process.

I recently had a conversation with a friend who was struggling to find peace with "God's plan" for her life including the recent death of a loved one.

"How could this possibly be God's will?" she asked.

Here's what I've come to know about God's will:

God's will is not the path we walk, but rather how we walk the path.

God's plan is never for someone to have cancer. God's will is not for an innocent child to be brutally murdered. God's will is not for a teenage girl to be raped. God's will is not chronic pain, illness, disability or death.

God's will is not an event that happens to us, it's how we respond to what happens.

God's will for us is to walk with Him through the cancer. Through the abuse. Through the death. Through the illness. God's will is for us to draw close to him in the midst of pain. God's will is for us to use our painful life events to carry his message of hope, grace, forgiveness and mercy.

God's plan was never for pain to be part of the human experience. His plan was for us to live in peace and harmony with Him. The human experience became painful when sin entered the world. Our own free will weaved threads of tragedy, loss, heartache and pain into the human experience.

God is not responsible for our pain. We are not responsible for our pain. What happened in the Garden of Eden is responsible for the human condition. And the human condition is hard wired for pain and suffering. God is not causing us to hurt. He is hurting with us. What we do with our hurt is what matters. How we handle tragedy is what brings purpose into our pain.

There's hardly ever a justifiable reason for the bad things that happen in life. Tragic loss is not laced with inherent specs of good. I used to get so mad when people would say, "You can find good in every situation." That's just not true. There was nothing good about being raped. There is no good in murder or abuse.
Suhan takes the shit happens approach. Thanks to Adam and Eve and their progeny's sin nature, pain, suffering, and death are part of the human (Westworld) experience. According to Suhan, there is no reason or purpose for these things to happen. The problem, however, is that Suhan's worldview runs contrary to orthodox Christian doctrine. This often happens when Christians try to thoughtfully ponder about human existence. How can rape or murder be good or have some sort of higher purpose? If God is the sovereign of the universe, why does he permit, either passively or by decree, such things to happen? Surely, an all-powerful God can keep people from being raped or murdered. Why does he idly stand by and do nothing?
According to Suhan, God does do s-o-m-e-t-h-i-n-g. When a teenage girl is being ritually raped by her pastor or an altar boy is being repeatedly sodomized by his priest, Jesus is right there holding the victim's hand. That's right, the God who could stop sexual assault does little more than send victims a BFF text that says, I am with you in spirit. Love, Jesus. Millions of people will go to bed tonight hungry, and the God who owns the cattle on a thousand hills and sends sunshine and rain for crops to grow will do nothing to feed them, choosing instead to smile and hold their empty plates. While the risk of nuclear war between the United States and Russia continues to increase, Jesus wants everyone to know that he will be right there with them if they are turned into an ash heap. Is this the best that God can do for us — hold our hand?
If God is the supreme ruler of the universe, the creator of all things, the giver of life and death, and he who sees and knows everything, it is impossible to absolve him of culpability for pain, suffering, violence, and death. God could intervene, but he does nothing. Try as they might, Christian apologists have no suitable answer for their sovereign God's inaction. The best these defenders of the faith can come up with is that Adam and Eve ate an apple, pissed off God in the process, and for thousands of years now he is been standing by while Evangelical pastors rape church children, serial killers murder innocents, and warring nations rain death down on the heads of innocent civilians.
And if this isn't bad enough, Christian pastors and theologians remind us that there is coming a day when God will end his hand-holding ways, resurrecting everyone from the dead so he can judge them and fit those who don't measure up with some sort of supernatural body that will survive an eternity of torture in a lake filled with fire and brimstone. This God, who couldn't be bothered with stopping Hitler's horrendous slaughter of six million Jews, will definitely be hands-on when the time comes to make his "chosen" people pay for their rejection and execution of Jesus Christ. Billions of Buddhists, Muslims, Hindus, and wrong-flavor-of-ice-cream Christians will be awakened from their slumber, only to be cast into Hell with the Devil, his angels, Barack Obama, Hillary Clinton, Joe Biden, Kamala Harris, Anthony Fauci, Nancy Pelosi, and Bruce Gerencser.
Who in their right mind would want anything to do with Evangelical Christianity?
It is for these reasons (and others) that many people turn to agnosticism, atheism, universalism, and other non-theistic religions. The only way to understand what goes on in the world is to realize that we humans are responsible for what does and does not happen. It is up to humans, not fictional deities, to put an end to violence and suffering. We are the masters of our universe, and if we want things to be different, then it is up to us to change them. A humanistic view of the world requires us to acknowledge that randomness and luck often affect our lives. Sometimes, we are at the right or wrong place at the right or wrong time. Slight variations in decisions or movements can drastically change outcomes. It is highly unlikely that a jet flying overhead will crash into my home. It's possible, but the probability of it happening is minuscule. And when that unlikely event happens to some unlucky individuals, we must accept it as just that – an unfortunate incident that took lives, but not an act of God. Instead of attempting to develop some elaborate and often contradictory religious explanation of the world that supposedly matches the dictates of ancient religious texts, it is far better for us to just live in the moment and do what we can to improve life for not only ourselves and our progeny, but also for animals and other humans. Interjecting God into the discussion just complicates things. We humanists hope that Suhan and her fellow Christians leave off holding hands with their fictional best friend, and instead join hands with us as we try to combat violence, pain, suffering, disease, climate change, starvation, inequality, and death. Surely God is not so jealous that he can't put off the handholding until Christians make it to the other side.
Bruce Gerencser, 66, lives in rural Northwest Ohio with his wife of 45 years. He and his wife have six grown children and thirteen grandchildren. Bruce pastored Evangelical churches for twenty-five years in Ohio, Texas, and Michigan. Bruce left the ministry in 2005, and in 2008 he left Christianity. Bruce is now a humanist and an atheist.
Connect with me on social media:
Your comments are welcome and appreciated. All first-time comments are moderated. Please read the commenting rules before commenting.
You can email Bruce via the Contact Form.