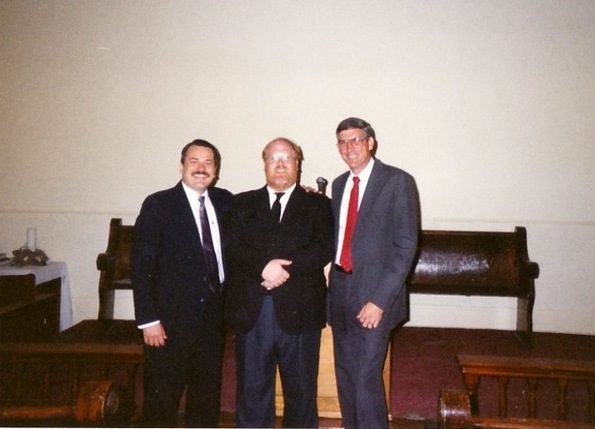 My first exposure to Calvinism came in 1988 when I began borrowing and listening to cassette sermon tapes from Chapel Library — a Calvinistic tape lending library and tract publisher in Pensacola, Florida. I had seen an ad for Chapel Library in a periodical I received, so I thought I would write to request a list of sermon tapes. Most of the preachers on the list were not familiar to me, but one name stood out: Martyn Lloyd-Jones. Lloyd-Jones, who died in 1981, was a well-known British Evangelical pastor. He was the pastor for many years of Westminster Chapel in London.
Along with a handful of Lloyd-Jones' sermon tapes, I ordered tapes of Rolfe Barnard, a Southern Baptist evangelist. While I thoroughly enjoyed Lloyd-Jones' sermons — and I would listen to dozens more of them over time — it was Barnard's sermons that blew me away. Here was a Calvinist who preached with the fervor of an old-fashioned fire and brimstone evangelist. I had never heard Calvinistic preaching before listening to Lloyd-Jones and Barnard. I had been told that Calvinistic preachers were dried-up prunes with little zeal, passion, or power. I was a big fan of nineteenth-century Calvinistic Baptist preacher Charles Spurgeon, but having only read his sermons, I had no idea how Spurgeon sounded. I assumed he preached with great authority and power, but since there are no recordings of his preaching, all anyone can do is assume how Spurgeon preached.
I attended Midwestern Baptist College in Pontiac, Michigan from 1976-1979. Midwestern — an Independent Fundamentalist Baptist (IFB) institution — was resolutely opposed to Calvinism. Ironically, one of the college's men's societies carried Spurgeon's name. When questioned about having a society named after Charles Spurgeon, students were told that, yes, Spurgeon was a Calvinist, but God mightily used him in spite of his Calvinism. More than a few IFB preachers suggested that Spurgeon was not a "true" Calvinist; that his zeal for winning souls was inconsistent with his Calvinistic beliefs. I would later thoroughly study Spurgeon's published sermons, and I determined, without question, that Charles Haddon Spurgeon was an Evangelical five-point Calvinist.
While Spurgeon was my favorite nineteenth-century preacher, Rolfe Barnard quickly became my favorite modern-day preacher. Many of his recorded sermons were preached at Thirteenth Street Baptist Church in Asheville, Kentucky. For many years, Henry Mahan was the pastor of Thirteenth Street. I called Henry one day to see if he had contact information for Barnard. I wanted to have him come to preach at our church. Henry told me, well brother, Brother Barnard died in 1969. (Henry and I would later develop a friendship. I visited Thirteenth Street several times, and Henry came to Ohio to preach a conference at Somerset Baptist Church in Mt. Perry, Ohio, the church I was pastoring at the time.)
Here's a sermon by Barnard that will give readers a good idea of his preaching style and sermon content:
Barnard's sermons made a deep, lasting impression on my life. As Barnard preached the Calvinistic gospel and spoke of God's sovereignty and grace, I found myself emotionally stirred. I asked myself, why hadn't I ever heard these "truths" before? Why hadn't my college professors told me of these "truths?" In time, I came to believe that my mentors and professors had lied to me about the gospel, salvation, and God's grace.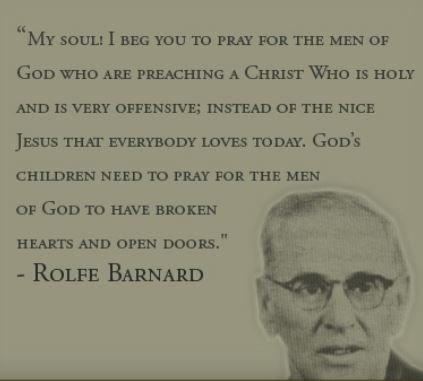 Barnard, then, opened the door for me to Evangelical Calvinism; and once the door was opened there was no going back. I began buying and reading books written by Calvinistic theologians and pastors — many of them from the seventeenth and eighteenth centuries. Over time, I would buy almost one thousand theology books and Christian biographies. One time, a church teen walked into my study, looked at all my books, and said, preacher, have you read all these books? With great humble pride, I replied, yes, every one of them. I was quite proud of my library, a common trait found among Calvinistic preachers. It was through these books and the preaching tapes from Chapel Library that Bruce Gerencser, a one-time IFB preacher, became an Evangelical Calvinist.
As newly minted Calvinists are wont to do, I made it my mission to convert my colleagues in the ministry to Calvinism. All my zeal accomplished was fractured relationships, including one man who got so mad at me — accusing me of being the keeper of the Book of Life — that he stomped out of a meeting we both were in, never to be in the same room with me again. Of course, I viewed his temper tantrum as him not being able to handle the "truth."
I started a monthly newsletter titled, The Sovereign Grace Reporter. I mailed this newsletter to hundreds of IFB and Calvinistic preachers. The Calvinists loved my newsletter, including several IFB preachers who were closeted lovers of John Calvin. Some IFB preachers got so upset with me that they sent me angry letters, demanding that I take them off the newsletter mailing list. This video clip from A Few Good Men pretty well says what I thought of these angry preachers:
One preacher, my best friend at the time, was sympathetic to my Calvinistic views. Through hours-long theological discussions and reading books I loaned him, he embraced certain aspects of Calvinism (though he certainly would never have called himself a Calvinist). He would later pull back from Calvinism. One mutual acquaintance of ours told my friend, Bruce Gerencser almost ruined you with that Calvinistic stuff.
My theological transformation came at a time when the church I was pastoring was facing attendance decline due to the fact that we decided to stop operating our bus routes. I determined, then, with my new-found beliefs in hand, to do three things:
Try to un-save all the people who were saved through my preaching of the IFB gospel. I was convinced that many of the people who attended Somerset Baptist Church were "saved" but lost. If Rolfe Barnard was right about the true condition of many Baptist churches — filled with lost people — then it was my duty and obligation to expose the false IFB gospel and preach to them the true gospel. I found that it was a lot harder to un-save people than it was to lead them to salvation.
Teach the congregation the doctrines of grace (Calvinism), line by line, week after week. I abandoned preaching topical and textual sermons, choosing instead to exegetically preach through books of the Bible. For example, I preached over one hundred sermons from the gospel of John (my favorite gospel).
Start a tuition-free private Christian school for our church's children. By doing so, I (we) would not only teach them reading, writing, and arithmetic, but it would also allow me, through having students memorize the 1689 London Baptist Confession of Faith and read biographies of Calvinistic missionaries and preachers, to indoctrinate them in the one "true" faith.
In the next post in this series, I will talk about how Pastor Bruce becoming a Calvinist materially affected the church I was pastoring and how it altered my personal relationships with my wife, children, and friends.
Bruce Gerencser, 66, lives in rural Northwest Ohio with his wife of 45 years. He and his wife have six grown children and thirteen grandchildren. Bruce pastored Evangelical churches for twenty-five years in Ohio, Texas, and Michigan. Bruce left the ministry in 2005, and in 2008 he left Christianity. Bruce is now a humanist and an atheist.
Connect with me on social media:
Your comments are welcome and appreciated. All first-time comments are moderated. Please read the commenting rules before commenting.
You can email Bruce via the Contact Form.