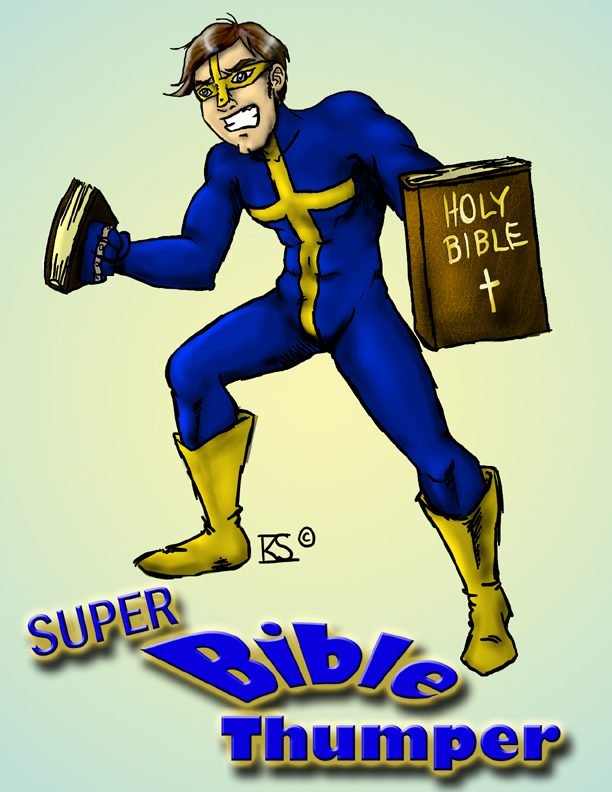 Most churchgoing Evangelicals are nice enough people. They may have irrational beliefs and, by their attendance and financial support, lend their names to social policies we progressives find offensive and harmful, but meet Evangelicals at local football games or restaurants and they will act very much like the rest of us. A small percentage of Evangelicals are Bible thumpers — people who live and breathe the Bible, Christian doctrine, and evangelization. Many of the Evangelicals-turned-atheists/agnostics who read this blog were, during their Christian days, Bible thumpers. I know I was. Evangelicals who stumble upon this blog and comment are usually members of the Bible thumper club. Bible thumpers might be a minority within the broader context of Evangelicalism, but they have a larger-than-life presence on the internet, television, and radio. Most Evangelicals are Sunday-go-to-meeting Christians — people who love Jesus and their fellow man. Bible thumpers, on the other hand, love doctrine and hearing themselves talk far more than they do other people. Bible thumpers are quite willing to psychologically eviscerate those deemed enemies — liberal Christians, Catholics, non-Christians, atheists, agnostics, and even Evangelicals who aren't as "committed" as they are.
Several years ago, I tried to engage a Bible thumper in a thoughtful discussion on the Rational Doubt blog. (Our discussion is no longer available.) I should have known better. I ALWAYS should know better. It's been years since I have had a lengthy discussion with an Evangelical that turned out well. By the time I figured out I had made a huge mistake, this Bible thumper, sensing emotional blood in the water, turned to attacking me personally, suggesting that I was intellectually inferior and a whiner. This man's words cut to the quick, opening up wounds that lie buried deep in my being. It's been almost eight years now since I have returned to blogging. People who have been following my writing for years know that I quit blogging several times in the past because of vicious assholes for Jesus. A little voice in my head kept telling me to tell this Bible thumper exactly what I thought of him and move on, but since I was a guest on Rational Doubt (which periodically publishes my writing on their site) I decided to refrain from giving the Bible thumper the Bruce Gerencser Treatment®. I finally threw in the towel, much to the delight of the Bible thumper. According to him, his superior "Biblical" arguments caused me to flee. He even suggested that deep down I knew that his arguments were correct.
Readers who frequent this blog know the kind of man I am. They also know of my physical struggles and my decades-long battle with depression. Had they been following the Rational Doubt debacle, I am sure I would have gotten emails, instant messages, and texts asking me if I was okay. When a major depressive state sets in — as it did when I had this discussion — life gets quite dark for me. It is easy for me to lose sight of what matters. What doesn't matter is a piss-ant Evangelical who uses the Bible to bully people. This particular man is just one more of the thousands of Bible thumpers who have come before him. I knew what kind of awful man he was, so why did I engage him anyway? I knew he described himself on his website as:
T.C. Howitt writes at the gospel crossroads of truth and reality, using the Bible to illuminate our benighted culture. He considers no subject sacred in this fallen world, relying on the power of God's word alone to boldly declaim the shocking wickedness surrounding us in the forms of secular humanism, scientism and technological idolatry.
I knew that his Facebook page said: "I'm on Facebook to preach God's word. Don't be surprised when you hear it." I knew his Medium profile said: "Writer, preacher of God's word, destroyer of idols, giver of fair warning." These three statements set off a warning in my mind that said, WARNING, BRUCE! BIBLE THUMPER AHEAD. Yet, despite knowing all I needed to know about what kind of man Todd Howitt is, I decided to engage him anyway. The fault, then, is mine, not his. Rabid dogs act like rabid dogs. I shouldn't expect them to act like lovable puppies. Bible thumpers act the way they do because they believe the Bible is the answer to every question, and that they know everything. Every morning, these zealots arise and sing:
The B-I-B-L-E,
Yes that's the book for me,
I stand alone on the Word of God,
The B-I-B-L-E.
BIBLE!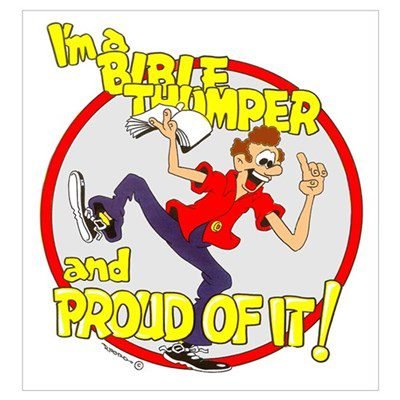 They have read countless books that reinforce their educated ignorance. Bible thumpers believe they have life figured out, and that if everyone would believe as they do, all would be well. Many of these Bible thumpers are Calvinists, adding another layer of arrogance and certainty to their behavior. I KNOW all of these things, so why, then, did I bother to engage Howitt? My counselor tells me that I wrongly think that if I just share with people my story and explain my journey from Evangelicalism to atheism, Bible thumpers will understand. Dr. Deal had told me several times, Bruce, you think these people care about what you think. They don't! They don't give a shit about you or what you think.
Doc, of course, is right. I KNOW he is right. I have known for years that he is right. I know, I know, I know, yet every so often the "just explain yourself" Bruce nags me, demanding to speak, and so I let him. And as sure as the sun comes up in the morning, the moment I do, I realize I have made a big mistake. I am not talking here about explaining myself to the regular readers of this blog. I owe it to readers who have invested their time (and money) in reading my writing to explain things that aren't clear. Fortunately, regular readers rarely need an explanation. They understand my writing methodology and usually know what I mean when I say this or that.
Several years ago, I read a Washington Post article about the turmoil in Spain over Catalonia's attempt to secede from Spain. Speaking of the supposed dialog between the parties, Spanish Prime Minister Mariano Rajoy said:
The word dialogue is a lovely word. It creates good feelings. But dialogue has two enemies: those who abuse, ignore and forget the laws, and those who only want to listen to themselves, who do not want to understand the other party."
I thought as I read it, Rajoy's statement fits well with my recent "dialog" with Todd Howitt. Howitt is an enemy to open and honest dialog because his Fundamentalist religious beliefs have turned him into an abusive bully. He may smile and say Praise Jesus! while he is doing it, but Howitt and other Bible thumpers can and do cause psychological harm to people with sensitive sensibilities (which Bible thumpers view as weakness). Howitt had no interest in understanding where I was coming from. He stated from the get-go that he was a former atheist (doubtful) and he was there not to dialog or converse — already knowing how atheists think — but to preach the Word. In other words, he was only interested in hearing himself talk. Those of us who are former Evangelicals are quite familiar with people who only want to listen to themselves talk. Our pastors were people who believed they were men supernaturally chosen by a supernatural God to preach the inspired, inerrant supernatural Word of God. Our duty as hearers was to submit to the pastor's — I mean God's — authority and explicitly follow the laws, precepts, commands, and examples found within the pages of the one book that is different from all the books ever written — the Protestant Christian Bible. As an Evangelical pastor, I did the same. Since I had been called by God to preach and teach at whatever church I was currently pastoring, I expected congregants to listen and obey. (Hebrews 13:17)
Bible thumpers believe they are plugged into God 24/7 — that is, except when they, under the cover of darkness, behave in ways that make them entries for the Black Collar Crime series. Bible thumpers believe that their knowledge of the Bible is superior to that of the vast majority of people on earth. Some of them think that they are so right that no church is good enough for them. They are infected with what I call A.W. Pink disease. Pink was a famous early-twentieth-century Calvinistic writer who secluded himself on an island because he couldn't find a pure enough church to attend.
Having risen to the level of being worthy to enter the inner temple of Biblical truth, Bible thumpers, girded with self-righteousness, fan out across the internet seeking forums to dispense their Trumpian-level knowledge. Scores of such people over the years have made their way to The Life and Times of Bruce Gerencser. These days, Bible thumpers are rarely permitted to sell their faux-gold plated turds on this site. A decade spent dealing with Bible thumpers has taught me that engagement is futile. While I, at times, forget this maxim, I am getting better at just letting Bible thumpers tilt at windmills.
I originally wrote this post in 2017. Over the past five years, I have come a long way in learning how to deal with Evangelicals who only want to cause harm. Life is too short — literally — for me to waste time trying to engage people who only want to viciously, violently, and hatefully attack me and the readers of this blog. On the rare occasions I do engage such people, I do so for entertainment purposes or to provide graphic illustrations of the ugly underbelly of Evangelical Christianity. Such people do a wonderful job turning people away from Christianity.
Bruce Gerencser, 66, lives in rural Northwest Ohio with his wife of 45 years. He and his wife have six grown children and thirteen grandchildren. Bruce pastored Evangelical churches for twenty-five years in Ohio, Texas, and Michigan. Bruce left the ministry in 2005, and in 2008 he left Christianity. Bruce is now a humanist and an atheist.
Connect with me on social media:
Your comments are welcome and appreciated. All first-time comments are moderated. Please read the commenting rules before commenting.
You can email Bruce via the Contact Form.