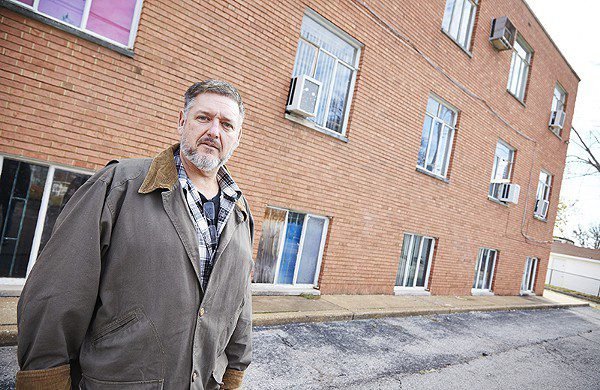 The Black Collar Crime Series relies on public news stories and publicly available information for its content. If any incorrect information is found, please contact Bruce Gerencser. Nothing in this post should be construed as an accusation of guilt. Those accused of crimes are innocent until proven guilty.
The following story will leave you shaking your head, wondering how the pastor in question was able to do what he did.
In April 2017,  Loren Copp, an Evangelical pastor, owner of DoJo Pizza, and all-round con-artist was arrested on charges of producing child pornography. The River Front Times reported at the time:
Loren Copp, the Dojo Pizza owner targeted in a long-running criminal investigation, was arrested Thursday afternoon on charges of producing child pornography.

Federal agents took the 47-year-old into custody about 3:45 p.m. outside the Bevo Mill church where he once taught karate, ran a pizza restaurant, operated a school and raised four teenage girls, according to a witness and his attorney.

The federal complaint claims investigators searched "multiple types of digital media" and discovered an image of a minor performing oral sex on Copp and another of Copp having vaginal sex with the girl. The minor, listed as "Jane Doe 1" in the document, identified Copp as the man in the photos, according to the complaint. She says she was about twelve in the first photo and fifteen or sixteen in the second.

Copp was lured on Thursday to the dojo, which had been boarded up since a law enforcement raid in October, by a city building inspector who called to say someone had broken in, Copp's friend John Albrecht tells the Riverfront Times.

Copp had asked his friend to drive with him, because he worried he was being set up, Albrecht said.

….

Copp was the subject of an RFT feature story in December after a series of federal raids on Dojo Pizza. He was taken into police custody for a couple of days in October on suspicion of child endangerment, but he was released without charges.

He has maintained his innocence, blaming the investigation on a disgruntled former live-in volunteer who he'd ejected from the dojo. Court documents filed in support of the early raids revealed police were investigating accusations of human trafficking, alleging Copp forced the teens to work for free in the pizzeria. He denied the charge. The girls were staying him because their parents were on drugs, imprisoned or otherwise unable to care for them, he said. Two of the girls had lived with him so long, they called him their father, and he considered them his daughters.

Parents, visitors to the dojo and one of the girls interviewed by the RFT supported him.

The charges of production of child pornography are new.

Agents who'd previously raided the dojo, a former church in October and November, had been seen taking evidence boxes and computers from the building.

In interviews, Copp has suggested investigators have been trying to set him up and possibly planted evidence. He noted neighbors claim to have seen men who appeared to be law enforcement officers climb in through a back window before one of the raids.
Twenty-four hours after Copp's arrest, The River Front Times reported:
Dojo Pizza owner Loren Copp arrived handcuffed and shackled at the ankles on Friday in federal court for his first appearance since his arrest on child pornography charges.

His attorney had dropped him overnight. Some of his strongest supporters have backed away now that the FBI says it has photographic proof he sexually abused a girl over the course of several years, starting with a stomach-churning snapshot of the two of them in a sex act when she was just twelve years old.

Until a series of law enforcement raids in October and November, he'd lived with four teenage girls in a converted church at 4601 Morgan Ford Road in Bevo Mill where he taught karate, established a school and operated a pizzeria.

Federal authorities claim they found the pornographic photos on a computer hard drive seized during one of the raids. Investigators showed the pictures to the girl on Wednesday, and she identified herself and Copp, according to the criminal complaint released on Thursday following his arrest.

Tauna Cowin, whose two oldest daughters lived with Copp most of their lives, says she cried all night after reading the newly revealed allegations.

"If he did do this, I hope he rots in jail," she told the Riverfront Times. "I'm sorry, but I hope he rots in jail."

Cowin knew Copp, a former pastor, through her kids' school and church. When she was losing her home about a decade ago, she sent a son and the two girls to live with him and his wife at the time. The boy eventually moved on, but the girls stayed and began calling Copp "Dad" even though he wasn't their biological father.

Cowin says the girls previously told her Copp never abused them, but she hadn't talked to them since his arrest. They have been in foster care since the Dojo Pizza raids last fall.

"I just don't know how to freakin' take this," Cowin said through tears. "It's hitting me hard. I thought I knew this man, he was my pastor."

Copp was the subject of an RFT feature story in December and has claimed he was just helping kids whose parents couldn't take care of them.

Attorney Justin Meehan, a longtime martial artist, had advised Copp for free in the months after the raids. Law enforcement affidavits had described Copp as the target of a "Labor Trafficking and Sexual Abuse" investigation, allegations that the lawyer thought lacked much in the way of support.

He has a policy of not taking on clients who are accused of hurting kids, but a fellow martial artist vouched for Copp, and Meehan eventually agreed to get involved — with the caveat that he'd walk if there was more to it than a weak trafficking case.

Meehan felt "blindsided" Thursday when he learned prosecutors were now pursuing a charge of producing child pornography, he said. True to his word, he has decided to cut ties with Copp.
Copp also owned and operated Ma-ji Ryu Christian Karate Association. City officials seized DoJo Pizza's building to satisfy a $13,940 tax liability. The building was bought at sheriff's auction for $35,714.
Copp's past is filled with accusations of malfeasance and financial misconduct. In 2013, the St. Louis Post-Dispatch reported:
Bargain hunters snapped up 40 years of Southwest Christian Church's history last weekend. Tables, chairs — even pots and pans used for countless fellowship meals — were sold off as part of the church's closure.

Southwest Christian has been wrangling with a tangle of debt tied to a failed $2 million church expansion that congregants helped finance. The project sits unfinished at 1694 Smizer Station Road, near Highway 141.

Now the remaining congregants who haven't scattered will gather Sunday for one final service at a church some have attended for two generations.

At first glance, it seems like a tragic but familiar tale of a church getting too ambitious, growing faster than it ought.

But Douglas Lay, a former pastor at the church, is among those who tell a different story.

By his account, Southwest Christian historically played it smart, avoiding debt and making do with its aging and modest building.

At least it did until it ran into Loren Copp — a pastor and builder with a history of failed financial dealings.

"He left them up a creek without a paddle," said Lay, who led the church in the late 1990s. "There are good people there."

Copp, who became the church's pastor in 2007, was the pastor when Southwest Christian decided to support the expansion project that would include a Christian high school, even though similar efforts in St. Louis County had failed in recent years. It started out at $1.5 million, then grew to $2 million.

Church members helped pitch in on the expansion by buying bonds, using the existing building as collateral.

Today, the project is stalled, mired in mediation with the original developer and lien holders claiming they haven't been paid.

Copp has since moved on.

….

Church leaders knew that the building project would be a major undertaking. But they believed they had a plan that would both underwrite the expense and satisfy the church's goal to expand its outreach.

Under the plan, the new Christian high school would lease the expanded church building during the week.

And to help funnel students to the school and broaden the church's ministry, some members supported an existing K-8 school Copp was involved with in south St. Louis.
Both schools are called Living Faith Christian Academy and are governed independently from the church by Copp's own nonprofit — Ma Ji Ryu Christian Karate Association. Copp uses his martial arts skills to minister.

In 2011, Copp touted the high school project, saying it would open that fall. He brushed off skeptics, who pointed to other failed school projects in the area.

The schools would be funded by tuition, not church donations.

"This is a school that is going to be run as a business," he told the Post-Dispatch at the time, adding: "If it doesn't work, you'll have a story to write."

The high school did open. But students could only meet in certain sections of the building because the project was incomplete.
A 2011 St Louis Post-Dispatch story had this to say about Copp's checkered past:
His [Copp] past, however, is marked with bankruptcy, unpaid bills and allegations of deception and poor management.

Illinois records show he owes nearly $10,000 in child support. When he moved to St. Louis in 2003, lawsuits and unpaid bills from Ohio, Indiana and Illinois followed, nipping at his ankles. Most stemmed from construction projects Copp started and never finished.

Problems continued here at Stocker Construction, which fired him from a residential construction manager position in 2006 for severe losses on projects Copp oversaw, said a representative of the now-defunct company.

A year earlier, a judge approved a negotiated settlement of $203,400 to satisfy a suit brought against Copp by the Illinois attorney general. The sum was said to be a portion of what nine customers were owed.

Copp filed for bankruptcy in St. Louis around that time and has repaid just a token amount.

"If he is so conscientious about a soda, how does he feel about our house and other people's houses that he walked out on with hefty sums of money?" said Ofelia Nikolova, 54, a party in the lawsuit and a former assistant professor in French at the Southern Illinois University Carbondale. "Tell him to come back and pay me. I'll take $50,000."
March 3, 2018, the St. Louis Post-Dispatch reported:
A former pastor and owner of a St. Louis pizza restaurant and martial arts studio facing federal child sex charges will represent himself at his trial next week.

Loren "Sensei" Copp will have standby counsel, but told U.S. District Judge Audrey Fleissig Monday that he wanted to represent himself.
He faces nine counts in all, including production, attempted production and possession of child pornography and the use of interstate facilities to persuade or coerce a minor to engage in sexual activity.

Copp has pleaded not guilty to the charges. He also provided a list of five alibi witnesses in a court filing that says they will testify that he was not "at the scene of the crime" on specific dates.

That scene, according to prosecutors, was a combination pizza shop, martial arts studio and youth shelter at 4601 Morganford Road that was raided multiple times in the fall of 2015 after claims that Copp was not adequately caring for or paying underage employees.

DoJo Pizza operated as a nonprofit to support free karate classes, its website once said.

Investigators said they found child porn during the searches, and subsequent charges claim Copp sexually abused multiple young girls.

One was between 10 and 13 when Copp first fondled her, prosecutors say in court filings. He later raped her, they say, and she couldn't accurately count the number of times she was abused. Filings say Copp also made videos of the sex acts, and she witnessed him abusing another resident of the shelter. He had child porn featuring the first teen and another underage girl, and also tried taking photos of two girls undressing, prosecutors say.

Prosecutors have also said they will use statements Copp made to a fellow inmate at the St. Charles County Jail and phone calls and emails from his time behind bars awaiting trial.

….
On April 11, 2018, Copp told the court he is innocent and that there's an explanation for the child porn on his computer. Copp was later found guilty of eight counts of sex crimes against underage girls.
Yesterday, Copp was sentenced to sixty-five years in federal prison. He previously rejected a plea deal that would have sent him to prison for fifteen years.
KMOV-4 reported:
According to prosecutors, several underage girls lived at Dojo Pizza, which is located on Morganford in the Bevo Mill neighborhood. Copp either had sole custody or care of the girls because their parents were incarcerated or homeless, authorities said. Copp groomed, sexually abused, and raped two young girls who had been in his custody since 2009.

The sexual acts were recorded on a cell phone or video recorder.

Copp allegedly forced the girls to work at the pizza shop and did not pay them appropriately or provide consistent food. He is also accused of threatening to kick the girls out when they didn't work, which would leave them homeless.

During the trial, evidence of Facebook messages between three girls and a fake account Copp used pretending to be a 13-year-old girl named "Chrissy". The profile picture on the account was of a young girl. Investigators found that photo on Copp's computer along with other pornographic images of the three victims that were sent to "Chrissy" Facebook page.

Investigators found conversations that referenced sexual acts that occurred between the three girls. In addition, subscriber information and backup emails used for the "Chrissy" Facebook account, as well as a Yahoo email account, were linked to Copp.