According to Evangelicals, we live in a world inhabited by fallen, broken, sinful people. All humans are sinners, from the moment they come forth from the womb speaking lies to when they draw their last breath. Numerous Bible verses reinforce the notion that there is something seriously wrong with every one of us. We have a disease called sin and it is killing us.
According to Evangelicals, we are helpless, hopeless, and empty. We lack purpose, direction, and meaning. Simply put, we are fucked. There is no hope for any of us. From the first man and woman to the baby born just a moment ago, all of us are wretches in bondage to our wants, needs, and desires. Sure sucks to be us, yes?
But wait, Preacher Billy Mays says. All is not lost. God sent his son Jesus to earth to die on the cross for sinners. Through his shed blood sin is expiated, and by putting faith in him we can have our sins forgiven and find purpose, meaning, and direction. And as an added bonus, at no extra charge, those who pray and ask Jesus to forgive them will be given eternal life and a home in God's Trump Hotel after they die.
Millions and millions of people call the 1-800-salvation number only to find out that there is a catch. Yes, the salvation is free; yes, the eternal life and hotel room is free, but there is a small shipping and handling charge. How much, you ask?
Just your life. If you buy what Preacher Billy Mays is selling, the cost is your life. Every moment of every day will belong to Jesus until you die. Your life will be governed by an ancient, largely irrelevant religious text called the Bible. This text has hundreds and hundreds of laws, rules, regulations, and precepts you will be expected to obey. While technically you can still get eternal life and a Heavenly hotel room after you die even if you don't obey, surely you don't want the room at the back of the hotel — the room where the plumbing never seems to work and the couple next door are loudly fucking day and night.
Sold a fantastical story about sin and brokenness, and emptiness and forgiveness, and healing and fulfillment, Evangelicals give the operator their credit card numbers and order God's Eternal Life Package® — free, just pay shipping and handling. This shipping and handling charge, as they will find out later, will be charged to their credit card every month until they die.
Evangelicals love to point out the awesome freedom they have now that they have bought God's Eternal Life Package®. Are they really free, the non-Evangelical asks? Bound to the words of an antiquated, contradictory book, are Evangelicals really free?
According to Evangelicals, God created everything, including every human. God gave us sexual desire, the Evangelical says, but the Bible says we can only act on this desire if we are married to someone of the opposite sex (and Christians are only allowed to marry Christians). Acting on our sexual desire outside the boundaries of heterosexual marriage is sin, a sin that some verses in the Bible say will result in us forfeiting our Eternal Life Package® and room at God's Trump Hotel. Instead, we will get Satan's Eternal Death Package® and a room in Beelzebub's Motel Six.
Not only does the Bible condemn any sexual behavior except married heterosexual intercourse, it also says that if we just look at a person and desire him or her sexually, we are sinning against God; so much so that God calls it "committing adultery in our heart." Don't touch, unless it is your spouse, and don't look lest you burn in Hell. And Evangelicals call this freedom?
I watch five NFL games a week — Monday, Thursday, and three on Sunday. Attractively dressed cheerleaders are often part of the games. Sometimes, one or more of the cheerleaders catches my attention. I say, nice, and I hit the replay button so I can confirm my observation. Yep, nice. On to the game.
No guilt.
No fear.
No quick prayer asking forgiveness.
Like a road trip on a beautiful fall day, I was just enjoying the scenery.
Here's the difference between the "freedom" the Evangelical thinks he has and the true freedom I have as an atheist. The Evangelical has to feel guilty over being a healthy, normal heterosexual (or bisexual or homosexual) man. He dare not hit the replay button lest he lust and commit adultery in his heart. If he does hit the replay button, he must later confess his sin to God and promise to never, ever, fingers crossed, do it again. And come football season, because he is a man with a normal, healthy libido, he will once again, with one eye covered, gaze upon the cheerleaders' comeliness or the tight end's nice ass. And as every time before, he will claim 1 John 1:9 (If we confess our sins, he is faithful and just to forgive us our sins, and to cleanse us from all unrighteousness) and promise God to never, ever, fingers crossed, do it again.
Me, the godless atheist? I am free to enjoy life with all its pleasures without feeling guilty over being a normal, healthy (normal and healthy being subjective terms) heterosexual man.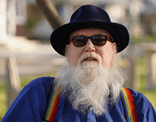 Bruce Gerencser, 65, lives in rural Northwest Ohio with his wife of 44 years. He and his wife have six grown children and thirteen grandchildren. Bruce pastored Evangelical churches for twenty-five years in Ohio, Texas, and Michigan. Bruce left the ministry in 2005, and in 2008 he left Christianity. Bruce is now a humanist and an atheist.
Connect with me on social media:
You can email Bruce via the Contact Form.
Your comments are welcome and appreciated. All first-time comments are moderated. Please read the commenting rules before commenting.