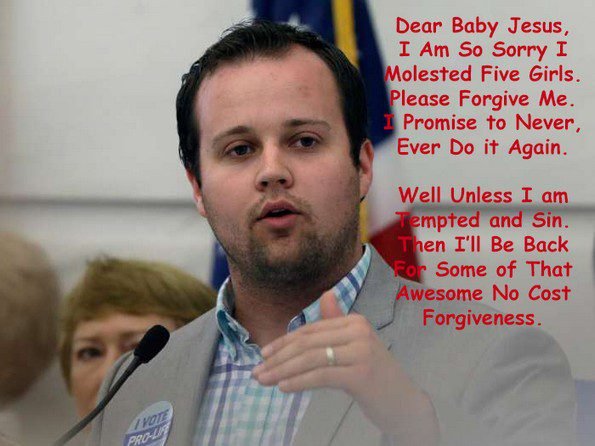 Often this narrative [sin and redemption] is particularly prevalent among evangelicals who have been accused of sexual misconduct. After evangelical television personality Josh Duggar confessed to molesting his sisters as a teenage boy, he and his family used the salvation playbook. Michael Seewald, whose son is married to one of Duggar's sisters, spoke out against the media condemnation of Duggar, who was never charged with a crime: "The ultimate answer … is what Josh found and millions like him. He found forgiveness and cleansing from Jesus Christ. There are many of you that are reading these words right now having had thoughts and deeds no better than what Josh had and did."
Disgraced megachurch founder Ted Haggard resigned his post in 2006, after admitting to drug abuse and a sex scandal with a male sex worker. He returned to public church life with similar rhetoric: "I am a sinner and [my wife] is a saint. … I feel we have moved past the scandal. We have forgiveness. It is a second chance."
In other words, there's a tendency among evangelicals to see sexual (or other) sins that have happened long ago (or even not that long ago), either prior to conversion itself or prior to a "re-conversion" or renewal of faith, as, well, natural. Of course people commit sinful acts, because sin is part of the human condition, and of course people are victims of sin without God's grace to help free them of it.
There are a few problems with how this manifests in practice. It can absolve "saved" individuals of too much responsibility for past misdeeds, since they're considered the deeds of a past, different self. It encourages a culture of silence among evangelicals about their struggles, since salvation is "supposed" to mean that temptation goes away, and any "backsliding" is the result of insufficient faith. Finally, this theological approach also means that "sins" tend to be conflated, especially sexual sins: consensual premarital sex and sexual abuse are often seen on the same spectrum, both the result of a temptation too great to bear.
Without God, the implication goes, people have almost no agency. In Moore's case, the fact that his alleged sins happened so long ago — and that the intervening years have seen him become more and more committed to the idea of a theocratic Christian state— only intensify some evangelicals' sense that Moore's actions then (even if true) don't necessarily have a bearing on who he is now. It's also worth noting that in the aftermath of Trump's campaign, evangelicals have done an extraordinary about-face when it comes to their view on the importance of politicians' personal morality.
Many, many Christian scholars and thinkers have been intensely critical of this "get out of jail free" approach to sin and grace, as I noted earlier this month. Among the most prominent in the past century was Dietrich Bonhoeffer, a German pastor and anti-Nazi dissident who was executed in a concentration camp for his activism. Bonhoeffer distinguished between "cheap grace" — easy forgiveness that allowed individual perpetrators and oppressive societies to get away, unchallenged, with their actions — and "costly grace," or forgiveness that also asks hard questions, and demands social change.
It's worth noting, however, that several prominent evangelicals — including the president of Southern Baptist Convention's policy arm, Russell Moore (no relation) — have spoken out criticizing Moore's evangelical supporters. "Christians, if you cannot say definitively, no matter what, that adults creeping on teenage girls is wrong, do not tell me how you stand against moral relativism," Russell Moore tweeted.
Despite this, "cheap grace" has become seemingly common in some evangelical communities, especially when there are practical political or pragmatic reasons (i.e., a Republican in power) to overlook a sin and preserve the social status quo.
— Tara Isabella Burton, VOX, For Evangelicals, Sin is Redeemable — But can That Allow Sex offenders to Dodge their Actions? November 29, 2017