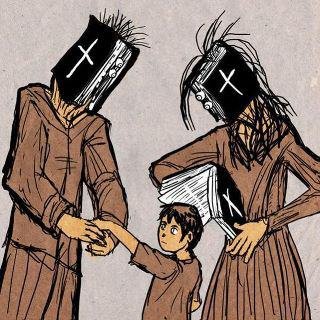 A guest post series by Ian.
Please see Part One in this series for an explanation of ACE schools.
I attended Grace Baptist Academy from 1980-1983, 3rd through most of 5th grade. This was a school that was about 40 minutes away, but my aunt was going there, so I was able to ride with her. Grace Baptist Academy was a ministry of Grace Baptist Church. My first year was their third year of school. It had started out with only six or seven children and had upwards of 60 by the time I started. The church was pastored by Pastor Colas and the principal was Mr. Wainscott. Mr. Wainscott was a tall, thin man who drank coffee all day long. I still remember the smell of his breath when he would come to my office and answer questions.
Being a veteran of one ACE school, I remember thinking I was going to have an easy time at this school. After orientation the first day, imagine my horror when I found out several fundamental things were different. First, the letters for achieving extra privileges were GBA rather than ACE. Ok, I was able to deal with that. Next, I found out the order for PACEs was different- Math, Social Studies, English, Science, Word Building. Believe it or not, I struggled with that the entire time I attended that school. It seemed wrong because of the way I was originally taught.
This was the year that erasable ink pens became popular. Before the school caught on to them being used on goal cards, the older students were using them and changing their goals to suit their needs. I did this myself a few times.
I began doing something that all ACE student do. Due to the way the PACEs are set up in the lower grades, answering questions was just a matter of reading the question, finding the exact same sentence in the text and copying the answer verbatim. This is one of the worst habits a student can acquire. We never studied and learned, we just used short-term memory to fill in a blank. Even in the final tests, the questions were the same ones as in the PACE. In the higher grades, you actually had to look for answers, but the bad habit had been learned and enforced by then. The only subject in which this wasn't possible was Math.
My first year there, I started a bad habit of just daydreaming and not getting any work done until the end of the day. Then it was a race to get as much finished before needing to ask for a Homework Slip. After a while, I was getting homework every day. My parents told me I needed to get my work done at school, so I began just crossing my goals off and not asking for a Homework Slip. Since the school was so large, the Supervisors couldn't check everyone's goals every day. I often got away with not doing my work, since the next day I would rush and get both day's work done. A few days later, I would be back to daydreaming and not get anything done, again. When I did get caught, it was an automatic detention. After bringing home Detention Slips for the same thing a few times, and the spankings that went along with it, I starting forging my parent's signature.
At Grace, one of the things they did was to allow you to serve detention at lunch time. This allowed working parents to keep their same schedule, yet take away free time from the bad kids. By forging my parent's signature and serving detention at lunch, I missed quite a few spankings.
After a while, my behavior was bad enough that I began to get swats at school. We were given 5 swats if we got more than 6 demerits, which I seemed to do regularly. The swats would cancel out the demerits and you started over with a clean slate. Since school swats were nowhere near as bad as a spanking from either of my parents, I preferred to have swats at school. Even though they hurt, the worst part of them was the embarrassment. Mr. Martin was the one who gave out the swats, so everyone knew that when he took you to the back room, you were gonna cry. I can honestly say I was being a shithead at this time. I remember Mr. Martin being a nice guy and I honestly think he hated to give me swats.
I remember a time when he told me a story about a boy who was always getting into trouble and then getting a spanking. After a while, the teacher said he didn't know what to do any more. So, when it was time to spank the boy again, he gave the boy the paddle and told the boy to spank him. That way the boy would know how much he despised giving spankings. The boy started crying and couldn't do it. The teacher didn't spank the boy and the boy didn't have any more problems. Hearing this story, I thought maybe I was going to avoid swats. Alas, Mr. Martin dashed my hopes. He told me that he would have done that if he thought it would do any good. I got my swats after all.
Another thing I started doing was cheating heavily on my scoring. In addition to memorizing answers, I developed a code to write down answers, using the scoring pen. I began tapping dots onto all of my pages, as though I was bored. In reality, I used those dots to copy answers, then complete the answer when I got back to my seat.
The study and scoring method that was used encouraged children to cheat. We were expected to work mostly on our own, with very limited help from the Supervisors and Monitors when we didn't understand something, usually math. Then, we were expected to score the work we didn't understand and figure out how to do the problem correctly. If this isn't a recipe for failure, I don't know what one is. As an adult, I have been taught several methods for teaching people. Our Supervisors and monitors had no idea how to teach us, so they were unable to help us in the way we needed. I'm sure they wanted to help, they just didn't know how.
I became a good sneak, due to the punishments I was receiving. I did everything I could to get away with doing as little school as possible. I learned that if you wrote with erasable ink lightly, when you erased it, there was no indent to show you had changed anything. I learned how to distract adults to take their attention away from what I was doing, so I wouldn't get caught. I also practiced memorizing large amounts of answers for short term retention. This way, I could mark all of my answers correct and fix them when I returned to my desk.
After being frustrated for by this system for a couple of years, I just started not scoring my work correctly. I would just mark the page as all correct, without checking the answers. This would only work for a while, though. When a PACE was turned in, the Supervisors would check over the work to make sure we scored correctly. I started getting multiple demerits for scoring violations. These would lead to Detention Slips, which would lead to a spanking at home.
The punishment I received at school and home for my scoring violations and incomplete work was way above any pleasure I derived from cheating. I honestly don't know why I did what I did. Several Supervisors took the time to try and counsel me. I was suspended three times. There were several parent/teacher meetings. Finally, I was expelled from Grace in the middle of my 5th grade year. They had put up with me for over two years and they had finally had enough. I finished out that year in a public school and didn't go to a private school again until 8th grade.
I remember Mr. Wainscott taking me aside one day and talking to me about the problems I was having. He kept asking why I was behaving the way I was. I gave all kinds of answers, but he wasn't buying any of it. Finally, I blurted out that I was cheating and disobeying because my parents smoked. (This was in a pretty conservative time and in a conservative group. Smoking and drinking were not acceptable behaviors.) I remember thinking that he would suddenly understand and all would be forgiven. I shouldn't have wasted my breath. Smoking parents didn't change anything in the least.
One time, during a parent/principal conference, I was sent out of the room after the meeting was over. After discussing my future for a few minutes, Mr. Wainscott pulled out a hash pipe made from a soda can. He had no idea what it was. He had found it behind some wood used for a construction project. The good, Godly kids attending the school were getting high during breaks.
Not all of my time was bad, though. Twice a week, we went to the YMCA for P.E. We younger kids got to swim for an hour and a half each session, or we could go to the gym and shoot basketballs with the older kids. Our school had a pretty decent basketball team, so they made good use of the court there.
The school also had father/son and mother/daughter nights. One of my best memories, ever, is the night my dad took me to a father/son night. I remember that we watched a Harlem Globetrotter's film and ate finger foods. My dad was a construction worker, so him being able to come to something like that was special.
Since the school was bringing extra money in, the second year I was attended, the church bought pews. These were nice, with dark wood and good cushions. I was just tall enough that my belt buckle was touching the top of the pew. The wood was something soft and I ended up scraping the top of the pew. I saw that and was sure I would get in trouble, but no one said anything. After a week or so, I sat in the same place and scratched it some more. I think I did this a total of 4 times until it was brought up in morning assembly. Oops.
The school also had a decent music program. Ms. Greenwalt was our music teacher and I think she had professional training from somewhere. It was here that I really began to enjoy music. The two years she was at the school, we put on large musicals. The younger kids (below 7th grade) performed "Down By the Creek Bank" one year. It was a blast practicing and I still remember some of the songs. The older kids performed "I Love America", which I think was a Bob Jones University musical. Ms. Greenwalt also taught the younger kids how to play a recorder. Most of us just produced horrible screeching sounds.
This was definitely my worst experience in ACE. Fortunately, the third school I attended was a much better place. As I look back on my time there, I can't help but wonder if the PACE order change is what caused all of my problems.