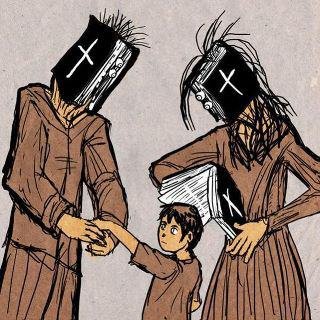 A guest post series by Ian.
Please see Part One in this series for an explanation of ACE schools.
I attended my first ACE school in the second grade, way back in 1979-1980. The pastor of our church had sent his children to this school the year before, so my dad thought it was a good idea to send me there. As he later said, "I thought you would come home every day singing psalms and speaking Bible verses".
Wildwood Christian Academy was a part/ministry of The Church in the Wildwood. The principal was Mr. Barker. Mrs. Barker was the teacher in the Lower Learning Center, which I was in. The Upper Learning Center had mostly male Supervisors with only a few monitors. The Barkers were a very conservative couple. They were death on any music with a beat; there were even hymns that they considered too up beat. I came from a Baptist church that was pretty stiff, so I had no experience with up beat Christian music. They were also very strict on the dress code. One time, they made my mom get back into her car because she wore pants to pick me up.
It was here that I had my first remembered experience of religion mixed with politics. I remember hearing a recording of a person talking about the circumstances surrounding the writing of The Star Spangled Banner. The narrator made this a religious struggle; Americans had the might of right since the country was founded in the Word of God. Patriotism was very high in this school, we learned how to properly fold flags and how to properly stand at attention while reciting.
While here, I made a lifelong friend, Tyson. I also made some acquaintances that I have bumped into or heard about over the years.
I remember getting my first detention. When I was handed the Detention Slip, I was scared and hid it in my boot at home. After a few days, the school called my parents and got it straightened out. This was one of the few times I got detention that I didn't get a spanking.
I also began to memorize large passages of scripture during this time. Every month, all of us had to learn a portion of scripture, in addition to the scripture verse in each PACE. This was quite a step up from learning a verse a week in Sunday school. The Lower Learning Center was usually given fewer verses to learn, usually 8 or 9 verses, while the Upper Learning Center had to learn around 15 verses. If you didn't memorize the verses by the end of the month, you were given detention and not allowed to participate in any extra activities. One month, I remember the horror of having to learn all 21 verses of Romans 12. Both Learning Centers had to learn it, with a genuine imitation leather-covered King James Bible going to the first person in each Learning Center to learn it. No, it wasn't me; I believe I memorized it just before the end of the month. I still remember one of the teachers, Mr. Watson, saying (with a Southern drawl), "…Thou shalt heap coals of fahr upon his head."
During this year, I learned another ACE peculiarity. When setting goals for the day, we always set Math, English, Social Studies, Science, Word Building, in that order. This way, the Supervisors could easily see what goals we had completed for the day. Every subject was color coded, too: Math-yellow, English-red, Social Studies-green, Science-blue, word Building-purple. These are very strong order and color associations that I have to this day. I'll write more about this in my next post.
This was also where I learned to cheat when scoring my work. We took our PACEs to a scoring station and scored the work ourselves. Just imagine, getting the same problem wrong several times and the answer is right in front of you. I did what almost any kid would do, I memorized the answer and wrote it down when I got back to my seat. People would put pieces of pencil lead under their fingernails or hide short pencils in their pockets to write down answers at the scoring station. There were all kinds of ingenious ways to copy the answers, one of which I'll share in the next post. My cheating here was pretty low-level, since the work was easy.
Chapel was held each Wednesday afternoon. After lunch, we would go upstairs into the auditorium and participate in a mini church service. This was always a bad day for me, since I was losing 45 minutes of school time. I worried more about getting my goals completed than hearing about Jesus again; I was going to church that night, anyway. Occasionally a missionary would come and tell cool stories or there would be a Christian film during chapel, those were good days. The day before, the Supervisors would tell us to set less goals in our PACEs, so we would have plenty of time for the missionary or film.
I also remember a few random funny things. One day, someone told us that fluorescent colors were also called day glow. Two or three of us spent hours trying to get a fluorescent colored hard hat to glow. We held it up to a light bulb, turned the light off and were sure it glowed for a second. Another time, we had a fire drill. I had never participated in one before, so the alarm bell scared the crap out of me. Just a day or two earlier, we had been told what to do in case of a fire. We had been told to bust a window and get out that way if the door was blocked. For some reason, the door to our room was locked, so I was sure we were blocked in. I picked up my chair and was swinging it at a window when an adult stopped me. A second later, and I would have crawled out of the window. One boy sang a line to "Victory In Jesus" funny. Instead of saying, "…He plunged me to victory…", he would say, "…He punched me to victory…".
Overall, I remember having a pretty good time in this school. Of course, this was over 30 years ago, so some memories fade.