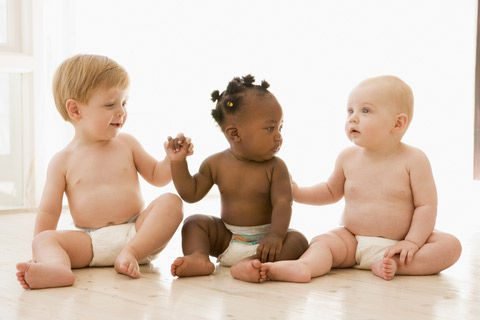 Recent discussions on Fundamentalist Tony Breeden's deconstruction of my life have revealed that I need to clarify something I wrote several years ago in the series titled From Evangelicalism to Atheism. In Part Two of the series, I said:
One of the questions I am often asked is, Why did you become an Evangelical or Why did you become an Independent Fundamentalist Baptist?

This is the wrong question. The real question is, how could I NOT have become an Evangelical or Independent Fundamentalist Baptist?

Every child born into this world is an atheist. Not one of them knows one thing about god or religion, nor about sin, salvation, or morality. As far as god and religion are concerned, every newborn is a blank slate.

Belief in god must be taught and learned. This teaching is done by parents, extended family, and the culture/society the child grows up in. Children taken to a church, temple, or synagogue, are taught to KNOW god, to know their parents' religion.

Most children embrace the religion of their parents. Parents who worship the Christian god generally raise children who are Christian. This is especially the case when it comes to Evangelical children. From the toddler years forward, Evangelical children are taught that they are sinners in need of salvation. They are taught that unless they ask Jesus into their hearts, they will end up in hell when they die. Every Sunday at church, at home during the week, and at school, if they attend a Christian school, Evangelical children face an onslaught of manipulative evangelistic methods geared to help them accept Jesus as their Savior.
The focus of discussion on Breeden's blog is my contention that children are born into the world atheists. Scientific studies challenge this notion, so I want to clarify what exactly I mean when I say "Every child born into this world is an atheist."
While there are tentative studies that suggest that humans have some sort of innate disposition towards religion/spirituality, this is hardly settled science. In a recent comment on Breeden's post, Michael Mock had this to say:
Claiming that human beings are born atheists or religious is at best misleading and at worst wholly incorrect; the actual state of affairs is more complicated than that.\
Research has shown that children have this natural tendency to interpret features as if they have a purpose, but if you look at the incredible variety of human religious beliefs, it's extremely hard to argue that "this naturally leads to a belief in a Creator God" when the vast majority of what it leads to is more along the lines of animism, pantheism, or polytheism. (Seriously, check out a book on traditional creation myths some time. They are, quite literally, all over the place.)
If the tendency towards religious belief is a natural human trait (as we appear to agree that it is), then we should expect it to manifest more strongly in some individuals and less strongly in others – as, for example, some people are extremely artistic while others essentially have no use for art at all. Given "tendency towards religious belief" as a general human trait, the existence of a minority of atheists isn't "abnormal" on the contrary, it's expected.
Simply put, if humans have some sort of innate (biological) disposition towards religion/spirituality, it is the result of evolution, not the Christian God. Somewhere in our evolutionary past, it became advantageous for our species to have some sort of religious belief. As Michael makes clear, this belief was and is expressed in countless ways. Monotheism was a late-comer to the religion party, as the Bible clearly shows with its mentions of polytheistic cultures. In fact, a fair, unbiased reading of Genesis 1-3 reveals polytheistic, not monotheistic beliefs. (Please see The Evolution of God by Robert Wright.)
If this innate disposition leads people to embrace some sort of religious belief, it is certain that geography, along with sociological, cultural, and tribal influences determine what that belief will be. (Please see Why Most Americans Are Christian.) And that was the point of what I wrote in the post mentioned above — a subject I have returned to several times in recent years. Breeden, ever the young-earth creationist, seizes on minute scientific studies and findings and uses them as a jumping off point for his beliefs concerning the Christian God. What I find amusing is that Breeden — a man who rejects evolutionary biology — uses a trait possibly given to humans through our species evolution as "proof" of his Fundamentalist beliefs. Lost on Breeden is the fact that the vast majority of humans who have ever walked on the face of the earth have embraced Gods other than Breeden's Evangelical God. Even today, Christianity in all its forms — many of which Breeden considers false religions — is a minority religion. Worse yet, WHICH Christianity is true Christianity? Evangelicals, believing that their God is the one true God, can't even agree on crucial doctrines such as sin, salvation, the nature of God, baptism, and communion.
Leaving behind the scientific debate about whether humans have an innate disposition towards religion/spirituality, I want to conclude this post with a discussion of why people choose a particular religious belief (or none at all). The science is clear on this point: which religious beliefs people choose is largely determined by geography, along with sociological, cultural, and tribal (family) influences. All anyone has to do is look at a map of religion concentration to see that Christian cultures and families beget Christian children, Muslim cultures and families beget Muslim children, and Hindu cultures and families beget Hindu children. And as we are now seeing in secular, non-religious countries, secular cultures and families beget secular children. Here in the America, Evangelicals are alarmed over the rapid increase of NONES — people who are atheists, agnostics, humanists, or are indifferent towards organized religion. This turning away from religion is similar to that which has been going on in Europe for decades. Will this turning away from Christianity's Gods ultimately result in most children not having religious beliefs? Time will tell. I know with my own children, I see a rising indifference towards religion. This indifference, of course, is being passed on to my grandchildren — to which Nana and Grandpa say AMEN! While several of my children still attend church, they have embraced expressions of faith that Evangelicals considered heretical.
In November of 2008, I attended church for the last time, finally admitting that I was no longer a Christian. Over the past eight years, I have, through my writing, attempted to give an open, honest accounting of my life. Part of this accounting is determining exactly how I became an Evangelical Christian and pastor and why I spent much of my adult life preaching a religion I now believe is false.
I was born almost sixty years ago to Christian parents who lived in a Christian country and a Christian community. My first few years of life were spent in Lutheran and Episcopal churches, but at the age of five my parents moved to California and while there met the Evangelical Jesus (and the God of the John Birch Society). From that moment forward, my parents and the churches we attended indoctrinated me in the one true faith — Evangelical Christianity. Is it any surprise, then, that I had several born-again experiences, attended an Evangelical Bible college, married an Evangelical girl, and spent twenty-five years pastoring Evangelical churches? Of course not. How could I have possibly turned out any differently from the way I did? I conservatively spent more than 12,000 hours attending church services, along with spending tens of thousands of hours reading and studying the Bible and reading religious books. I no more could have been an atheist than the Pope could be one. Everything in my upbringing and experiences told me that Evangelical Christianity was true and that all other religions were false.
For these reasons, it is rare for someone such as myself to embrace atheism. Most pastors-turned-atheists leave the faith at a much younger age than I did, leading some people to question my motives for doing so. Some atheists have even questioned my mental stability, saying that I should have figured out the truth about Christianity years before I did. What a stupid man you were, Bruce, to give fifty years of your life to a lie, some atheists say. Perhaps, but I was disposed towards being a true-blue, all-in kind of believer. This is why I find dismissals of my past by Evangelicals (and some atheists) so offensive. As countless people will testify, If anyone was a true Christian, it was Bruce Gerencser. That people find my current godlessness troubling and disconcerting is understandable.
How is it possible that the man they once called Pastor Bruce is now an atheist? One former parishioner and dear friend finds my story so troubling that he wrote to tell me that he couldn't be friends with me anymore. My atheism was causing such psychological discomfort that he was losing sleep. He simply could not wrap his mind around how a Christian man so dear to him could now be working for Team Satan®. Several former church members have friended me on Facebook, only to unfriend me weeks later because they can't stomach my atheism. One woman wrote to tell me that she really wanted to remain friends, but she couldn't because she found my current life discouraging and depressing.
I receive frequent emails from Evangelicals who are having doubts about Christianity. I encourage these doubters to think about WHY they are Christians. Often, after decades of indoctrination, doubters think that the reasons they are Christians is theological in nature. They, after all, remember the date, time, and place Jesus saved them. What I try to do is get them to look at the geographical, familial, societal, and sociological reasons for their beliefs. If these doubters can see that it was outward influences and not Jesus that determined what religion they embraced, they are well on their way to understanding that all religion, including Christianity, is of human origin. Even if it is proven someday that humans have some sort of God gene, this will in no way discredit the human nature of all religions. The only way to dismiss the humanness of religion is to embrace the teachings of this or that religious text (texts that were written, drum roll please, by humans).  This is why it is vitally important to disabuse Evangelicals of the notion that the Bible is an inspired, inerrant, infallible text written by God. Once they see that the Bible is NOT what their pastors, teachers, and religious culture say it is, they are then free to examine their beliefs in the larger context of why people embrace particular religions. And more often than, such inquiry will lead to their abandonment of Evangelical Christianity.
As long as the Bible, and not science, history, skepticism, and rational inquiry, rule their minds, Evangelicals will continue to think that they are Christians because God chose to save them. Until their minds are unshackled from the Bible, the only thing that can be said of Evangelicals is that they are fortunate to have been born in the right country to the right parents and immersed in the right culture so God could save them from their sins and make them members of Evangelical churches. Quite lucky, don't you think? I wonder why the Evangelical God didn't do that for most of the people who have graced the pages of human history? That's a question for another day.