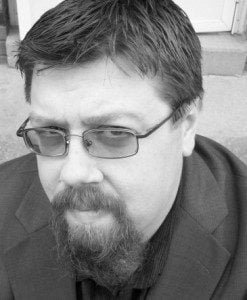 On February 12, 2012, a man calling himself Preacher started an anonymous blog, How to Fall Down, so he could methodically deconstruct my past and present life. I did a bit of digital snooping, hoping to find out who this Preacher guy was, and it took me all of a few days to discover that it was the one and the only Reverend Tony Breeden. Breeden used to comment on a previous iteration of this blog until I banned him. Breeden's deconstruction of my life lasted all of one month and thirteen posts.
Four years later, unable to get visions of me naked out of his mind, Breeden has decided to continue his voyeuristic peeking into my closet. While I don't like his doing so, I know, as a public figure, that I must endure such inquiries into my life, beliefs, and motives. The difference between four years ago and now is that I no longer feel the need to correct those who view my life as a pornographic centerfold while they play with their Bible tool. Readers who have followed along with me over the years know the kind of man I am, as does my friends and family. That's all that matters.
You can check out Breeden's latest post here. I hope you will read it.