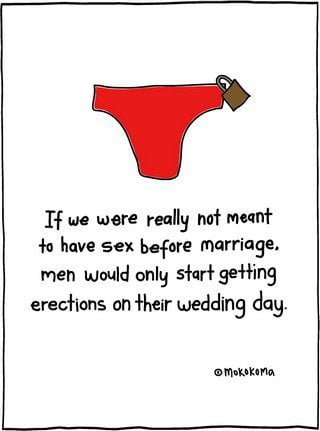 Flee fornication. Every sin that a man doeth is without the body; but he that committeth fornication sinneth against his own body." 1 Corinthians 6:18
Fornication is defined as a man and a woman sleeping together before marriage. This sin is condemned throughout the Bible, especially in the New Testament. We are all sinners, but not all sin is equal. The Bible teaches that fornication is so serious that it can get you thrown out of the church.
….
If you are saved and sleeping with someone you aren't married to, you need to repent of that sin. If you are living together, and you're not married, then you are living in sin. If you plan to keep coming to church, your options are to get married or stop living together.
The Bible teaches that we should only have physical relations within marriage, so if you aren't married yet, you need to deny that ungodly lust and wait until you get married to enjoy the benefits of marriage. If you aren't ready to marry the person you are dating, then you shouldn't be sleeping together. Have some self-control and respect for your body!
….
People who commit fornication for the first time often do not end up marrying that person but go on to be with person after person. Our bodies were not designed to exchange bacteria with hundreds of different people. In fact, there are infections people can get that are not considered STDs per say but are virtually unheard of in people who got married as virgins and have had only one partner. I realize that people die and their spouse can remarry, but sleeping with more than a few people in your lifetime is very unhealthy. In fact, the Bible calls it filthy.
….
So many women today are in relationships where they would like to get married, but the guy won't marry them. These jerks need to do the right thing, but the women are also to blame. Unfortunately, the old adage still holds true: Why buy the cow if you can get the milk free?
— Steven Anderson, Faithful Word Baptist Church, Flee Fornication, January 16, 2017
Note
All of us, virtually every moment of every day, exchange bacteria, viruses, dead skin, feces, urine, dirt, buggers…..shall I go on?….with hundreds of different people. The very act of breathing exposes us to countless bacteria and viruses. I wonder if Anderson is aware of the fact that he has likely been exposed to "atheist" bacteria, even without having carnal relations with atheists.