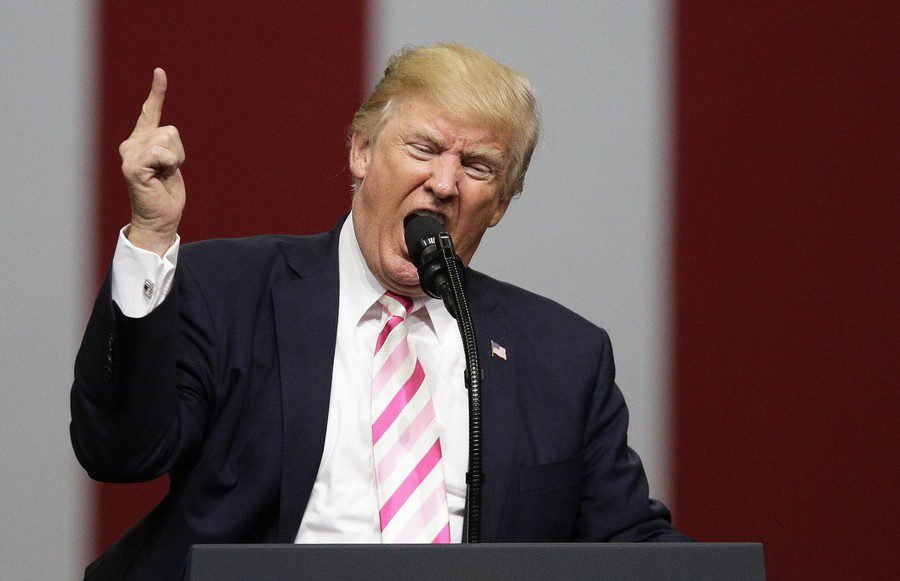 Warning! I know some readers love my atheism, but hate my politics. If you are a supporter of President Trump, you might not want to read this post. I certainly wouldn't want you to have a stroke. Thus warned, read at your own risk!
Unless you have been hiding in a nuclear fallout shelter out of fear of a Donald Trump-fueled war with North Korea, you know that numerous National Football League (NFL) players refused to stand for the playing of our national anthem — The Star Spangled Banner. Overwhelmingly black, these men of conscience are protesting not only Donald Trump's racist Twitter attack and offensive campaign speech that targeted protesting players, but also issues such as Trump's support of white supremacy and the continued use by police of deadly force against innocent or unarmed black Americans. Following in the steps of Colin Kaepernick, (please read Why I Stand With Colin Kaepernick) these players are using their place in the public spotlight to call attention to racial discrimination, inequality, and hostile government actions against people of color.
Many Republicans believe that racism no longer exists in post-Obama America. Americans elected and re-elected a black president in 2008 and 2012.  A black man being elected president serves as proof to a culture steeped in white privilege that racism either no longer exists or is not that big of a deal. Yet, as events in Charlottesville showed, racism is alive and well. Thanks to the election of racist dog-whistler-in-chief, Donald Trump, white supremacist groups, the KKK, Nazis, and bigoted Evangelical Christian nationalists have, without fear, preached the old-time gospel of white superiority.
Donald Trump revealed how tone-deaf and blind he is on matters of race when he used Twitter and a campaign speech over the weekend to attack protesting black players, both in the NFL and the National Basketball Association (NBA). Here's what President Trump had to say at a political rally for U.S. Senate candidate Luther Strange:
Wouldn't you love to see one of these NFL owners, when somebody disrespects our flag, to say, "Get that son of a bitch off the field right now. Out. He's fired. He's fired!" You know, some owner is going to do that. He's going to say, "That guy that disrespects our flag, he's fired." And that owner, they don't know it. They don't know it. They'll be the most popular person, for a week. They'll be the most popular person in this country.

When the NFL ratings are down massively, massively. The NFL ratings are down massively. Now the number one reason happens to be they like watching what's happening… with yours truly. They like what's happening. Because you know today if you hit too hard—15 yards! Throw him out of the game! They had that last week. I watched for a couple of minutes. Two guys, just really beautiful tackle. Boom, 15 yards! The referee gets on television, his wife is sitting at home, she's so proud of him. They're ruining the game! They're ruining the game. That's what they want to do. They want to hit! It is hurting the game.

But you know what's hurting the game more than that? When people like yourselves turn on television and you see those people taking the knee when they are playing our great national anthem. The only thing you could do better is if you see it, even if it's one player, leave the stadium, I guarantee things will stop. Things will stop. Just pick up and leave. Pick up and leave. Not the same game anymore, anyway.
Trump also took to Twitter, his favorite tool for sending his words of genius out to the American public:
"…NFL attendance and ratings are WAY DOWN. Boring games yes, but many stay away because they love our country. League should back U.S."

"If NFL fans refuse to go to games until players stop disrespecting our Flag & Country, you will see change take place fast. Fire or suspend!'

"Roger Goodell of NFL just put out a statement trying to justify the total disrespect certain players show to our country.Tell them to stand!"
Supporters of Trump were quick to defend his words. What follows is a compendium of pro-Trump statements.
First up is hypocrite Rex Ryan, former coach of the New York Jets and the Buffalo Bills. Ryan had this to say over the weekend about Trump's statements:
"I'm reading these comments and it's appalling to me, and I'm sure it's appalling to almost any citizen in our country. It should be. Calling our players SOBs and all that stuff. That's not the men that I know. Men that I know in the locker room, I'm proud to be associated with those people. I apologize for being pissed off, but guess what, that's it. Because right away, I'm associated with what Donald Trump stands for and all that because I introduced him. I never signed up for that. I never wanted that. That doesn't mean I support 100-percent of the things he says, and clearly this is a case."
Just last year at a Trump campaign rally, Ryan had this to say about the future president:
"There's so many things I admire about Mr. Trump, but one thing I really admire about him is, you know what, he'll say what's on his mind. But so many times, you'll see people, a lot of people want to say the same thing. But there's a big difference. They don't have the courage to say it. They all think it, but they don't have the courage to say it.

"And Donald Trump certainly has the courage to say it, and that's why I respect him. And you know what? So do the people of New York. This man, he's one of the greatest businessmen, obviously, that we can ever remember. There's no question about that."
Some Trump officials came out in support of his attack on black NFL players:
"The owners should have a rule that players should have to stand and have respect for the national anthem.This isn't about Democrats, this isn't about Republicans, it's not about race, it's not about free speech. They can do free speech on their own time."

Treasury Secretary Steve Mnunchin

"Look, I think the NFL is an issue where the president has made a case that, as we've talked about, there are coaches across this country, at high-school level, who are penalized and disciplined for leading their players in prayer. And yet, you see an issue in the NFL where the media champions those who are taking a knee to disrespect the American flag. That is a dichotomy that most Americans can't understand and for good reason. And the president's raising attention to that. Well, he's making the case that, in many cases, there are generations of Americans who have fought and died to protect our freedoms and fought and died for the red on that flag that represents the blood that's been sacrificed by so many Americans. And what the president is doing is saying, "This is not the appropriate place to raise your social activism." And I think he's made the case that you have a First-Amendment right, if you wish, to protest the flag. But owners have a First-Amendment right, as well. They have the First-Amendment right to fire those players, if they so choose.

White House Legislative Affairs Director Marc Short

"I think if the debate is really for them about police brutality, they should protest the officers on the field that are protecting them instead of the American flag,"

White House Press Secretary Sarah Huckabee Sanders
Nor wanting to be left out of the limelight, some Evangelicals unapologetically supported the pussy-grabber-in-chief:
"There's a whole lot of talk going on about taking a knee during our national anthem. Yesterday even Stevie Wonder said he was taking not one knee, but two "for America." I can tell you how getting on our knees could make a real difference—not in protest or in pride, but in PRAYER. Praying for each other, praying for unity, and praying for this great nation and our leaders. "Seek the LORD, and his strength: seek his face evermore" (Psalm 105:4)."

Franklin Graham

God bless Richard Petty, Richard Childress, and NASCAR owners for doing the right thing. They told their employees that if they disrespected the flag or the national anthem, they would get them a ride on a Greyhound bus! I think NFL owners should take a lesson from them! Do you agree?

Franklin Graham

I don't know about you, but it's just about time for a boycott of the NFL. At the very least, we should all agree to turn off and/or walk out of ANY game where ANY player of ANY color kneels or sits during the playing of our National Anthem. They exercise their free speech by kneeling, we exercise ours by turning them off. Much respect to the players who did not kneel, and to Jags owner Shad Khan who locking arms and standing. Good job. Everyone else, you're fired. Go take a knee in the unemployment line.

Geoffrey Grider

I agree with our president on this issue, but my protest has nothing to do with Donald Trump. I am boycotting the NFL because I refuse to be used as a pawn in what is obviously a well thought out plan to divide America along racial lines.

So go ahead and kneel all you want during the National Anthem, and raise your fist in the black power salute because guess what? I won't be watching you do it. And guess what else? I just happen to think there will be more than a couple of million other true patriots of this great nation not watching you along with me.

Geoffrey Grider

It's difficult to see athletes, many of whom are black, who are paid tens of millions—some hundreds of millions of dollars for their contract to play football, stand against our country and our president, dismissing the interests of the fans who in fact pay their salaries. And it's also difficult to see them essentially standing on a flag that so many gave their lives for. And that so many of us love, and are proud of. It is about the president. And it is about disrespect for our country. In fact, in the game yesterday between the Jacksonville Jaguars and Baltimore Ravens in London, American players kneeled during the American anthem, then stood during "God Save The Queen, Britain's national anthem. How would McDonalds respond if the kid working at the drive through window, after taking your money, announced he was going to lecture you about his social beliefs and concerns before he would give you your burger? If the football players are calling for acceptance of the homosexual agenda—and some are, after taking the money of tens of millions of biblical Christians, they are asking us to disavow biblical teachings on the matter, including the teachings of Jesus Christ Himself. The same would apply to abortion. If the players are truly advocating for women's rights, they could encourage the millions who watch them play to become a Christian. Christianity has done more to elevate the value of women than any other belief system in the history of the world.

Gary Randall, president of Faith and Freedom

"It is a deliberate undermining of another American institution. I've been convinced from the time I was a young guy that American boys play football. American boys play football, they don't play soccer. They play soccer in Europe, they play soccer in Russia, they play soccer in Japan; in America, we play football. You look at what's going on all across society [and] they're doing everything they can to destroy football. Mommies aren't letting their little boys play football anymore" because of concerns about concussions. You don't want to get hurt? Well, quit riding in a car. There are a lot more concussions in cars than ever were on a football field, I can promise you that. You're afraid you're going to get hurt? Quit walking down steps. People break their legs all the time walking down steps. We've got to see exactly what's going on. America's sport is being destroyed right in front of us."

Dave Daubenmire, former football coach

And of course this is all meant to divide America. It's social engineering by the globalists to make whites racist. You know what whites are is lazy, candy-ass, politically correct trash. There's not much worse in this country than white people, to get to the end of the day. They're the ones all saying the white people are the devil.They're the ones that came up with this race-baiting to make everybody racist. I don't want to give an anti-white rant, but if you want one I've got one because I've been watching who's been leading all of this. And they're a bunch of sociopaths. And I'm sick of them."

Alex Jones

I'm all for exercising Constitutional Rights, but this new trend is alarming. Standing honors those who have given their lives for the freedoms that we now enjoy—freedoms that allow these individuals to make millions of dollars and never have to worry about retirement or hard work. Our arrogance, as a nation, is mind-boggling. "We have forgotten God, and we have vainly imagined, in the deceitfulness of our hearts, that all these blessings were produced by some superior wisdom and virtue of our own" (Abraham Lincoln)….Today, entertainers mock God and America, the church is silent and passive and the courts have taken it upon themselves to assume the role of a law-making body, rather than a protector of the Constitution; they have become political rather than constitutional. The wall of separation of church and state that was designed to protect America's freedoms has now imprisoned her…One of my great concerns is for the pulpits of America. Many are exchanging truth for tolerance, boldness for balance, and conviction for cowardliness. We don't want to offend; we might lose our audience. But we are not to seek the applause of men but the applause of God.

Pastor Shane Idleman

I think what these players are doing is absolutely wrong. These players ought to be thanking God that they live in a country where they're not only free to earn millions of dollars every year, but they're also free from the worry of being shot in the head for taking a knee like they would be if they were in North Korea.

Pastor Robert Jeffress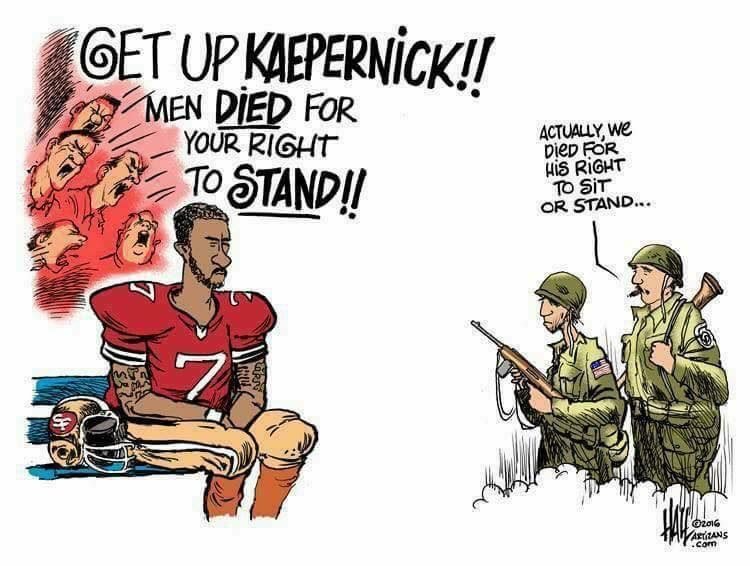 Unsurprisingly, given their flag-waving, white, redneck demographic, a few NASCAR luminaries came out in support of Trump:
"Get you a ride on a Greyhound bus when the national anthem is over. I told them anyone who works for me should respect the country we live in. So many people have gave their lives for it. This is America."

Richard Childress

"Anybody that don't stand up for that ought to be out of the country. Period. If they don't appreciate where they're at … what got them where they're at? The United States."

Richard Petty

"I would sit down with them and say it's the wrong thing to do that [take a kneel], and many people, including myself, view it as an affront to our great country. If there is disenchantment towards the President or a few bad law enforcement officers, don't have it cross over to all that is still good and right about our country."

Andy Murstein, principle owner of Petty Motorsports
And finally, leave it to Dallas Cowboys owner Jerry Jones, a man who has made millions off the backs of black players, to oppose players sitting for the National Anthem:
"I do not think this is the place to express yourself in society as we recognize the American flag. So that's not the place to do anything other than honor the flag and everybody that's given up a little bit for it."
Trump certainly has a constitutional right to say whatever he wants, and so far, he has exercised that right to its fullest, giving Americans a clear picture of his narcissistic personality and Make America Great (and White) Again view of the world. Unlike many on the left, I do not support silencing hate speech. Trump, along with his white supremacist supporters, have the right to pour vitriol and hate upon the heads of liberals, socialists, people of color, immigrants, and anyone else deemed un-American or inferior.  However, with the right of free speech comes the freedom of others to respond, and respond they did over the weekend:
"We will never back down. We no longer can afford to stick to sports. This union … will never back down when it comes to constitutional rights of our players as citizens as well as their safety as men in a game that exposes them to great risks."

NFL Players Association executive director De Maurice Smith

"The NFL and our players are at our best when we help create a sense of unity in our country and our culture. There is no better example than the amazing response from our clubs and players to the terrible natural disasters we've experienced over the last month. Divisive comments like these demonstrate an unfortunate lack of respect for the NFL, our great game and all of our players, and a failure to understand the overwhelming force for good our clubs and players represent in our communities."

NFL Commissioner Roger Goodell

"The behavior of the President is unacceptable and needs to be addressed. If you do not Condemn this divisive Rhetoric you are Condoning it!!"

Richard Sherman, player for Seattle Seahawks

"I can't take anything our Celebrity in Chief says seriously. He's a real life clown/troll"

George Iloka, player for the Cincinnati Bengals

"It's disappointing that Trump is the president and talks the way he talks, though. It's just incredibly disappointing. Rick and I had never been real political people, but prior to when all of the campaigning was going on, I mean, it didn't take more than a minute to realize we didn't want Donald Trump in the presidency. The guy is not all there, and I can't tell you how shocked we were when he won, but we have been pretty vocal about it since long before Colin took a knee. So, we have some pretty strong feelings about that part of things. To see this man that you have no respect for, basically because of all that he's done in this presidency so far, slandering my kid publicly."

Teresa Kaepernick, Colin Kapernick's mother

"The idea of civil discourse with a guy who is tweeting and demeaning people and saying the things he's saying is sort of far-fetched. Can you picture us really having a civil discourse with him? It was an actual chance to talk to the president After all, he works for us. He's a public servant. He may not be aware of that, but he is a public servant, right? So maybe as NBA champions, as people in a prominent position, we could go in and say, 'This is what's bothering us, what can we do about this? How about the irony of, 'Free speech is fine if you're a neo-Nazi chanting hate slogans, but free speech is not allowed to kneel in protest? No matter how many times a football player says, 'I honor our military, but I'm protesting police brutality and racial inequality,' it doesn't matter. Nationalists are saying, 'You're disrespecting our flag.' Well, you know what else is disrespectful to our flag? Racism. And one's way worse than the other."

Steve Kerr, coach of the Golden State Warriors

"As a team, we have decided we will not participate in the national anthem. We will not stand for the injustice that has plagued people of color in this country. Out of love for our country and in honor of the sacrifices made on our behalf, we unite to oppose those that would deny our most basic freedoms. We remain committed in continuing to work towards equality and justice for all. Respectfully, the players of the Seattle Seahawks."

Seattle Seahawks
The battle for racial justice is far from over. I suspect that the skirmish over the weekend is the first of many battles that will be fought over matters of race, equality, and what kind of country America wants to be. Some Trump supporters have argued that recent protests are all about hatred for the President. I am sure more than a few Americans hate the President. I know I do. I can't wait for the day when either Robert Mueller or voters run Donald Trump out of office. The man is, in every way, unfit for office, a divisive individual whose simplistic worldview focuses on one word — winning. Trump is the classic playground bully, out to attack and pummel anyone and everyone who crosses him. If the President was just an oft-bankrupt billionaire reality star, few Americans would pay attention. However, Trump and his minions currently hold the keys to the kingdom. They have in their hands the power to cause untold suffering, heartache, and death. Those of us who value freedom, democracy, progress, and civil rights for all must not grow weary in well-doing. If we quit now, we are turning America over to racists, fascists, and theocrats. I want a better tomorrow for my children and grandchildren, so I do what I can to make America a better place to live — a place where people are no longer judged according to the color of their skin or the balance of their checking account.
Note
I recently participated in a forum discussion on Racism in Northwest Ohio. You can listen to the podcast here. The podcast is also available on iTunes.