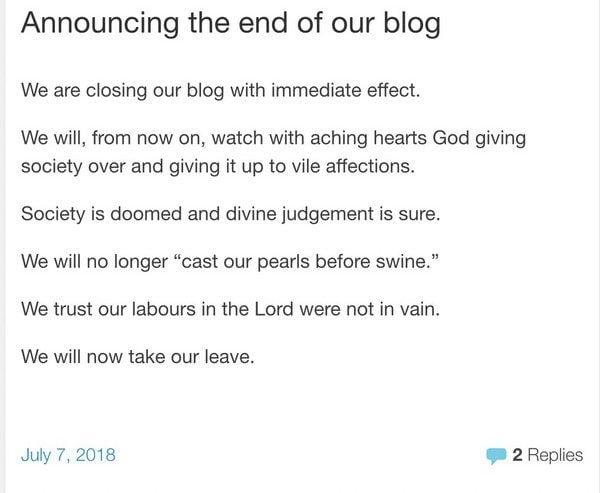 Susan-Anne White, an aging British Fundamentalist politician and blogger, has decided to hang up the spurs she uses to ride homosexuals bareback. No longer will she bless the world with her anti-LGBTQ and anti-abortion screeds. No longer will she parade before all the world her bigotry and hatred for anything and everything that doesn't align with her narrow Evangelical worldview. Susan-Anne — dare I be so familiar? she hates it when I am — has been featured several times on this site, and she has graced us with her comments on more than one occasion.  Please check out Susan-Anne White Thinks I'm a Despicable, Obnoxious, Militant, Hateful Atheist, British Fundamentalist Susan-Anne White's List of Politically Correct Words, and The BRCA1 and BRCA2 Gene: Susan-Anne White Condemns Women Who Have Preemptive Surgery.
For those of you who are not familiar with White, here is what Wikipedia has to say about her:
Susan-Anne White (born 21 April 1959, Belfast, Northern Ireland) is a Christian activist in County Tyrone. She stood for election to the local council in the Fermanagh and Omagh District Council election, 2014 and only got 67 votes. She contested the West Tyrone constituency in the 2015 General Election, but came ninth out of nine candidates with 166 votes, behind Cannabis Is Safer Than Alcohol.

Originally from Newtownabbey, she moved to Trillick in 1997. Her campaign is based on 10 principles drawn up by Dr Alan Clifford, a Norwich based minister whose anti-gay and anti-Islam rants have led to police investigations in the past.

She has aroused attention because of her strong and isolating views. She describes herself as biblically correct, not politically correct.

She says she would "recriminalise homosexuality", given the chance and claims that gay people "are not born that way, they are out to recruit. We are in danger. One demand after another." She is opposed to the idea of gay people being allowed to donate blood. She would also make adultery a criminal offence, and is critical of rock music because "The lyrics are promoting immorality, the noise is deafening, and they also promote anarchy."

Her 2015 manifesto promises to "oppose the global warming fanatics and their pseudo science" and "restore the concept of a family wage with the father as the breadwinner." She told the Belfast Telegraph: "I don't consider myself extreme – not at all. "It is society that has moved. Not so far in the past, most people would have shared my views.My views are extreme because society has moved away from God's principles." She opposes feminism "with all her might", and says it is to blame for the recession. "They [feminists] are responsible for the economy – they destroyed the whole concept of a family wage with the father as the bread-winner and the stay-at-home mother. Women feel they have to be out in the workforce."

On 25 October 2017, White appeared on Nolan Live in which she expressed her opinion regarding abortion laws in Northern Ireland. White was criticised in the press following her appearance, with the BBC also facing criticism for giving her a platform.
In 2015, White released her Manifesto — a statement of religious and political beliefs :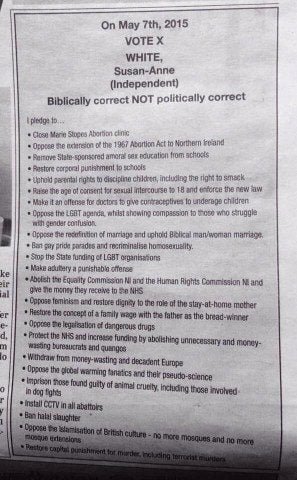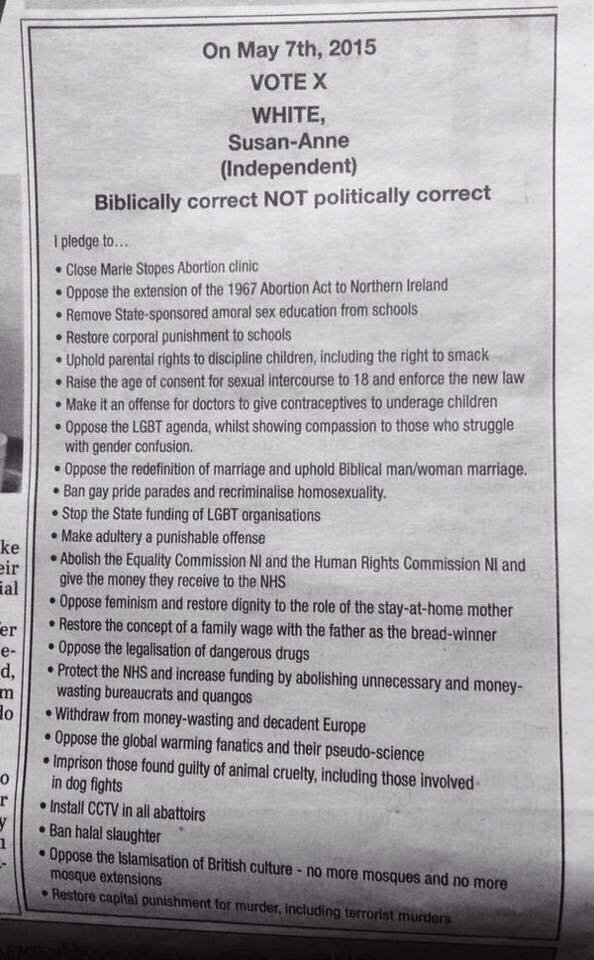 Here's the text of her Biblically Correct, NOT Politically Correct Manifesto:
Close Marie Stopes Abortion clinic
Oppose the extension of the 1967 Abortion Act to Northern Ireland
Remove state-sponsored amoral sex education from schools
Restore corporal punishment to schools
Uphold parental rights to discipline children, including the right to smack
Raise the age of consent to 18
Make it an offense for doctors to give contraceptives to underage children
Oppose the LGBT agenda, while showing compassion to those who struggle with gender confusion
Oppose the redefinition of marriage
Ban gay pride parades and recriminalise homosexuality
Stop the state funding of LGBT organisations
Make adultery a punishable offense
Abolish the Equality Commission NI and the Human Rights Commissions NI and give all the money they receive to the NHS.
Oppose feminism and restore dignity to the stay at home mother
Restore the concept of a family wage with the father as the breadwinner
Oppose the legalisation of dangerous drugs
Protest the NHS and increase funding by abolishing unnecessary and money wasting bureaucrats and quangos
Withdraw from money wasting and decadent Europe
Oppose the global warming fanatics and their pseudo-science
Imprison those found guilty of animal cruelty including those involved in dog fights
Install CCTV in all abattoirs
Ban halal slaughter
Oppose the Islamisation of British culture- no more mosques and no more extensions
Restore capital punishment for murder, including terrorist murder
White and I do agree on animal cruelty. Woo Hoo!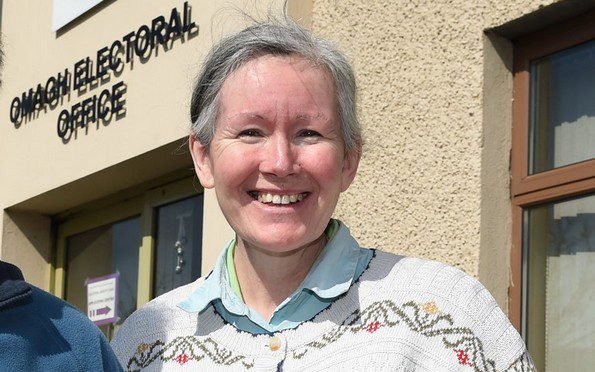 In 2016, White shared her thoughts with The Newsletter — a British (Northern Island) publication. Here's an excerpt from the article:
An evangelical Christian, self-styled moral crusader and would-be politician, Susan-Anne White is on a mission to stem what she sees as the polluted tide of the permissive society.

Mrs White became a target of ridicule when she stood as an independent candidate in the recent Assembly elections with a manifesto which featured pledges to jail gay people and adulterers, oppose abortion, uphold parents' rights to smack their children and abolish the Equality Commission and the Human Rights Commission.

It also reflected her opposition to sex education in schools, the 'Islamification of British culture', the LGBT agenda and her support for the reintroduction of capital punishment for murder.

It's an eyebrow-raising list which many found outmoded and inflammatory; at the time social media went into overdrive, portraying Mrs White as a meddling, narrow-minded, Bible-thumping, battle-axe. I was intrigued to meet this seemingly formidable lady and she agreed on certain provisos: that I would ''dress modestly'' for the interview (make-up and revealing clothes are major bugbears); I would not paint her as a ''figure of fun''; and she wanted assurances that I was not out to promote a feminist agenda (the name of this section, 'Woman to Woman', caused her some concern).

Dressed demurely in a floaty, ankle-grazing skirt, Mrs White, 57, welcomed me into her modest Trillick home with tea and biscuits. She lives on a small farm with her husband Francis, a helpmate in her campaigns, and 17-year-old daughter Abigail, who is home-schooled and passes the time doing jigsaw puzzles and drawings of Disney characters.

….

The White's lead a modest, quiet life, with no television, only a screen for DVDs, and no alcohol. Sundays are sacrosanct, although they rarely attend a church, preferring instead to listen to sermons on the internet. ''Once strong Bible-believing churches are more often than not going the way of the world, they are watering down the message to please people, not to cause offence, they are so afraid today of telling it like it is because of hate crimes laws,'' she says. ''If I was worried about people's delicate sensibilities I would never open my mouth.''

Of the Catholic church, and others, she is unequivocal.

''I do not consider it a Christian church and yet it was the church I was born into. But I am not singling out the Catholic church, there are many so-called Christian sects or denominations, but they are not Christian, because they have deviated from the Bible. Mormonism is not a Christian church, they are a cult. Jehovah's Witnesses are not Christians, the Seventh Day Adventists are not Christians.''

….

''For people to treat me as some dimwit and to laugh and mock and think they are going to get some collateral out of me by poking fun at me, I feel righteous anger at that, because I am no fool.

''I believe I'm in a war, a spiritual war and I believe there are enemies out there, they are enemies of God and because I'm on the Lord's side they are my enemies also.''

Mrs White said she would ''recriminalise homosexuality tomorrow'' if she had the power, adding her stance is quite soft compared to some.

''I can point you to pastors and ministers in the United States of America who are calling for the death penalty.''

Is that something she would like to see?

''No, but it actually was a death penalty offence. In the Old Testament under the law of Moses adulterers were executed and homosexuals were executed.

''I wouldn't call for their execution, but I would call for their imprisonment,'' she says firmly.

Mrs White does not believe someone is born gay, but that people are 'brainwashed' or 'recruited' into homosexuality, or have even been ''molested as children''.

''I don't like that word 'gay'. To me gay means happy. They have hijacked that lovely word; they have ruined language.

''Behind closed doors they are killing each other…..the sexual proclivities of homosexuals is so abhorrent and damaging to the human body that it hardly bears description. Sodomy is such an unnatural act, the body was not made for sodomy.''

Despite these fervent views, she says she does not hate homosexuals.

''No, I don't hate them, I pity them. I know they hate me. I actually have tremendous compassion for them, especially the young ones caught up in that lifestyle.''
You can read the entire article here.
White has what I call the "Elijah Syndrome." I mentioned her in a 2016 post titled Evangelical Preachers and the Elijah Syndrome:
Every time I think of this story [ 1 Kings 19] I am reminded of the fact that a lot of Evangelical preachers see themselves as some sort of modern-day Elijah. And like Elijah, each thinks he is the one remaining prophet in the community standing up for God, the Bible, and Evangelical morality. Such preachers delude themselves into thinking that they alone are standing true, that they alone are preaching the right message. Some of these preachers, men such as Robert Lyte and AW Pink, think that the Christian church is so morally compromised that they can no longer in good conscience be a part of it (Susan-Anne White would another example of this, even though she doesn't claim to be a preacher).
Please do take the time to watch the video. It's only 3 minutes long, and it perfectly explains what I write next.
Much like twentieth century Evangelical preacher A.W. Pink who secluded himself in a coastal British community because he couldn't find a church pure enough for him, White rarely attends church, finding fault with the lot of them. White will go to her grave believing that she was right; that she was a standard bearer for Jesus; that her beliefs constitute THE way, THE truth, and THE life. I truly feel sorry for her, missing out on so much of what life has to offer; missing out on befriending wonderful LGBTQ people; missing out on the wonders and pleasures of life, all because she thinks an ancient religious text (the Bible) and a little voice in her head (the Holy Spirit) tell her not to.
White started blogging in 2012.  In a July 7, 2018 post, White said she was ending her blogging career:
We are closing our blog with immediate effect.

We will, from now on, watch with aching hearts God giving society over and giving it up to vile affections.

Society is doomed and divine judgement is sure.

We will no longer "cast our pearls before swine."

We trust our labours in the Lord were not in vain.

We will now take our leave.
White has given up, choosing instead to stand on the sidelines and watch as God judges a world given over to vile affections. (Romans 1) According to White, people such as myself are swine and she refuses any longer to cast her wisdom-filled blog posts our way. White hopes that her "labours in the Lord" were not in vain. This is what Evangelical preachers and Christian zealots say when their works have had no effect. Well, Praise Jesus, God's keeping record, and come judgment day he will reward me for faithfully preaching hate and bigotry. Countless Evangelical Christians wrongly believe that their God is going to reward them for being nasty, judgmental people. Look at me Lord, I stood true as rail for your Word and your cause. And Jesus will say to them on that day (Matthew 25:31-46):
When the Son of man shall come in his glory, and all the holy angels with him, then shall he sit upon the throne of his glory: And before him shall be gathered all nations: and he shall separate them one from another, as a shepherd divideth his sheep from the goats: And he shall set the sheep on his right hand, but the goats on the left. Then shall the King say unto them on his right hand, Come, ye blessed of my Father, inherit the kingdom prepared for you from the foundation of the world: For I was an hungred, and ye gave me meat: I was thirsty, and ye gave me drink: I was a stranger, and ye took me in: Naked, and ye clothed me: I was sick, and ye visited me: I was in prison, and ye came unto me. Then shall the righteous answer him, saying, Lord, when saw we thee an hungred, and fed thee? or thirsty, and gave thee drink? When saw we thee a stranger, and took thee in? or naked, and clothed thee? Or when saw we thee sick, or in prison, and came unto thee? And the King shall answer and say unto them, Verily I say unto you, Inasmuch as ye have done it unto one of the least of these my brethren, ye have done it unto me. Then shall he say also unto them on the left hand, Depart from me, ye cursed, into everlasting fire, prepared for the devil and his angels: For I was an hungred, and ye gave me no meat: I was thirsty, and ye gave me no drink: I was a stranger, and ye took me not in: naked, and ye clothed me not: sick, and in prison, and ye visited me not. Then shall they also answer him, saying, Lord, when saw we thee an hungred, or athirst, or a stranger, or naked, or sick, or in prison, and did not minister unto thee? Then shall he answer them, saying, Verily I say unto you, Inasmuch as ye did it not to one of the least of these, ye did it not to me. And these shall go away into everlasting punishment: but the righteous into life eternal.
The late Keith Green said it best in his song Matthew 25:
Bruce, aren't you an atheist? You don't believe there is a God, judgment, or afterlife. No, I don't. But, White does, and I want her to think about her life from a Christian perspective and how she has wasted it hating and trying to harm people different from her. White wasn't born this way; her religion turned her into what she is today. All too soon, White will go the way of all men, joining atheists, LGBTQ people, Catholics, Episcopalians, liberal Christians, abortionists, and Muslims in the dirt of the earth, serving up food for the worms that will slowly eat her body. Left behind will be White's nineteen-year-old daughter. She has, I am sure, been deeply affected by her parent's violent Christian Fundamentalism. It's not too late to keep her from turning into her mother. If Susan-Anne would only repent and change her ways, she could put an end to her abominable legacy — much as my wife and I did when we left Christianity. The Evangelical curse was broken, and now our children free. To Susan-Anne I say, think of your daughter and set her free.
It is only in this life we can effect change. Once we die there are no second chances, no do-overs. There's no God, no afterlife, no eternal rewards in Heaven or judgment in Hell; just eternal, endless death and nothingness. White admits her words and behavior have not elicited societal change. Perhaps there's a messaging problem. Maybe, just maybe, White is worshiping the wrong God. I understand her not wanting to be an atheist like me, but there's all sorts of Christianities out there that promote love, kindness, decency, and respect. Susan-Anne, for the sake of your daughter, please change your ways.
About Bruce Gerencser
Bruce Gerencser, 61, lives in rural Northwest Ohio with his wife of 40 years. He and his wife have six grown children and twelve grandchildren. Bruce pastored Evangelical churches for twenty-five years in Ohio, Texas, and Michigan. Bruce left the ministry in 2005, and in 2008 he left Christianity. Bruce is now a humanist and an atheist. For more information about Bruce, please read the About page.
Bruce is a local photography business owner, operating Defiance County Photo out of his home. If you live in Northwest Ohio and would like to hire Bruce, please email him.
Thank you for reading this post. Please share your thoughts in the comment section. If you are a first-time commenter, please read the commenting policy before wowing readers with your words. All first-time comments are moderated. If you would like to contact Bruce directly, please use the contact form to do so.
Donations are always appreciated. Donations on a monthly basis can be made through Patreon. One-time donations can be made through PayPal.