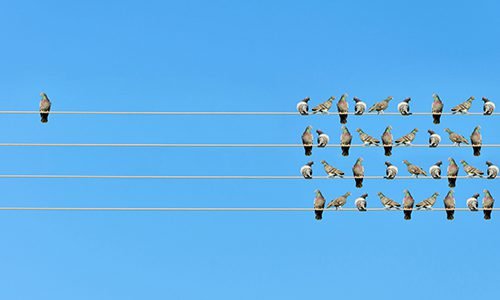 Guest post by MJ Lisbeth
In a previous essay, I wrote about the conservative blue-collar community in which I was raised. Although it was in one of the world's major cities, it very closely resembled, in many ways, a small town or village.
For one thing, everyone knew everyone else—or so it seemed. Also, nearly all of us were living at the same social and economic level, and our parents and grandparents had similar backgrounds. Most of them even came from the same places: the grandparents, and in some cases the parents, of just about every kid I knew, were immigrants. They came, not only from the same country, but from a group of towns and villages within a circle of 100 kilometers or so.
That meant we shared the same culture and, if we didn't speak English at home, we spoke the same language—actually, the same dialect. In my earlier essay, I mentioned that nearly everyone had the same attitude about the Vietnam War, which claimed young men from my neighborhood. Well, there also wasn't much diversity of opinion when it came to other issues of the day, as well as political figures and other famous people. Even someone like my uncle, who regarded Martin Luther King Jr. as a hero, believed—like most of my family and neighbors—that "Hanoi" Jane Fonda was a traitor or worse.
One more way in which my community resembled a small town in the South or Midwest (or even in the more rural areas of my Northeastern home state) is that on Sunday, nearly everyone went to the same church. While the churches in those far-flung villages and hamlets were, as often as not, Baptist or Presbyterian or of some other mainstream Protestant denomination, ours was Roman Catholic. But the effect it had on us was not unlike that of those small-town denominations on their congregants.
For one thing, going to the same church inculcated us with attitudes and values that some of us still hold to this day. (So, for that matter, did attending the Catholic school I attended along with many of my peers.) Perhaps even more important — at least for a child, especially the sort of child I was — it gave me a sense of belonging that I could find nowhere else. I made some of my first friends in the church, and being an altar boy was really the first experience I had of male camaraderie: not only did we practice and prepare together for the masses, weddings, funerals and other ceremonies in which we served, we also went on picnics and other outings, including ball games, together. It was, I just recently realized, my first attempt — however doomed it was to fail — to forge some kind of male identity.
You see, in the neighborhood in which I grew up, there weren't many other ways to meet your peers while engaging in positive (or, at least, socially approved and legal) ways besides church. For that matter, it was difficult for people a bit older than myself to meet potential dates or get any sort of guidance about life without going to church, or someone connected with the church. And for adults, there weren't many other things to do after a day or week of work, paid or unpaid, besides going to the church—or a bar.
That means, in such an environment, that if you are not part of the church, you are not part of the life of your community. It means that you will probably have few or no friends, and may find yourself alienated from family members. Ironically, not having the relationships most people take for granted — or, purely and simply, people to talk to — is just as detrimental to someone who is different and who is bound to leave one day as it is for someone who could, and wants to, be wholly integrated and raise his or her children in such a place.
I came to understand the way alienation — caused by sexual abuse from a priest — affected my own development as a transgender woman only recently, when by chance I found myself talking, for the first time, about my abuse with other survivors—and hearing their stories. One is a gay man from an insular community deep in the center of America. He told me that because he couldn't talk about the attacks he endured from his parish priest, he essentially couldn't talk — or learn — about his mind or body. He therefore couldn't understand, until many years later, why his body reacted as it did even though, as he said, he didn't feel any sexual attraction to the priest. And it took him even longer to know that there was no contradiction between feeling repulsed by that priest and being attracted to men. Why, even his first therapist told him that because he didn't enjoy (or consciously elicit) what that priest did to him, he couldn't possibly be gay.
It took him two more therapists and a failed marriage to understand, finally, that he is gay. Not coincidentally, he came to terms with it only after he was able to talk about his experience with that priest with someone who understood.
As you can imagine, I cried while listening to him. I finally started to clarify, for myself, my own gender identity and take steps to live by it after I told someone about my abuse. Until then, I couldn't make any sense of how my body responded, involuntarily, to his, and how it — or his actions — had nothing to do with whether I was a girl or boy, or gay or straight, or anything else. Until then, I'd gone through my life trying to live as a gay man — something unsatisfying to me — or asserting a kind of masculinity some would call toxic but which, deep down, wasn't any more mine than a same-sex attraction to men.
Of course, in the place and time in which I grew up — and in the world in which I've lived until recently — sex and gender identity issues weren't discussed as openly, much less understood as broadly, as they are now. But even by the standards of my schools, communities, workplaces and other environments, I did not talk freely (actually, at all) about my own identity or inclinations. Because the priest who abused me swore me to silence — and because I knew that even if I could talk about it, I wouldn't, because I would probably be disbelieved or blamed — I learned that talking about such things was not merely taboo: it could end my life. Or so it seemed.
So I kept quiet and, probably as a result, had a roof over my head, food in my mouth and the opportunity and means to an education. But I lived in isolation from all of those people who could talk with their friends, families and others about the issues that, as it turns out, almost everyone faces at some time or another. They learned what it was like to meet people, to form bonds and to support, and be supported, emotionally. Or, through interacting with other people, they realized how and why they were different and figured out what they needed to do before embarking on courses of study, careers, marriages and other relationships — including relationships with themselves — that were bound to fail.
In brief, when your church is the center of your community's social life — whether in a rural village or an urban enclave — being alienated from it (even when you're still participating in it) makes it much more difficult to define yourself, whether by or against or outside of it. For people like me and the gay man I've mentioned — and, I'm sure, many others who grew up in church-centered communities — that is what is so damaging about being abused by priests or other authority figures — or, more precisely, being sworn to silence and secrecy about it.