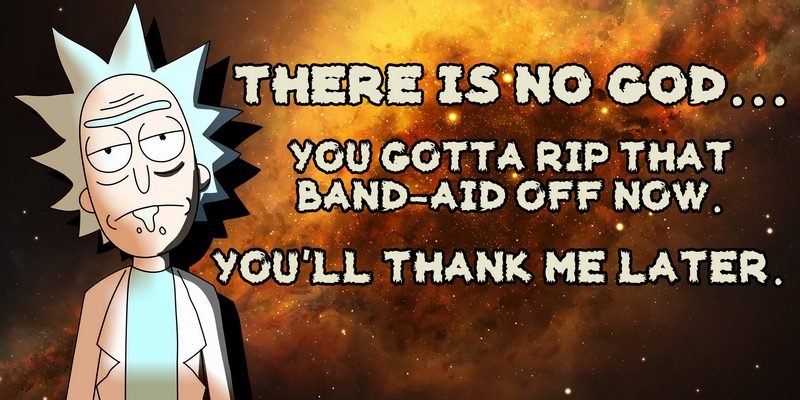 People frequently search for: Why do Atheists Refuse to Believe in God? and Google and Bing return this site as a possible answer to their question. I have never written a post with that exact title, so I thought I would do so today. Hopefully, this post will adequately answer those who want to know why atheists refuse to believe in God.
Before I can answer this question, I must first ask one of my own: which God? Which God, exactly, are atheists accused of not believing in? You see, when people ask such questions, they have a specific deity in mind. Most often, in the United States, the God of the question is the God of Christianity. But, even here, I have to ask, which God? Christians are hardly unified when it comes to God. Some Christians believe God is a triune being, others don't. Ask Christians what's required for salvation, and the answers are endless. The Bible may say, one Lord, one faith, and one baptism, but as casual observers can attest, Christians believe in and worship a variety of deities.
For the sake of argument, I choose the Evangelical God. Most liberal Christians don't care whether atheists believe in God. Functional universalists, liberal Christians are more concerned with love, kindness, and good works, than they are checking the box next to the One True God®. Evangelicals, on the other hand, expend mountains of energy making sure that not only they believe in the "right" God, but that the rest of us do too.
Most Evangelicals genuinely believe that atheist unbelief is deliberate; that atheists are a stubborn lot who refuse to believe in the Christian God because of a (secret) desire to live in sin. Many Evangelicals believe that atheists are rebels at heart, people who refuse to submit to God's rule and authority. Sometimes, Evangelicals say that atheists refuse to believe in God because they either hate him or are followers of Satan. Needless to say, most of what Evangelicals say and know about atheists is false. Atheist writers often go to great lengths to correct Evangelical mischaracterizations, yet they fail, thanks to preachers repeating them Sunday after Sunday in their sermons. Who ya' going to believe, Pastor John or Bruce, the atheist?  Sadly, far too many Evangelicals believe their pastors speak on God's behalf, so they blindly accept as fact whatever their pastors say to them. Granted, atheists can do the same. Misrepresenting the claims of Christianity is just as bad as not listening to the explanations atheists give for not believing in God.
There are a plethora of reasons why atheists refuse to believe in God. I can't speak for all atheists, so all I can do is speak for myself and others like me. I was in the Christian church for fifty years. Twenty-five of those years were spent pastoring Evangelical churches in Ohio, Texas, and Michigan. I have a thorough understanding of Christian theology and church history. I spent thousands and thousands of hours reading and studying the Bible. I read countless theology books. For many years, I focused my reading on Calvinistic authors from the seventeenth to the nineteenth century. That said, my studies were deep, but not wide. I focused my reading on authors who fit in the Evangelical/orthodox box, never straying outside of the four walls of the box until the tail end of my ministerial career. Once I began to read authors outside of my peculiar rut, I started having questions about my beliefs and practices. These questions only increased after I left the ministry in 2005. I began to carefully reexamine the cardinal doctrines of Christianity. Once I concluded that the Bible was NOT the inspired, inerrant, infallible word of God, my house of cards came tumbling down. Once the dust settled, I was no longer a Christian.
I tried to find some sort of stopping-off place as I slid down the proverbial slippery slope, but I found liberal Christianity and Universalism to be intellectually lacking. I so wanted to keep believing in God, but alas I couldn't do so, and on the last Sunday in November 2008, I walked out of a Christian (Methodist) church for the last time. Several months later, I mailed out a letter titled, Dear Family, Friends, and Former Parishioners. This letter was my coming-out, me saying to the world that I was no longer a Christian. For a time, I called myself an agnostic, but after having to repeatedly explain exactly what I meant by the word, I decided to claim the atheist moniker.
When asked why I am an atheist, I tell people two things. First, I no longer believe the central claims of Christianity. Second, Christianity no longer makes any sense to me. (Please see The Michael Mock Rule: It Just Doesn't Make Sense.) It's not that I refuse to believe in the Christian God; as it is, I find Christian beliefs intellectually lacking. If I refuse anything, it's to have "faith" and just "believe." One former congregant told me after I deconverted that books were my problem; that I just needed to stop reading books and only read the Bible. If I would do that, all would be well. The problem, of course, with this line of thinking is that Christianity is a text-based religion; that the foundation of Christianity is the Bible. Thus, when I say I no longer believe the central claims of Christianity, what I am really saying is that I no longer believe the teachings of the Bible; I longer believe the Bible is divine truth; I no longer believe the Bible is God's supernatural word to fallible men. Ultimately, the Bible is the problem, and that's why I am an outspoken atheist today.
To Christians who ask, Why Do Atheists Refuse to Believe in God? I say this: it's not that I refuse to believe in your God as much as I don't see evidence for him/her/it. As an Evangelical Christian, my sight was blinded by faith and dogma. Today, my eyes are wide open. All it takes for me to believe in the Christian God is evidence for his existence and proof that the Bible is what Evangelicals claim it is. Bruce, you must have "faith." Just believe! And therein lies the problem. If there is one thing I can't do, it is have faith in a deity I have never seen or heard. But, Bruce, GOD IS REAL! To that, I respond, show me. I refuse to take your word for it. Surely, the evidence for the existence of the Christian God is overwhelming, right? John allegedly said of Jesus in John 21:25:
And there are also many other things which Jesus did, the which, if they should be written every one, I suppose that even the world itself could not contain the books that should be written.
Not even the world itself could contain the books that should be written about Jesus' works, yet all we have is one contradictory compilation of books called the Bible. If Jesus is all the Bible says he is, surely there would be more evidence to support these claims. Instead, there's a paucity of evidence, and it is this lack of evidence that keeps me an atheist.
About Bruce Gerencser
Bruce Gerencser, 62, lives in rural Northwest Ohio with his wife of 41 years. He and his wife have six grown children and twelve grandchildren. Bruce pastored Evangelical churches for twenty-five years in Ohio, Texas, and Michigan. Bruce left the ministry in 2005, and in 2008 he left Christianity. Bruce is now a humanist and an atheist. For more information about Bruce, please read the About page.
Thank you for reading this post. Please share your thoughts in the comment section. If you are a first-time commenter, please read the commenting policy before wowing readers with your words. All first-time comments are moderated. If you would like to contact Bruce directly, please use the contact form to do so.
Donations are always appreciated. Donations on a monthly basis can be made through Patreon. One-time donations can be made through PayPal.