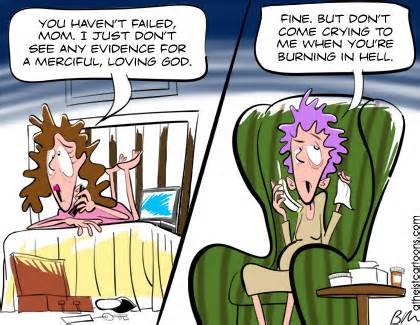 Last week, I wrote a post titled, According to Spaniard VIII, Atheists are Servants of Satan and Vile People. This week, Spaniard VIII penned a missive titled, Why is Atheism so Dangerous?
Why is the belief of atheism so dangerous for the atheist? The reason it is so dangerous is that Satan blinds them and convinces them that God is not real, which keeps the person from pursuing spiritual truth, like the afterlife and the Creator of the universe. That type of persuasion keeps them in the dark.

When a person doesn't believe that something is real, they won't try to investigate it to see if it is true. If they presume to seek the Bible for evidence, they go about it with complete doubt making it useless and a waste of their time.

The devil persuades these people from even thinking about searching God through the Bible by luring them away through worldly lust of all kinds. The devil tells them, "if you become a Christian, you cannot enjoy your sinful desires that you live for and must give them up." He will keep them from the truth, which will send them to hell because they won't seek redemption from their state by asking Jesus Christ for salvation.
I could dismantle Spaniard VIII's post line by line, but I am too weary to do so today. I do, however, want to address his false claim that atheists are ignorant of Christianity/God/Satan/the Bible. While I cannot speak for all atheists, I can say that most of the unbelievers I know are actually quite conversant in the teachings of the Bible. Many of them were committed followers of Jesus: pastors, evangelists, missionaries, deacons, Sunday school teachers, or Christian college professors. It can hardly be said of them that they are "ignorant" about Christianity and the Bible. With full knowledge and understanding of the faith once delivered to the saints, these atheists and agnostics with one voice say the Christian God is a myth.
Spaniard VIII knows my story. He knows I attended an Independent Fundamentalist Baptist (IFB) Bible college; that I pastored Evangelical churches for twenty-five years. He knows I spent thousands and thousands of hours reading and studying the Bible. In fact, I'm certain that I have far more Bible study hours under my belt than Spaniard VIII. All told, I preached over 4,000 sermons. Surely, based on my education, study, and experience, I know the Bible quite well. Yes, I am an atheist, but unless Spaniard VIII wants to claim that all my theological knowledge magically disappeared the moment I deconverted, I remain quite knowledgeable of Christianity and its divine religious text.
I will leave it to readers to address Spaniard VIII's other claims. I just wish he would stop misrepresenting atheists.
Clubschadenfreude, a regular reader of this blog, left a comment on Spaniard VIII's post. I thought it would be an apropos ending to this post:
As usual, Span shows that he is terrified of atheists. Our mere existence shows him that he is nothing special, and his version of Christianity is just like the other thousands of versions out there.

Poor Span, no satan either. No demons or devils, just sad humans who need to lie about others.

Unsurprisingly, humans have been looking for this god for quite a long time and have found nothing to show that it exists. Just like every other theist, Span tries to claim his god is the only real one, but he has no more evidence than the rest.

Since Christians can't agree on what sin is, we only have Span declaring that what Span doesn't like is sin. No god involved. And, alas for Span, sharks do exist. We have evidence.

We don't have evidence for Span's god. So his analogy fails again. All we have are scared little men like Span who try to pretend to be a hero when all he desperately wants is external validation for his delusions.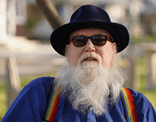 Bruce Gerencser, 64, lives in rural Northwest Ohio with his wife of 43 years. He and his wife have six grown children and thirteen grandchildren. Bruce pastored Evangelical churches for twenty-five years in Ohio, Texas, and Michigan. Bruce left the ministry in 2005, and in 2008 he left Christianity. Bruce is now a humanist and an atheist.
You can contact Bruce via email, Facebook, Twitter, or YouTube.
Your comments are welcome and appreciated. All first-time comments are moderated. Please read the commenting rules before commenting.