As a young boy, I was a big fan of actress Stefanie Powers. In particular, I loved her movie Die! Die! My Darling! Polly had not seen this movie before, so last year we watched it together. I'm still in love with Powers.
Yesterday, I received a short email from a Christian woman claiming her name was Cynthia Love. As I read Love's comment, I thought about the movie Die! Die! My Darling! Based on the site server logs, Love only read one post on this site, Jesus Loves the Little Children, All the Children of the World, before sending me the following email. Afterward, Love was served up the front page. Whether she read any of the posts on the front page is uncertain.
What is certain is that something I wrote offended Love. Instead of walking in the fruit of the Spirit and emulating the life and teaching of Jesus, Love decided to show me some "Christian love":
Spreading your blatant generalized hatered about people only makes you a worse person. I am glad you are sick, there are many people suffering needlessly. You deserve it.
Spreading blatant hatred? Where? Certainly not in the post Love read. Maybe she is one of those kinds of Christians offended by anything and everything critical of her precious Jesus and religion. Regardless, Love says my "hatred" has turned me into a "worse" person. What, exactly, is a "worse" person? Worse than a woman telling a sick, dying man that she's glad he's sick, and she hopes he suffers and dies? Worse than telling a man that he deserves the pain and suffering from gastroparesis, fibromyalgia, and osteoarthritis he battles every day of his life? Worse than being so callous and indifferent towards the suffering of an alleged "hateful" atheist that you hope he gets sicker and dies (that's the practical implication of her kind, thoughtful, loving words)?
To my fellow atheists and agnostics, can you imagine going into a cancer ward and telling sick, dying patients that you are glad they are sick; that they deserve being sick? Of course not. We have morals and ethics. We care about others, even if they believe differently from us. No, it is a special kind of Christianity that causes Cynthia Love to wish on me more pain and suffering. No doubt, in the Dark Ages, Love would have loved torturing heretics.
Is it any wonder that Evangelicals-turned-atheists don't want anything to do with God/Jesus/Christianity?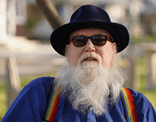 Bruce Gerencser, 64, lives in rural Northwest Ohio with his wife of 43 years. He and his wife have six grown children and thirteen grandchildren. Bruce pastored Evangelical churches for twenty-five years in Ohio, Texas, and Michigan. Bruce left the ministry in 2005, and in 2008 he left Christianity. Bruce is now a humanist and an atheist.
You can contact Bruce via email, Facebook, Twitter, or YouTube.
Your comments are welcome and appreciated. All first-time comments are moderated. Please read the commenting rules before commenting.