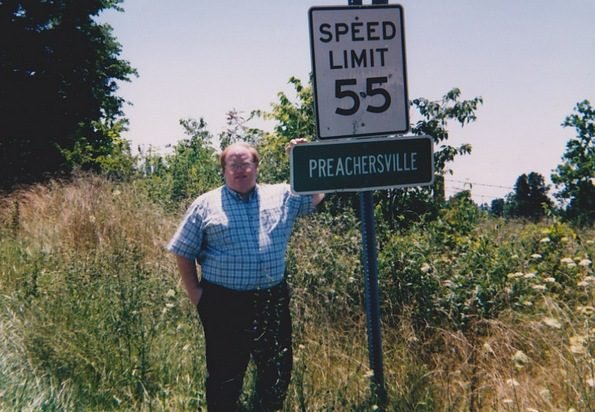 During the 1970s, I attended Midwestern Baptist College in Pontiac, Michigan. It was there that I met my wife, Polly. Started in the 1950s by Dr. Tom Malone, Midwestern was a school known for turning out preachers. Most women attending Midwestern were there to snag themselves a man. My wife was no exception. She believed she was called to be a pastor's wife. I was studying to be a pastor, so I suppose you could say our divine callings matched and our marriage was made in Heaven — or something like that, anyway. (We celebrated forty-four years of marriage last July.) All we knew for sure was that God called us to build churches and evangelize the lost. Everything we were taught at Midwestern had these two things as their goal. We left Midwestern in 1979 and embarked on a twenty-five-year journey that took us to churches in Ohio, Texas, and Michigan. Virtually everything we did was in fulfillment of God's call upon our lives, yet, today, we are no longer Christians and it has been more than fourteen years since we darkened the doors of a church. What happened to us?
I cannot and will not speak for Polly, but I can say, for myself, that the Christian narrative no longer makes sense to me. I wrote about this in a post titled, The Michael Mock Rule: It Just Doesn't Make Sense. Most readers know my story, so I won't retell it here. New readers are encouraged to read the posts found on the WHY? page for more information about my life as a pastor and my subsequent deconversion. My story has been deconstructed by countless Evangelical zealots determined to invalidate my past. Try as they might, the fact remains that I once was a committed, devoted, sold-out follower of Jesus Christ; a man who hungered and thirsted after righteousness for his name's sake; a man who believed every word of the Bible was true; a man who preached the Christian gospel to countless people. Them there are the facts, regardless of what apologists might say. I know what I know because I was there when it happened. Who better to know and tell my story than me? That said, I do ponder the question, Why am I Different From the My College Classmates? Some of them have moved beyond the Independent Fundamentalist Baptist (IFB) training they received at Midwestern, yet they still believe. Sadly, for most of my college classmates, their beliefs have changed very little, if at all. Many of them still attend or pastor IFB churches. Oh, they might agree with me about the crazy rules at Midwestern, (please see Thou Shalt Not Touch: The Six-Inch Rule) but their core theological beliefs are decidedly Fundamentalist. (Please see Are Evangelicals Fundamentalists?) Why do they still hang on to these beliefs and I don't?
The easy answer would be to call all of them stupid hillbillies, but that would be a cop-out. Many of my former classmates have wonderful families and ministerial careers. According to the theological and social standards of IFB Christianity, they are, in every way, successful. I have no doubt that many or even most of them are true-blue believers, completely and totally committed to IFB doctrine, thinking, and way of life. Yes, some of them now consider themselves garden-variety Evangelicals, but most of my classmates still believe the fundamentals taught to them by their pastors and their professors at Midwestern.
If I had to pick one reason for why my former classmates still believe, it is because they were taught to never, ever doubt the Bible and its teachings. All of them believe in some form of Biblical inerrancy, so the foundation of their lives is THUS SAITH THE LORD. Insulated from contrary or challenging thoughts, they see no reason to question their beliefs. Souls are lost, Hell is hot, and Jesus is coming soon. They have no time for doubting or questioning their beliefs. When Jesus comes again, they want to be found faithfully serving him, not reading Bart Ehrman's latest book. For me, however, I reached a place in the late 1980s where I seriously questioned the doctrines I had been taught at Midwestern. I ultimately abandoned them and embraced Evangelical Calvinism. Calvinism allowed me to study theology and read books outside of the IFB rut. While the Calvinists I associated with were still quite Fundamentalist theologically and socially, they valued education and intellectual pursuit. Unfortunately (or fortunately, depending on your perspective), the more I studied and read, the more questions and doubts I had. This is why people who knew me well told me that BOOKS were my problem, and what I needed to do is stop reading books and only read the Bible. Of course, saying this to a book lover is akin to telling a cocaine addict to stop using drugs. I was addicted to intellectual pursuit, and I doggedly followed the path until it led me out of Evangelicalism, out of the Emergent church, out of progressive Christianity, and right on down the slippery slope to agnosticism/atheism and humanism. I ended up where I am today because I couldn't stop my questions and doubts. I ended up where I am today because Christianity had no satisfactory answers for my questions. Oh, they had "answers" but I found them to be hollow, circular, and, at times, farcical; answers that might placate those within the Evangelical bubble, but unsatisfactory to anyone on the outside looking in.
There are days when I wish I could be like my former college classmates. I see much in their lives I admire. However, I am unwilling to forsake the meat and potatoes of intellectual and scientific inquiry for the pottage of Evangelical Christianity. I have read and studied too much to go back to the garlic and leeks of Egypt. I would rather be known as a Midwestern Baptist College-trained atheist than a coward who couldn't face doubts and questions head-on. "One" may truly be the loneliest number, but I would rather stand alone for truth than embrace theological dogma. If Midwestern and Dr. Tom Malone taught me anything, it was the importance of standing for truth and principle and being willing to hold to your beliefs and convictions no matter what. So, in that regard, Midwestern played a crucial part in my deconversion from Christianity.
Bruce Gerencser, 66, lives in rural Northwest Ohio with his wife of 45 years. He and his wife have six grown children and thirteen grandchildren. Bruce pastored Evangelical churches for twenty-five years in Ohio, Texas, and Michigan. Bruce left the ministry in 2005, and in 2008 he left Christianity. Bruce is now a humanist and an atheist.
Connect with me on social media:
Your comments are welcome and appreciated. All first-time comments are moderated. Please read the commenting rules before commenting.
You can email Bruce via the Contact Form.