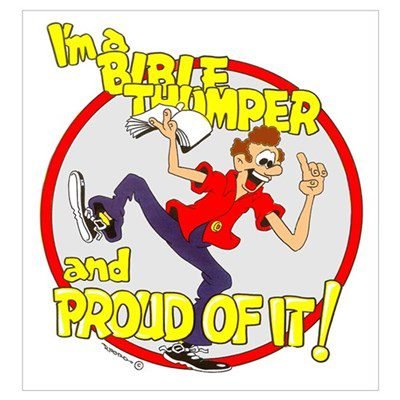 Richard asked: During your time in the IFB what was your particular view on the KJV? Did you change this view prior to leaving Christianity?
I grew up in Baptist churches that only used the King James Bible. These churches weren't King James-only per se. It is just that the King James Bible was the only version these churches used. I don't remember ever hearing a sermon on why church members should only use the KJV. This all changed with the publishing of the New International Version (NIV) in 1978 and the New King James Version (NKJV) in 1982. This forced Independent Fundamentalist Baptist (IFB) churches and pastors, along with IFB colleges and seminaries, to stake out positions on English Bible translations. The college I attended in the 1970s, Midwestern Baptist College in Pontiac, Michigan, was decidedly King James-only. Professors and students were required to use only the KJV, and chapel speakers were required to do the same. Using a different translation was grounds for immediate expulsion. At the same time, however, the KJV extremism of Peter Ruckman was also banned, I suspect out of trying to avoid the infighting that Ruckmanism tended to foment. (Please read Questions: Bruce, In Your IFB Days Did You Encounter Peter Ruckman?) That said, Ruckman's teachings found fertile ground in which to grow, and more than a few Midwestern graduates became Ruckmanites. These pastors advertise their beliefs about Bible translations by displaying on their church signs and literature KJV 1611. (Back in the day when Polly and I were looking for a church to attend, we took KJV 1611 on a church sign to mean: Danger! Infected with an incurable disease. Do not enter!)
I entered the ministry as a defender of the inspiration and inerrancy of the Word of God; "Word of God" being the King James Bible. While I was never a follower of Peter Ruckman — I despised his nasty, vulgar disposition and that of his disciples — I generally believed as he did: that the King James Bible was God's perfect word for English-speaking people. I wasn't one to spend much time preaching about Bible translations. Everyone knew that at the churches I pastored we ONLY used the King James Bible.
In the late 1980s, I read several books that called into question my belief that the King James Bible was inerrant. I concluded that no translation was without error, and that inerrancy only applied to the original manuscripts. I took the approach that the KJV was the best and most reliable translation for English-speaking people. I held this position until the late 1990s.
In 1995, I started a non-denominational church, Our Father's House, in West Unity, Ohio. I would pastor Our Father's House for seven years. It was here that my theology, politics, and social values began to change. In 2000, I decided to change which Bible translation I used when preaching. I had already been reading other translations in my studies, but using anything but a KJV for preaching was a big deal, at least for me. Congregants? They couldn't care less. I used the New American Standard Version (NASB) for a year or so, eventually moving to the English Standard Version (ESV). I was still preaching from the ESV when I left Christianity in November 2008. Devotionally, I read Eugene Peterson's masterful translation, The Message. I found great joy and satisfaction when reading The Message translation. It was a Bible that truly spoke the language of the common man.
Bruce Gerencser, 66, lives in rural Northwest Ohio with his wife of 45 years. He and his wife have six grown children and thirteen grandchildren. Bruce pastored Evangelical churches for twenty-five years in Ohio, Texas, and Michigan. Bruce left the ministry in 2005, and in 2008 he left Christianity. Bruce is now a humanist and an atheist.
Connect with me on social media:
Your comments are welcome and appreciated. All first-time comments are moderated. Please read the commenting rules before commenting.
You can email Bruce via the Contact Form.