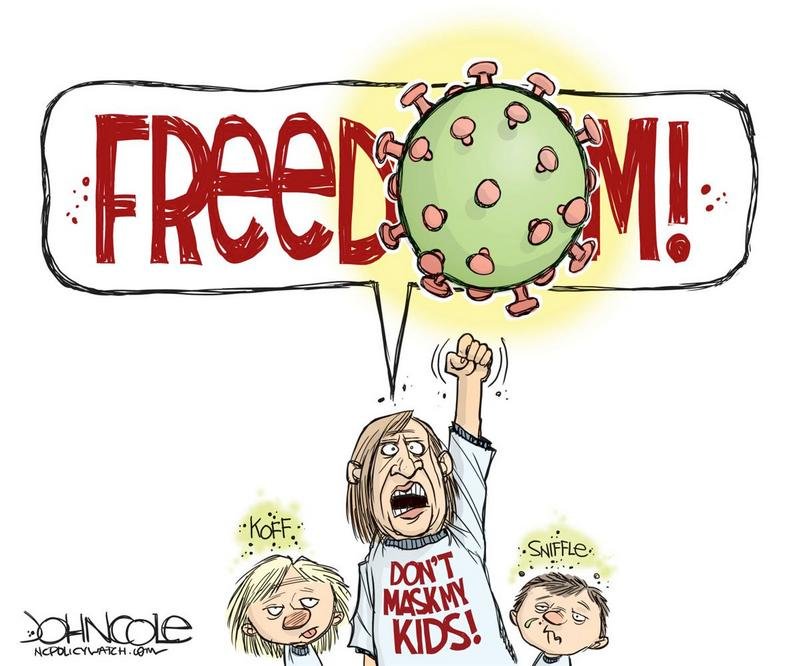 I have recently posted three articles on COVID-19:
Only the first article was written by me. Before this week, I haven't written anything meaningful about COVID-19 since November 2020. All told, I have published twenty-eight articles about the virus — a minuscule percentage of the articles posted since March 2020. Earlier this year, I had a comment problem with a reader who was anti-vax and anti-mask. After allowing her to say her piece, I banned her. She took to her blog to denounce me and several readers of this blog. She continues to beat the anti-vax, anti-mask drum to this day.
The aforementioned woman loved my atheism but hated my politics — even though wearing masks and getting vaccinated are science and social issues, not political. Some readers wish I would just stick to critiquing Evangelical Christianity or espousing atheism. They KNOW I am a Democrat, a liberal, a Democratic Socialist, and a pacifist, yet they get pissed off when I write about those things. They KNOW I am a skeptic and a rationalist, believing science is the best way to explain and understand the world we live in. Yet, when I critique one of their pet beliefs, they become offended or outraged. Such is the life of a writer.
After posting the most recent articles on COVID-19, my Facebook page follower numbers dropped by eighty-five. I can think of no other reason for the drop than people getting upset over the content of these posts. Welcome to 2021.
I have little tolerance for people who are anti-vaxxers/anti-maskers (or Trump supporters). I am done playing "nice." No rational or moral case can be made for refusing to get vaccinated or wear a mask. I don't buy the notion that unvaccinated people are "vaccine-hesitant." There is now sufficient evidence for the efficacy and safety of vaccines. We know masks "work." Most of the people now getting sick and dying from COVID-19 are unvaccinated people. Due to their political beliefs or pigheadedness, unvaccinated people think it is their "right" to expose others to a deadly virus. FREEDOM is their watchword, and they refuse to accept that they have a moral responsibility to get vaccinated and wear masks. Many of these people are also professing Christians. Yet, their anti-vax/anti-mask behavior reveals that they aren't followers of Christ at all. Jesus told his disciples that they were to love their neighbors. Don't love your neighbor? Don't say you love God. What better way to show you love your neighbor than getting vaccinated or wearing a mask?
Bruce, don't you think you should try to reach these people? Nope. The problem isn't a lack of knowledge. I could write on COVID-19 every day for a month and not persuade one unvaccinated person. We have reached a place when federal and state governments MUST mandate vaccinations and mask-wearing. No, this doesn't mean rounding up people and inoculating them against their will. However, it does mean that being vaccinated (or being tested weekly at your own expense) and wearing a mask are the entryway to commerce and employment.
Bruce Gerencser, 66, lives in rural Northwest Ohio with his wife of 45 years. He and his wife have six grown children and thirteen grandchildren. Bruce pastored Evangelical churches for twenty-five years in Ohio, Texas, and Michigan. Bruce left the ministry in 2005, and in 2008 he left Christianity. Bruce is now a humanist and an atheist.
Connect with me on social media:
Your comments are welcome and appreciated. All first-time comments are moderated. Please read the commenting rules before commenting.
You can email Bruce via the Contact Form.